Published on May 3rd, 2013 in: Assemblog, Movies, Science and Technology, Streaming, The Internets, TV |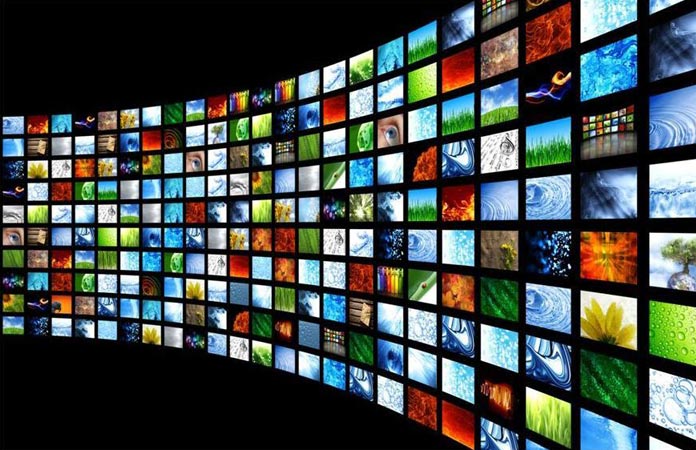 New this week on Popshifter: Jeff praises The Armoury Show's "gorgeously slick cathedral Goth with strangely danceable grooves" in the Cherry Red reissue of Waiting For The Floods; Danny calls the new Meat Puppets album, Rat Farm, "the band's most playful and diverse offering since 1985"; Melissa B. laments the passing of George Jones in her review of the CD reissues of George Jones Country and You've Still Got A Place In My Heart; I describe the "geographic grandeur" of the full-length, self-titled debut from Big Black Delta; describe how no-budget, sci-fi flick Manborg "comes from the heart"; explain the "nuanced, complicated" joys of A Royal Affair; congratulate Melvins on their excellent album of covers, Everybody Loves Sausages; and get excited and photo-happy about the upcoming Vicki Berndt art show in Los Angeles.
It's been an interesting week in entertainment news.
The Hannibal episode ("Ceuf") that was pulled due to the Boston bombing (even though the plot was unrelated to real-life events) and then aired online in edited, "webisode" form, is available in its original format on iTunes. Thank you, Bloody Disgusting, for this news!
If you ever want to find a clip from that Saturday Night Live episode you loved so much to show your friends on Facebook and Twitter, you usually can't. That's because NBC has an army of minions constantly checking YouTube for "illegal" content which it subsequently removes almost as quickly as it is put up.
Now Yahoo—which is taking its first baby steps towards original, streaming content—has signed an exclusive, one-year deal to be the online home for SNL archives. Here's something else: according to the Indiewire article, "SNL content will be removed from other video platforms like Netflix and Hulu, though Yahoo will only be able to feature episodes from the current season non-exclusively." Naturally, this offer is only available in the US since no other country's citizens care about Saturday Night Live episodes unless they have cable or a good OTA antenna and a DVR.
There's another AMC original series in the works and again, Indiewire has the details: "Line of Sight, a drama from creator, writer, and executive producer Blake Masters (Brotherhood), has been given a pilot order by AMC." Again, if you don't live in the US and you don't have cable, you won't be able to watch this show unless you torrent it illegally or wait for the episodes to show up on Canadian Netflix (good luck with that if the show isn't a massive hit like Mad Men or Breaking Bad. Take a look at the differences between Netflix US and Canada.)
Remember last week, when I discussed the potential for HBO Go to become streaming-only? Apparently it's a no go. Time Warner CEO Jeff Bewkes says that no matter what you heard from HBO head Richard Plepler, it ain't happening. Of course, the streaming-only option exists in Scandinavia (HBO Nordic) but any dreams you may have had about a US version are just that. (Scandinavia gets the option before the US and Canada? Really?)
There was a huge panic this week after an article called "The Great Netflix Purge" was published on Slate, which described how the former Netflix queue feature is set to become something called "Netflix List." According to writer Sam Adams, this new feature "can only be sorted according to a handful of options."
As a Netflix Canada subscriber who accesses the service via Apple TV, I have never had any sort of queue or list options, so it took a some back and forth on Twitter before I fully understood these features. But the queue vs. list controversy wasn't at the heart of the firestorm. Adams mentioned that hundreds of titles were being dumped from Netflix in order to be added to the new Warner Archive Instant streaming service. Even though Warner responded on both its Twitter feed and its Facebook page that this was NOT the case, misinformation spread like wildfire, including sites like /Film and Film School Rejects, which haven't bothered to correct the misinformation or publish updated articles.
Here's one of the Facebook status updates from Warner Instant Archive:
If you check your queue you can confirm that zero titles from the Warner Bros. Entertainment library expired today on Netflix. Yesterday there were false reports linking the 1700 titles that expired today with Warner Archive Instant. WAI has zero involvement with Netflix's internal programming decisions and no Warner Bros. Entertainment library titles expired on Netflix yesterday.
Thankfully, The L.A. Times Company Town blog has an article debunking the "streamaggedon" claims. The last three paragraphs explain the real deal:
Movies routinely flow in and out of availability for the duration of these pay TV licensing agreements—which can extend for years. Television viewers seldom notice, because premium channels don't offer all the movies in one big library-like bulge.

The gap in availability is more obvious with on-demand services like Netflix, Amazon.com or Verizon. This has been a problem that has bedeviled digital services for years.

Netflix spokesman Jonathan Friedland said the nature of such pay TV agreements is one reason Netflix has begun to license content directly from studios rather than through networks or pay television aggregators.
Crave Online also posted an article clarifying that WAI isn't stealing any movies from Netflix, which is all well and good, but then goes on to say a couple of troubling things:
But the variety of platforms we have now: Hulu Plus, Amazon Prime, HBO Go, Redbox Instant, Netflix, Warner Archive, Fandor . . . it has clearly expanded and is continuing to do so.

Instead of thinking about it as though our demands are not being met and the immediacy of the digital, we can consider this: we have an incredible opportunity right now: the streaming landscape has become the new cable with one major difference—by designing our own home entertainment network, we get to decide what is on at all times. We now have the choice.
Yes, in the US you have a "variety of platforms." In Canada, and in many other countries, we do not. Additionally, the statement that "the streaming landscape has become the new cable" is something I started to realize right after I read the original Slate article but it didn't exactly comfort me.
What about those folks who don't have the funds to spend on cable, HBO, Netflix, Hulu Plus, and Warner Archive, etc. (to say nothing of those of us outside the US who don't even have all of these options)? The current model of "pay a lot of money to get one or two things that you want" (like network channels, AMC, and/or HBO) is exorbitantly expensive. Thus, many have decided to cut the cord, get a good OTA antenna, and watch network shows as they air or online. Some people have to wait until Mad Men's current season is over before they can watch it. Some people can't torrent TV shows (not that I'm condoning such an activity) because of bandwidth limits.
In a "free market economy," the proliferation of competing streaming services like Netflix, Warner Archive Instant, and others makes sense from a capitalist viewpoint. It also seems to be the future of streaming movies and television. But rather than giving consumers a lot of choice, it actually forces them to choose which service(s) they can actually afford. In other words, if you can't afford cable and you can't afford multiple streaming services, you're out of luck.
It's perhaps difficult for those outside of the US to grasp this, but Australian technology journalist Adam Turner seems to get it:
The whole point of Netflix in the US, and Quickflix in Australia, is that they put a wealth of content in one spot—making it easier to pay for movies and TV shows rather than steal them. By giving people what they want at a reasonable price, these kinds of subscription services are proving to be a key weapon in the fight against piracy. If online video offerings continue to fragment, it's hard to see many people wanting to hand over $US9.99 each month to a dozen different movie houses. At this point you may as well be paying for cable TV, or else cutting out the middlemen yourself and just downloading it all via BitTorrent.
No one is forcing anyone to watch TV or go to movies. Yet, for those of us who want to (legally) watch the quality TV shows that exist, who want to be able to see the smaller films that don't hit the multiplexes, or watch the bigger films without dealing with the abhorrent behavior of other theater patrons, such trends are troubling.
But don't mind me; go ahead and bitch about Zach Braff's Kickstarter and compare it to Occupy Wall Street.
Or you could learn about Aereo, a new start-up company that has been "capturing over-the-air broadcast television signals and delivering it to subscribers over the internet for a fee." Broadcasters are pissed off. Time Warner Cable CEO Glenn Britt agrees that cable companies are basically gouging consumers, saying, "There are fellow citizens who are struggling financially and can't afford large programming packages." The article goes on to mention that "options like Aereo's may be what the cable companies use to bring these lower-cost, smaller packages to market."
As someone on Twitter wondered, "does everyone realize this is EXACTLY how cable started?" Yes, but we didn't have the Internet back then. The comments have a lot of intriguing ideas, particularly this one:
"Just start offering live streams of your channels (with Roku, Boxee, Xbox, etc compatible versions) for a small price. Watch Aereo decline. Seriously, these cable companies should either adapt to the internet-tied/cable-free world or watch their businesses go down."
Things continue to remain interesting—and mutable—for the foreseeable future.
—Less Lee Moore, Managing Editor