Published on May 2nd, 2013 in: Current Faves, Music, Music Reviews, Reviews |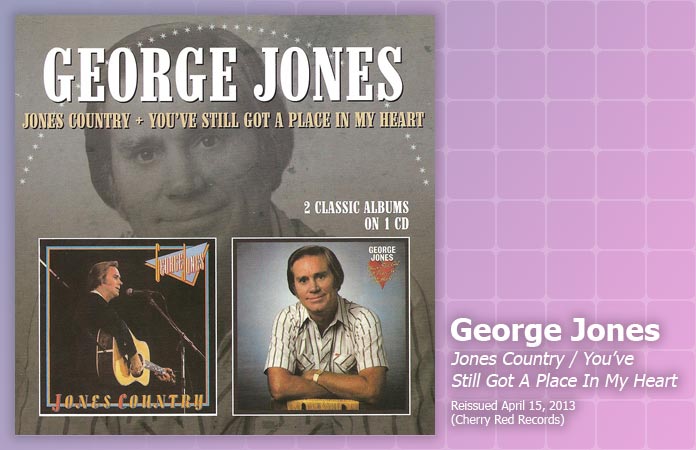 George Jones was called "the greatest voice in country music." This is not hyperbole. He could make you feel so much with a crack of his voice, the swell or pull back on a phrase. He was masterful.
The liner notes for Jones Country/You've Still Got A Place In My Heart mention the miracle that he was alive and well in 2013 and planning a farewell show. I received this disc the day before he died. Irony is a wicked mistress.
Ironic liner notes aside, Jones Country/You've Still Got A Place In My Heart is a pleasure to hear. These two albums are on one CD for the first time and Jones Country, originally released in 1983, holds the strange distinction of having a single released from it six years later.
That single, "Radio Lover," is a murder ballad that Nick Cave would do well to cover. Aside from the unfortunate bloated '80s strings, the shocking Maury-esque twist is clever. I'll admit I was surprised by it.
Jones fares well on "Hello Trouble," a straightforward classic which was a hit for Buck Owens. "Burning Bridges" is also old school and lacking superfluous strings.
"Wino The Clown" is heart-rending and painful. It is maudlin, but who doesn't love a good wallow? It is a horrifically sad song, leading to a full-blown misery pile-on. Jones was excellent at that sadness; you can hear the tears in his voice in "I'd Rather Die Young (Than Grow Old Without You)."
He bounces back with the upbeat "One Of These Days (But Not Tonight)." He gives an artful performance and the backing vocals are really fine.
You've Still Got A Place In My Heart was released in 1984. The title track has strings that wouldn't be out of place on a Sinatra record. Timeless, with a plaintive harmonica solo, it's just a gorgeous piece of music. How did he make it sound so easy?
The Kristofferson-penned "Come Sundown" is fantastic with vivid imagery. "Even The Bad Times Are Good" is a wonderfully sweet song (that left me a bit teary eyed).
The second half of You've Still Got A Place In My Heart truly takes off. Jones wrote "I'm Ragged, But I'm Right" in 1956. It is anthemic in a good, non-embarrassing way. It is followed by the funny and slight "Courtin' In The Rain." But lest you get too happy and comfortable, the record winds down with "Learning To Do Without Me," a morose tale of a neglected wife.
Jones Country/You've Still Got A Place In My Heart makes a fine entry point into later music by the inimitable Mr. Jones. His enormous gift of making songs his own and making them emotional will be greatly missed. He was brilliant.
Jones Country/You've Still Got A Place In My Heart was reissued on April 15 via Cherry Red Records and is available to order from their website.