Published on May 1st, 2013 in: Current Faves, Music, Music Reviews, Reviews |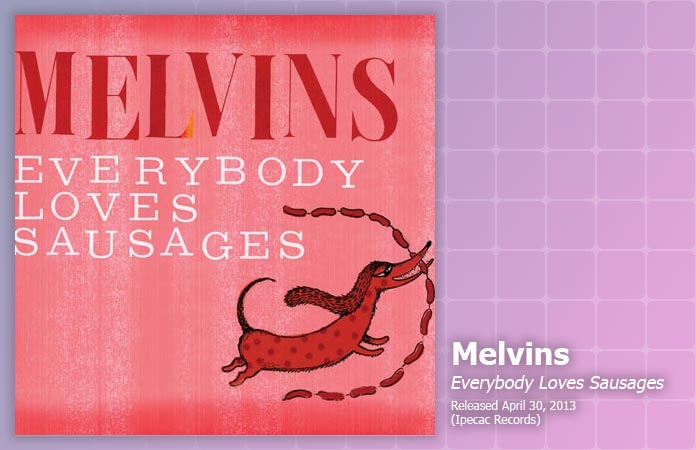 Melvins—the "the" is silent—are one of those bands who are permanently on the list of bands I've been meaning to get into. Everything of theirs I've heard I've enjoyed and I've seen them live twice (both times were outstanding). I even have a few of their albums. But I've never crossed over into the "must own everything" level of fandom. Although Everybody Loves Sausages is an album of cover songs, it may have finally pushed me over that precipice.
Cover songs are tricky. Why bother covering something unless you're going to make it better or add something special? There is a third reason, though it's not the most popular: introduce people to bands that they've never heard before. As an album, Everybody Loves Sausages hits all those marks.
Scott Kelly of Neurosis lends his growling vocals to Venom's "Warhead." It's sort of mind-blowing to realize that this song came out in 1984. If anything, the Melvins make it even more thunderous.
Totally switching gears, they launch into Queen's "You're My Best Friend" complete with midi-sounding keyboards, vocals from Tweak Bird's Caleb Benjamin (who really does sound like a cross between Pat Smear and Michael Quercio in his own band. I checked.), and a rather odd middle section that departs from the original. But after a couple of listens you will find yourself entranced by the changes.
The band notes that they recorded "Black Betty" for a Superbowl contest that they didn't win, certainly one of the most dismal failures on the part of whoever was on the judging committee. Why they credit the song to "Unknown" is well, unknown to me, since it's by a band called Ram Jam. This song never fails to remind me of many drunken evenings listening to it in a bar in New Orleans that is sadly, now deceased (Shim Sham, may you Rest In Pieces) as well as that abysmal Johnny Depp movie Blow. No one else needs to cover this song ever again; Melvins have outdone you. Thank you, and good day, sir.
"Early '80s punk rock from Perth, Australia" is how Melvins describe Scientists, whose "Set It On Fire" is the next track on the album. I definitely would have loved this back then had I only known of it. Mark Arm's snarling vocals are a great fit for this nihilistic slice of weirdness.
I won't pretend that my main interest in Everybody Loves Sausages wasn't the JG Thirlwell cover of "Station to Station." One of my favorite songs of the last . . . ever is the "Mine Is No Disgrace" collaboration between JGT and Melvins from their 2000 release The Crybaby. There were many weeks when this was the only song I listened to.
Even though Thirlwell doesn't sound much like David Bowie, it's perfectly okay. In fact, it's better because his trademark voice gives the song even more of a disaffected sneer than it already has. It also reminds me (as if I actually NEEDED reminding) how much I treasure Thirlwell's voice and don't ever want him to stop singing on his projects, even if his projects are just one song on a Melvins cover album. Musically, the song is outstanding, conveying the sense of drug-induced paranoia that caused Bowie to visualize a demon in a swimming pool and convinced him that wearing a gold cross on a chain would somehow help.
Switching gears again, but only slightly, Melvins attack "Attitude" by The Kinks, which appeared on their biggest-selling US album to date (Low Budget) when it came out in 1979. You might think that Buzz couldn't do a great vocal job on a Kinks tune, but you would be wrong. Having Clem Burke play the drums is a serious coup, to boot.
Another hilarious, bizarre, yet inspired choice comes in the form of "Female Trouble," by Harris Glenn Milstead, a.k.a. Divine. The meta appeal of Buzz singing a song originally performed by a transvestite, which includes the lyric "They say I'm a skank, but I don't care/go ahead put me in your electric chair" is immeasurable.
I've not heard much (if anything) by The Fugs, but I have enjoyed member Ed Sanders's excellent contemporaneous account of the Manson Family, post-murders and pre-trial. So it does not surprise me that their seemingly lighthearted "Carpe Diem" would have lyrics about not being able to outthink the Angel of Death, nor that a band like Melvins would seize upon the chance to cover such a song, and with such style.
I have never heard of Pop-o-Pies, but based on this cover of "Timothy Leary Lives" I probably should listen to them. They have that post-punk, snarky, irreverence that I love in bands of the early/mid/whatever '80s. Trevor Dunn of Mr. Bungle (who, interestingly enough, intersects with Pop-O-Pies and Melvins) provides the great vocals here.
There are cover versions that are such a perfect synthesis of singer and song, it creates a warp in the fabric of the time-space continuum. Such is the case with Roxy Music's "In Every Dream Home A Heartache" performed by Jello Biafra. Yes, you read that correctly. Trust me when I say you will develop a newfound admiration for Mr. Biafra's talents and wonder how this pairing has only just now appeared, bringing joy to all who hear it.
Another mid-'80s song that completely went under my then-teenage radar is "Romance" by Tales of Terror. I have no idea why because it's all the things I loved then: vaguely punk, vaguely deathrock/Goth, lyrics about death . . . college radio, you have failed me. Thank you Melvins for bringing this song to my attention and especially Buzz for capturing the spirit of the original so precisely in your vocal performance.
The Jam's "Art School" gets the royal Melvins treatment with vocals from Amphetamine Reptile guru Tom Hazelmeyer and a lot of swears in a fake British accent which are most amusing.
Heathen Earth is a 1980 live album by Throbbing Gristle that Melvins seem to have condensed into a little more than four minutes. Buzz handles all instruments and if you like Throbbing Gristle you will enjoy this. If you haven't heard Throbbing Gristle yet you will be soon be struck by the sheer magnitude of bands who have been influenced by them over the last few decades.
Skillfully and cannily picking from extremely popular, somewhat well-known, and fairly obscure songs, Melvins have bequeathed us with what can only be called a real crowd-pleaser in Everybody Loves Sausages. Congratulations, gentlemen. You've done it again.
Everybody Loves Sausages was released April 30 through Ipecac Records and is available to order from the Melvins website. They are touring the hell out of this year, too; check for a show near you on the Melvins Wiki.