Published on April 29th, 2013 in: Current Faves, Music, Music Reviews, Reviews |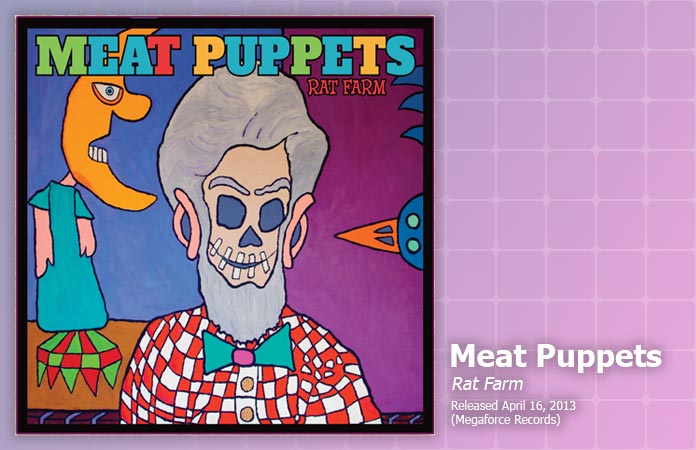 The Meat Puppets are not only icons of the alternative/punk/underground music scenes; they are like fine wines: The band and their music just keep getting better with age. The latest from the Kirkwood Brothers, Rat Farm, is perhaps their finest, the band's most playful and diverse offering since releasing Up On The Sun in 1985.
Three decades plus into a career that has seen the "mainstream" regard them as "those guys that recorded that song Backwater," the Kirkwoods continue to kick out one great album after another. Their country-flavored approach to psychedelic punk rock (many have considered them the creators of cowpunk) has always set them apart from the rest of the alt-rock pack and has been an influence to boundary pushing musicians like J. Mascis, Kurt Cobain, Kevin Shields, and Sonic Youth. While not as avant garde or experimental as some of their drugged out masterpieces, Rat Farm is a joy, a pleasure, a ray of familiar sunshine.
Rat Farm starts with the reggae/island-tinted title track and shows the peace they have found in life, albeit through a strange subject and lines like "You will not enjoy tomorrow/unless you feel the pain of my whips and my daggers and my chains," a horrifying story stashed between bouncy tempo, expert guitar work, and a feel-good beat.
The weird is sprinkled all over Rat Farm. It is indeed deconstructed, psychedelic folk music at its core, but do not be fooled: it is not all acoustic guitars. Kurt Kirkwood has been one of alternative music's great guitarists and it shows. Rockers like "One More Drop" recalls Neil Young in his most electrifying Crazy Horse days. "Down," the album's first single, extols the joys of being a kid "chasing cats and rabbits in the yard" while seeing waterfalls of color. "Sometimes Blue" is their most countrified run since Too High To Die's "Comin' Down." The Buckaroos and Gram Parsons would be busting out of their rhinestone Nudie Suits with pride.
Most of the material here is good but the greatness waits until track seven with the mostly acoustic "Waiting." This is The Meat Puppets at their beautiful, heartbreaking best. Kurt's peaceful Spanish-tinged guitar fits seamlessly with the lyric, "Everything's cool/everything's fine/everything drives me out of my mind." I think the brothers are speaking from experience.
Struggle makes for great albums and struggle has given the Kirkwood brothers a gift. Rat Farm is definitely a place to visit.
Rat Farm was released on April 16 through Megaforce Records. You can order it directly from the Meat Puppets website.