Published on April 30th, 2013 in: Current Faves, DVD, DVD/Blu-Ray Reviews, Movie Reviews, Movies, Reviews, Science Fiction |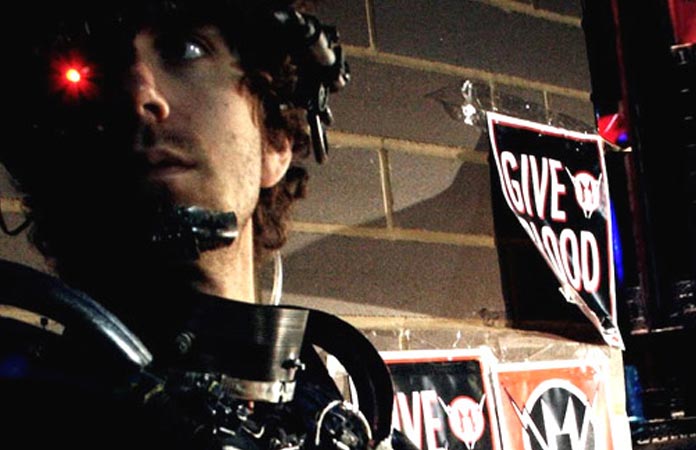 There are two groups of people in the world: those who love Manborg and those who just haven't seen it yet. (Too pompous?)
Let's try this: anyone with only a cursory knowledge of Mystery Science Theater 3000 knows that there is an audience for bad movies. Although some of the most famously bad bad movies have escaped the comic commentary of MST3K (Troll 2, The Room), it doesn't make them any less beloved in their awfulness. Yes, screenings are organized for fans to openly mock these movies, but if it brings people so much joy and it isn't really harming anyone, is that necessarily a bad thing? Especially when it comes from the heart.
Distinctions between good, bad, and so-bad-it's-good have been made murkier with attempts to create movies that are bad on purpose. There is some sort of indefinable magic missing that frequently renders such experiments failures. However, that is not Manborg's burden to bear. Although it might have been inspired by badness, it is genuinely good.
Even with its title, you've got to know what you're getting into when you watch it. Describing Manborg's plot in a review won't make you want to see it and you don't need to know it in advance to enjoy the movie. Manborg reminds me of Dracula, Frankenstein, Iron Man, Speed Racer, Mad Max, Star Wars, Blade Runner, Robocop, Mortal Kombat, Universal Soldier, and a lot of other things that won't try and pretend that I know about. There are Nazis, there are aliens, there is bad dubbing, and one fake Australian accent.
With a reported budget barely reaching $2,000, you're not going to believe how good and how cool Manborg actually looks. There's a lot of green screen and flattening of depth, but it comes off as hallucinatory, not cheap. Manborg's costume has recognizable parts from kids' toys and computers, but it works. The stop-motion has an especially grotesque charm. The acting isn't going to win any prizes, but maybe it should? There are lots of genuinely funny scenes and as we know, comedy is usually a lot harder to pull off than drama.
The DVD release includes some bloopers and behind-the-scenes footage that vividly reminds me of rehearsals for plays and dance recitals, you know, when I'd get to hang out with the cooler, funnier, older kids, cracking jokes and goofing off. Those were some of the best parts of my awkward pre-teen and teen years and even though you don't see that in the movie, you still see that in the movie, if you get what I'm saying here.
That's what makes Manborg so great and so special.
Manborg was released on DVD in Canada through Anchor Bay and Raven Banner Entertainment on April 16 and is out today through Dark Sky Films in the US.
The DVD bonus features are substantial: commentaries with director Steven Kostanski, actor/writer Jeremy Gillespie, and executive producer Peter Kuplowsky; deleted and alternate scenes; bloopers and behind-the-scenes footage; two terrific montages which show the stop motion effects and how some of the VFX were added to the raw footage; funny interviews with everyone in the cast and crew; a Q&A from the film's premiere at the Royal Theater in Toronto, Ontario; and perhaps best of all, the faux trailer/short film Bio-Cop, which is amazing.