Published on April 30th, 2013 in: Current Faves, Music, Music Reviews, New Music Tuesday, Reviews |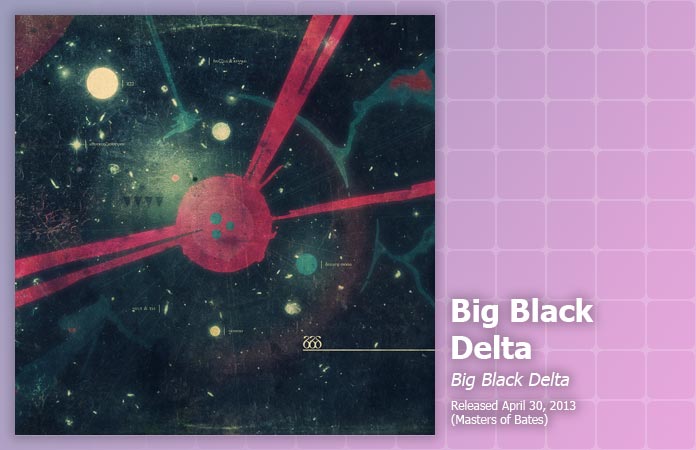 The claim that music with keyboards and synthesizers isn't "real music" or is just crap has gone on long past its sell-by date. It was tired in the '80s; now it's just embarrassing. If music makes you feel something on a gut level—or hell, if it just makes you want to hit the dance floor—then who cares if it's got synths, keyboards, or a didgeridoo?
The anti-keyboard bridge would probably break out the torches and pitchforks for Big Black Delta. Jonathan Bates has taken Phil Spector's Wall of Sound to its most synthesized, processed extreme. It's not just that Big Black Delta's music features a preponderance of electronic sounds, it's that the sounds include mountains, oceans, and skies.
The geographic grandeur of Bates's music stirs something within: the urge to sway, to dance, to sing along even though you don't know the lyrics. The music is anything but cold or soulless, engaging you on a level that will probably surprise you.
One of the many things Bates excels at is his ability to know when to hold back. If he didn't, then the quasi-dubstep swooshes of dense sonics would prove claustrophobic. I'm not talking about a Pixies quiet/loud aesthetic but something more profound and three-dimensional, like the long pause halfway through "Huggin & Kissin," the sound of the air being impacted by the instruments after the line "or maybe not everything should begin" in "Into The Night," and the synthesized violins that appear towards the crush at the end of "Capsize," which don't come across as excessive, but actually soothe.
Even the often-Auto-Tuned vocals seem like a sly pun, because Bates has a rich, beautiful voice that doesn't need any adjustments. And his falsetto, by gods, his falsetto. Oh, and the harmonies.
The album flits between the furious cacophony of songs like "IFUCKINGLOVEYOU" or "x22"; the stunning, wistful, partly acoustic "Dreary Moon" and "Love You This Summer"; and the surprisingly, straightforward "Money Rain Down" with sampled horns and a heavy bass line snatched from "White Lines." There's even an instrumental track ("PB3") that should be called "Ladies and Gentlemen, We Are Floating In Space" only that title's already been taken. The outrageously exuberant single "Side of the Road" is instantly loveable and has found its way into my head frequently over the last few weeks, possessing more than a glimmer of the emotional resonance of ELO's best.
So for all those who have a hate-on for keyboard music, I have only one thing to say: Big Black Delta. Your argument is invalid.
Big Black Delta's self-titled album is out today from Masters of Bates and can be ordered from the Big Black Delta website in digital, CD, and vinyl formats.
Tour Dates:
29/04/13 – School Night, Bardot, Los Angeles, CA
04/06/13 – Echo 1, Los Angeles, CA
06/06/13 – Constellation Room, Santa Ana, CA
07/06/13 – Cellar Door, Visaslia, CA
08/06/13 – Casbah, San Diego, CA
10/06/13 – Larimier Lounge, Denver, CO
12/06/13 – 7th Street, Minneapolis, MN
13/06/13 – Schubas, Chicago, II
14/06/13 – NXNE (The Garrison), Toronto, Canada
15/06/13 – NXNE (Young Dundas Sq), Toronto, Canada
16/06/13 – Le Belmont, Montreal, Canada
18/06/13 – Rock and Roll, Washington, DC
19/06/13 – Mercury Lounge, NY
21/06/13 – Johnny Brenda's, Philadelphia, PA
22/06/13 – Glasslands, Brooklyn, NY