Published on April 29th, 2013 in: Current Faves, Music, Music Reviews, Retrovirus |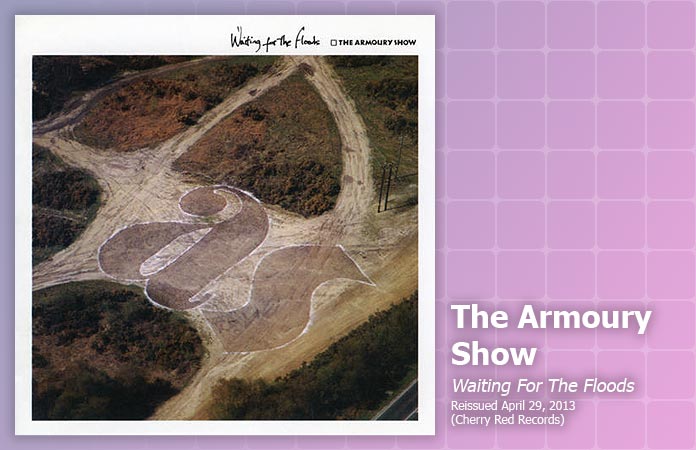 In 1985, The Armoury Show took Britain by storm, billed as the first punk supergroup. By 1987, they had fallen off the radar completely, leaving only one album behind. Cherry Red's reissue of that album, Waiting For The Floods, is a beautiful shiny thing, a welcome rediscovery of a band that faded out far too quickly.
Consisting of former members of Magazine, The Skids, and Siouxsie & the Banshees (John McGeoch!), The Armoury Show served up gorgeously slick cathedral Goth with strangely danceable grooves. Theirs was not music for the stand and shuffle crowd. You could dress up in your funereal best and still sway your anthemic hips, maybe even crack a smile.
Perhaps it was because their lyrics avoided the standard Gothic trappings. There's no talk about "darkness" or "the sweet release of death" to be found. Imagine, instead, songs that uplift and inspire without inducing vomiting, the music you listen to before going into battle on horseback, flags waving and the cold wind at your back. Not as provincial as XTC yet just as staunchly British, this is music to hunt for the Holy Grail by.
Lead-off song "Castles in Spain" sets the tone for the whole album. Russell Webb's fretless bass swirls throughout the song like oil atop a puddle as Richard Jobson exhorts the listeners to "Go on, go on, go on, keep moving." There's a stilted majesty to the song, and a hot sense of urgency, as it gathers the audience under its tattered wing and feeds them jagged pieces of night.
Other songs like "We Can Be Brave Again" and "The Glory of Love" keep the tempo and overall feeling of weirdly joyous combat going. "Catherine," a song not on the original release, wouldn't be out of place as a romantic spotlight number in a modern musical. Theatrical without being pompous, Waiting For The Floods is Arthurian nationalism at its bravest and most stentorian. You half expect the songs to rise up from the lake, bearing Excalibur.
The two-disc set from Cherry Red Records adds six new songs to the album. The second disc is chock full of remixes, if you're into that sort of thing. I'm not normally a big fan of them, but I really enjoyed the Wubb Dubb Mix of "Castles in Spain." The accompanying booklet includes an interview with bassist Russell Webb, lyric sheets, and a documented discography.
It's probably the most complete collection we're going to get concerning The Armoury Show, a band that only dropped one album before heading off into obscurity. Even though you can still hear their influence in bands like Editors and White Lies, The Armoury Show was a sweet, singular musical moment, a stirring call to arms, and a quest for greatness that we, at the time, weren't able to heed. Almost 30 years later, we haven't quite grasped the sword from their proffered hand.
Waiting For The Floods is out today from Cherry Red Records and is available to order directly from the label's website.