Published on February 22nd, 2013 in: Assemblog, Books, Copyright/Piracy, Feminism, Film Festivals, Gaming, Horror, Legal Issues, Movies, Science and Technology, The Internets, Trailers, TV |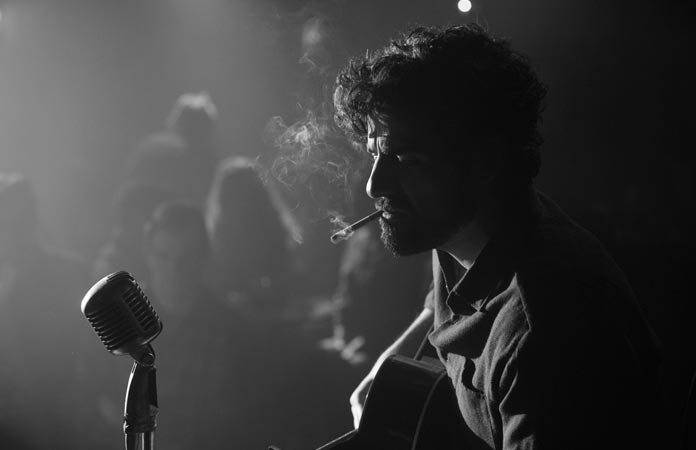 Inside Llewyn Davis
New this week on Popshifter: Paul takes Men's Rights Advocates to task in his article on Women in Gaming and tells tales of pro wrestling redemptions; Chelsea loves Lady Lamb the Beekeeper's first full-length album RiPLEY PINE; I fawn over new releases from Parenthetical Girls, Dawn McCarthy & Bonnie "Prince" Billy, and Iceage, share the latest from Big Black Delta, and review French Horn Rebellion's newest EP Love Is Dangerous; and Hanna admires both the humor and scientific methods found in The Marriage of True Minds from Matmos.
Last week I posted a short clip from Xan Cassavetes's upcoming erotic vampire thriller, Kiss of the Damned. Now there is a full trailer and it looks great, giving a bit more background detail and coming across not entirely unlike a less campy version of True Blood. Kiss of the Damned will be on iTunes/On Demand on March 28 and in theaters May 3.
In television news, Alyse Wax at Fear.net has posted a great review of an upcoming CW drama called Cult. It's just spoilery enough to pique your interest so you should give it a read. It's a different, and interesting, take on the "show within a show" format.
NBC's 13-episode Hannibal premieres April 4. The number of episodes and the warning on the trailer makes me suspect that NBC is trying to compete with shows like The Walking Dead and True Blood. If this makes other networks step up their game (and god forbid the show turns out to be great, but NBC puts it on hiatus or cancels it, like they typically do), I'm all for it. (Note: I've already watched the trailer, but now I'm getting some warning that it contains things "damaging to your computer" even though it is directly from NBC.com. So I'm linking to the trailer as posted on Film Junk and you can click at your own risk.)
Writer/director/producer Michael Altieri of The Butcher Brothers has a movie called Holy Ghost People that's premiering at SXSW. Twitch has the synopsis and four stills. If you've enjoyed the duo's other films, this should interest you, especially as Joe Egender is part of the cast.
I posted the trailer for Inside Llewyn Davis at the beginning of February. According to a press release I received this week, CBS Films has acquired US distribution rights to the film, so huzzah! It is described as follows:
Inside Llewyn Davis follows an aspiring singer-songwriter (Isaac) as he navigates the 1960s folk-music scene in New York City's Greenwich Village. Grammy®-winner T Bone Burnett produced the film's soundtrack which includes music performed by, among others, Oscar Isaac, Marcus Mumford, and Justin Timberlake. Robert Graf served as executive producer, T Bone Burnett served as executive music producer and Marcus Mumford as associate music producer.
The press release notes that "Studio Canal is handling international distribution for the film as well as foreign sales," so hopefully we'll hear news of more distribution in the not-too-distant future.
It's been a while since I've posted about legal issues in entertainment, but there is a lot to discuss this week. Some interns who worked on Black Swan filed a lawsuit against Fox Searchlight, which was eventually expanded to include all of Fox Entertainment's intern division. As The Hollywood Reporter notes, the suit could actually impact internships in other corporations. It's a somewhat complex issue, but here is part of what the plaintiffs are alleging:
". . . that the interns performed work for the film company that displaced paid employees; that Fox financed, closely monitored, and set employment conditions on productions like Black Swan; and that the internship program didn't satisfy a bona fide training program under the Labor Department's 'Six Factor Test'."
(You can read more about the "Six Factor Test" in this document from the Department of Labor website.)
Last summer, the MPAA was unhappy with Google because they felt the company wasn't doing enough to respond to "takedown requests." Now the RIAA is complaining about the same thing, saying they've found "no evidence" that "Google's pledge to demote pirated music sites in search results is working." Variety notes that:
"The trade association also said that for 88% of searches for mp3s and downloads of tracks, Google's autocomplete function suggested search terms associated with sites for which it has received 'multiple notices of infringement'."
When I first talked about this issue last year, I was under the impression that the MPAA was dictating search results, but was told that the issue was more to do with ads that violated Google's AdSense policy. However, based on this recent RIAA complaint it appears that search results ARE the issue. Which just gives more evidence that Google has helped create a "filter bubble." (If you are unfamiliar with this term, you can read my editorial about a book discussing the phenomenon.)
The MarySue has published a piece on a lawsuit involving Amazon and eBooks, stating that, "a new lawsuit filed by three independent bookstores is looking to strike at the heart of the problem: the insistence of eReader makers that their books should not be readable on other devices." This reminds me of the Bruce Willis vs. iTunes debate and makes me think that eBooks are copying this practice.
The article goes on to clarify that:
What the suit is looking for isn't actually for all eReaders to adopt an open-source eBook format, one that would be editable and available in its source code to all of its users. Instead it wants eReaders to a adopt single eBook format, so that the sale of eReaders would become divorced entirely from the sale of eBooks.
One commenter notes, "This lawsuit is bogus and most of the things it alleges are patently false. It's going to be laughed out of court, or at least it should be." I'm not exactly sure if this is an Internet shill or what, but I do not see the logic behind these statements. Hopefully, someone will respond and provide clarification.
(By the way, I'm still waiting to hear about Kirtsaeng v. John Wiley & Sons, Inc., the reselling copyright case that was being heard by the Supreme Court last fall. No word from either Variety or The Hollywood Reporter on the latest developments.)
One more thing, prompted by the comments on this article from The MarySue, which relates to Paul's post on women in gaming from this week: Do these Men's Rights Advocates all have Google Alert searches for "sexism + gaming" set to "as-it-happens" so as to maximize their trolling experience? Even an academic study isn't enough to convince them that MAYBE women are right and MAYBE sexism is real.
—Less Lee Moore, Managing Editor