Published on February 21st, 2013 in: Current Faves, Music, Music Reviews, Reviews |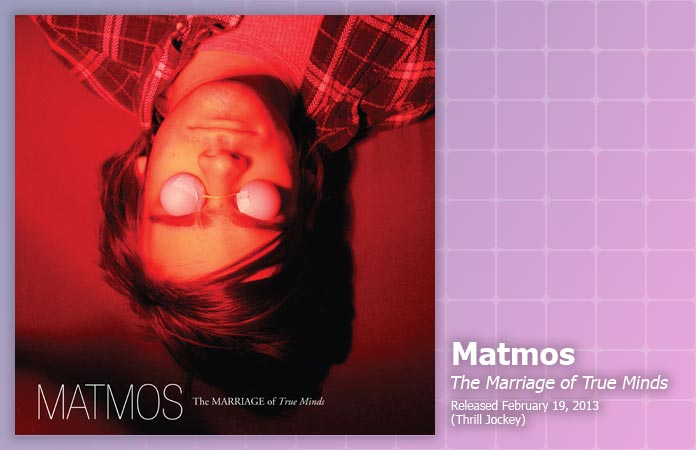 One of the best things about Matmos is their enduring sense of the wacky. It's rare to find truly challenging and avant garde music, but rarer still to find some with a sense of humor. One of the ways that expresses itself is in their penchant for bizarre—almost gimmicky—methods of making music and collecting sounds.
This time this is focused less on the use of weird noises, but on the entire way of making the album. The buzzword for The Marriage of True Minds is telepathy, continuing from The Ganzfeld EP from last year (review). Both works were made using ganzfeld experiments; a pseudoscientific method of tapping into the psychic senses by limiting regular sensory perception and creating a ganzfeld effect; an effect similar to sensory deprivation. It's characterized by the halved ping pong balls placed over the eyes, like the beginnings of a Crow from MST3K cosplay. By carrying out ganzfeld experiments on their friends over the years and recording the results, the basic structure of this album was formed.
I can't express an opinion on how well this may have worked in reality; what matters is how it comes through in the album, how it projects on the listener's mind. Which is extremely well.
The opener, "You," uses a great deal of spoken word vocals. There is a lot of vocal work on this album, making it more human and conveying an impression of communication in common with its basic theme.
Triangles provide another common theme, both in lyrics and as an instrument. "Very Large Green Triangles" also appeared on the The Ganzfeld EP, and one of my favorite tracks on this album. It's dramatic, creating a sense of almost narrative tension through the combination of musical contrasts—very loud, very quiet, fast and slow—and chanting vocals.
"Mental Radio" is another favorite. The title describes it perfectly: it provides clicks, music, and sounds that develop from one to the other and blend, and seem to follow a natural thought progression. It carries on into "Ross Transcript."
"Teen Paranormal Romance," aside from the unexpected comic touch in the title, is simple and strangely emotionally compelling. It seems to go through a variety of moods or feelings, culminating in quiet, animalistic scratches at the end.
"Tunnel," with its didgeridoo style noises and disjointed funk, is not as dark as the creepy, muttered lyrics suggest. It's more like a shock that makes you feel more alive: going through the tunnel and coming out the other end.
Triangles are back with "In Search of a Lost Faculty." Despite being quite pleasant and going deeper into the triangle motif, I can't shake the feeling that it sounds like a parody of a spoken word Jon Anderson track. The beautiful way in which bagpipes are introduced at the end made this for me, though, and moved it beyond parody. "The Marriage of True Minds" is on the same lines, but with more folk music influences, and almost psychedelic organ improvisations.
"ESP," a cover of the Buzzcocks song, is the Bizarro Universe version of that song: instead of surfy, it's minimalist and sounds like an experimental doom metal song, complete with grunts, right until the end when it takes on a jaunty bluegrass style. Presumably the subject matter was the reason for this cover, and it's a fun inversion of the original as well as a suitable closer, providing a philosophical framework for the album.
The flow of the whole album is rather like a natural thought progression, which is something a lot of experimental music aims to achieve and hardly ever does. Human sounds weaving in and out of the songs and influences from blues and bluegrass create a sense of comfortable and organic processes. It has a feeling of spontaneity and improvisation that works with suggestion and layers of association rather than strict concepts.
The Marriage of True Minds is such a successful evocation of real psychic communication that it doesn't matter if it's the result of telepathy or pure skill. And it does at least make you think about it, as "ESP" commands you to do, and seems to be the ultimate goal of the album.
The Marriage of True Minds was released on February 19 by Thrill Jockey. It's available to order from the label's website.
Tour Dates:
Thu. Feb. 21 – Vancouver, BC @ Media Club *
Sun. Feb. 24 – San Francisco, CA @ Public Works *
Mon. Feb. 25 – Los Angeles, CA @ Masonic Lodge at Hollywood Forever Cemetery *
Thu. Feb. 28 – Austin, TX @ The ND *
Sat. March 2 – Louisville, KY @ Zanzabar *
* with Horse Lords