Published on February 19th, 2013 in: Current Faves, Music, Music Reviews, New Music Tuesday, Reviews |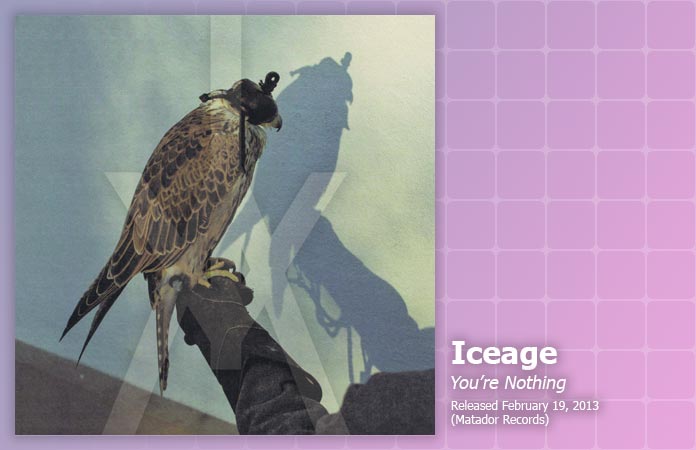 When we last heard from Iceage in 2011, they were causing quite a stir with their debut album New Brigade (review). Encapsulating yet confounding the parameters of post-punk and hardcore in this new millennium, critics and music fans took notice. Now Iceage has returned with You're Nothing, which does all it can to beautifully obliterate New Brigade, while still retaining the spirit that made that album so good.
The first two tracks—"Ecstasy" and "Coalition"—will sound familiar to fans in that the urgency of both the music and the vocals are astounding. The line between anarchy and melody is even more adeptly straddled this time around. Perhaps another reason why Iceage exude so much vitality is because they are barely out of their teens and thus can sincerely convey such passion and power. These are not the teens of The Secret Life of the American Teenager (and none of Iceage's songs would appear as the soundtrack to any episodes of the show).
A lot of Iceage's appeal is due to Elias Bender Rønnenfelt's extraordinary vocals, capturing the essence of teen angst in its truest, most-free-from-bullshit form. Never mind that his voice cracks or some of the notes are flat. If you care about stuff like that from music like this, you should probably look elsewhere.
Musically, the four members of the band—Rønnenfelt, Jakob Tvilling Pless (bass), Dan Kjær Nielsen (drums), and Johan Suurballe Wieth (guitar)—have absolutely surpassed their work on the previous album. The songs are volatile, yes, but pack an emotional punch we've not previously witnessed with this band, particularly on the amazing "Morals," with its heavy piano. There is a preponderance of military-style drums, which, along with some genuinely impressive guitar and bass melodies, create an intoxicating, haunting atmosphere of depth and drama. There are chunks of heavy intensity as well, like "It Might Hit First" or "Rodfæstet" ("rooted").
It's not all darkness, though. There are bits of light that shimmer, and that make the songs on You're Blessed a bracing immersion in contrasts. The opening of "Burning Hand," and the main melody of "Awake," for instance, are eerily reminiscent the early work of The Alarm, whose giant coifs and catchy songs are probably the last thing most would associate with a band like Iceage. In "Everything Drifts" and "Wounded Hearts" the band wipes away the sludge to reveal genuine hooks, sing-along choruses, and harmonies.
You're Nothing is not only longer than New Brigade, it's infinitely more addictive. It shows that all the promise New Brigade made would be fulfilled and then some. I'd say I can't wait for Iceage's next album, but I'm still thrilled with this one.
You're Nothing is out today from Matador Records and is available to order from the label's website. For more on Iceage, check out the band's blog.
Tour Dates:
23 Feb – Dokument #1, Hovedbiblioteket, København w/ Damien Dubrovnik, Age Coin, Hand Of Dust, Puce Mary
25 Feb – Broadcast, Glasgow w/Puce Mary
26 Feb – Shipping Forecast, Liverpool w/Puce Mary
27 Feb – Shakespeares, Sheffield w/Puce Mary
28 Feb – Electrowerkz, London w/Puce Mary
01 Mar – The Albert, Brighton w/Puce Mary
02 Mar – Chameleon Arts Café, Nottingham w/Puce Mary
04-Mar – Espace B, Paris w/Puce Mary
05-Mar – Les Ateliers Claus, Brussels w/Puce Mary
06-Mar – Area 51, Eindhoven w/Puce Mary
07-Mar – UT Connewitz, Leipzig w/Puce Mary
08-Mar – Gleiss 22, Munster w/Puce Mary
09-Mar – Vera, Groningen w/Puce Mary
10-Mar – Hafenklang, Hamburg w/Puce Mary
20 Mar – Vancouver, BC at the Biltmore w/ Spectres
21 Mar – Seattle, WA at Barboza
22 Mar – Olympia, WA at the Capital Theater (backstage)
23 Mar – Portland, OR at the Star Theater
25 Mar – San Francisco, CA at the Rickshaw Shop w/ Merchandise and Wet Hair
26 Mar – Oakland, CA at the New Parish w/ Merchandise and Wet Hair
28 Mar – Bakersfield, CA at Munoz Gym w/ Milk Music
29 Mar – Los Angeles, CA at the Echoplex w/ Milk Music
31 Mar – San Diego,CA at the Casbah w/ Milk Music
01 Apr – Tempe, AZ at the Deadhorse Warehouse w/ Milk Music and Destruction Unit
04 Apr – Denver, CO at the Marquis Theater w/ Merchandise and Wet Hair
06 Apr – Grinnel, IA at Grinnell Collage (FREE SHOW) w/ Wet Hair
07 Apr – Minneapolis, MN at the Triple Rock Social Club
09 Apr – Madison, WI at the University of Wisconsin (FREE SHOW)
10 Apr – Chicago, IL at the Empty Bottle w/ Final Grin
11 Apr – Columbus, OH at Ace of Cups
12 Apr – Pittsburgh, PA at 6119
16 Apr – Burlington, VT at the Monkey House w/ White Lung
17 Apr – Boston, MA at TT the Bears w/ White Lung
18 Apr – New Haven, CT at Lilly's Pad (Toad's Place Upstairs) w/ White Lung
19 Apr – Philadelphia, PA at the First Unitarian Church w/ White Lung
20 Apr – New York, NY at the Bowery Ballroom w/ White Lung
30 May – 02 June – Austin, TX at Chaos in Tejas