Published on February 20th, 2013 in: Music, Music Reviews, Reviews |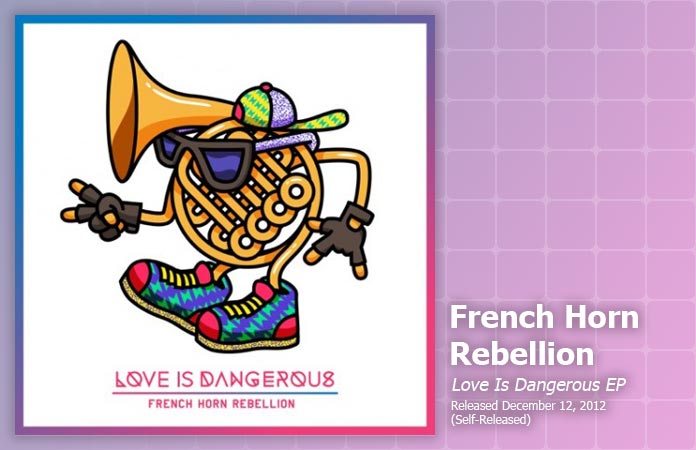 In 2011, French Horn Rebellion released The Infinite Music of French Horn Rebellion. The 14-song album was a schizophrenic mixture of EDM, disco, synthpop, guitar solos, smooth jams, stark piano pieces, feedback, radio interference, and I'm pretty sure I heard some humpback whales in there. For an album described as "an intergalactic narrative that tracks the physical and emotional journey of an unknown French horn player" this seems completely logical.
Yet French Horn Rebellion aren't zany for the sake of it, as there are some beautiful moments on The Infinite Music, particularly the vocals of the hilariously named "Mawson's Peak" (reminiscent of Martin Gore's Depeche Mode songs) and the sweet, wistful '80s pop of "Last Summer."
French Horn Rebellion's latest single, "Love Is Dangerous," features The Knocks' Jpatt, and is an unrelentingly hook-heavy disco stomper. The song—along with two remixes from Chrome Canyon and FHRekles—appears on the EP of the same name.
Love Is Dangerous includes another awesome track, "Cold Enough," with the vocals of none other than Jody Watley. It's got a more mellow groove, but is still a siren song to get asses on the dance floor.
Love Is Dangerous was released on December 12, 2012 and can be ordered from the French Horn Rebellion website.
Upcoming Shows:
March 21: Treefort Music Fest 2013 in Boise, ID
Thu Apr 18: Red Room, Cafe 939, Berklee College of Music in Boston, MA\