Published on February 19th, 2013 in: Current Faves, Music, Music Reviews, New Music Tuesday, Reviews |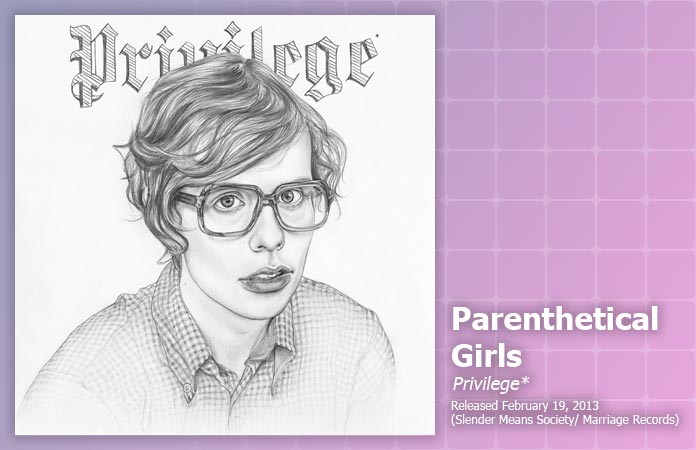 "But hard as I've tried, I'm helpless to describe."
—Parenthetical Girls, "The Pornographer"
If you're not yet familiar with the unusual pop music of Parenthetical Girls, you're in for an aural treat. Despite what connotations they may have intended for the title of their new album, it's an apt descriptor for these 12 songs; experiencing them is indeed a privilege.
It's not often that a band comes along so precisely indefinable as Parenthetical Girls, always a sure signifier of brilliance, with genius waiting in the wings. It makes categorizing their aesthetic troublesome, though no less enjoyable to attempt. "Chamber pop," though appealing, has its origins in the mid-1960s, and Parenthetical Girls are far too modern for a term older than the average ages of its members.
"Indie rock" has its own negative connotations; despite the Girls' decidedly independent means of releasing records (not to mention their seeming inability to serve any mistress but their own unique flights of fancy), that descriptor brings the word "twee" to mind, and Parenthetical Girls are much to daring to be considered twee.
I have chosen to dispense with such aspirations and simply review the album.
Parenthetical Girls have presented a pared-down version of their original four-part series of 2010 EPs (also entitled Privilege) into 12 remastered, remixed songs. These range from wildly mannered pop confections ("Evelyn McHale," "The Common Touch," "Sympathy For Spastics"); to enormous guitar and drum orgies ("The Pornographer," "A Note To Self"); to orchestral mini-epics ("For All The Final Girls," "Weaknesses"); to straight-up, synth-heavy dance music ("Careful Who You Dance With," "Young Throats"), though there's nothing straightforward about any of them. The last three tracks—"On Death & Endearments," "The Privilege," and "Curtains"—comprise nearly 15 minutes of seamless, atmospheric, probably unparalleled, pop accomplishment.
While mentioning The Smiths might seem to contradict the first few paragraphs of this review, even a cursory glance at the history of the Girls ensures they're likely the first to admit the influence. Yet, even though such references—along with hints of Sparks and even Pulp, plus early '80s post-New Romanticism—might be immediately apparent, this fades as the songs assert themselves on their own terms. Besides, Parenthetical Girls are nothing if not their truest selves, even if the lyrics are sometimes delightfully inscrutable.
Lyrically, Privilege deals with various permutations of power struggles via love, sex, class, life, and death. Singer Zac Pennington employs delicious double entendres and pun-filled prose to conjure a variety of devastating critiques. The gender ambiguity of the various protagonists ensures that you could scrutinize these songs for a long time and they'd still retain their mystery.
It's not even just the words he uses, but how they float out of his mouth. There is nothing quite so astonishing as the unbridled originality of Pennington's peculiar voice, and perhaps nothing so immensely, decadently pleasurable, and so imperfectly perfect.
This is not meant to take any credit away from fellow musician and band member Jherek Bischoff or the other musicians who contribute to the album. Within these 12 songs there are melodies that demand and receive attention. Musically, Privilege is staggering it its ability to summon so much, even apart from Pennington's vocal prowess. One could listen to this album for six months and still find new treasures to discover.
Perhaps the best way to explain Privilege (and Parenthetical Girls) is "ravishing," if such a word can be applied towards an album (or a band). Some might grouse that Parenthetical Girls are "not for everyone," the kind of passive-aggressive remark best confronted by great pity for such feeble-minded critics. It's best to ignore them. Instead, lie back, close your eyes, and let Privilege swallow you.
Privilege is out today from Slender Means Society and Marriage Records. It will be available in the EU/UK on March 4 via Splendour Records.
The CD is accompanied by a DVD featuring "seven promotional films, blood draw documentation, live performances, & other ephemera." It can be purchased directly from the Slender Means Society website.
Tour Dates:
03/06 Portland, OR – Holocene
03/07 Berkeley, CA – Starry Plough
03/08 Los Angeles, CA – The Smell
03/09 Phoenix, AZ – Trunk Space
03/10 Albuquerque, NM – Low Spirits
03/12 San Antonio, TX – Korova
03/13 – 03/16 Austin, TX – SXSW
03/17 Dallas, TX – Overflow Music Festival
03/19 Birmingham AL – Bottletree
03/20 Atlanta, GA – The Earl
03/21 Chapel Hill, NC – Local 506
03/22 Washington, DC – TBA
03/23 Philadelphia, PA – PhilaMOCA
03/24 Hamden, CT – Outer Space
03/25 Brooklyn, NY – Glasslands
03/26 NYC – Bowery Electric
03/27 Montreal, QB – Divan Orange
03/28 Toronto, ON – Double Double Land
03/29 Ann Arbor, MI – Arbor Vitae
03/30 Chicago, IL – Empty Bottle
03/31 Minneapolis, MN – TBA
04/02 Denver, CO – Hi Dive
04/03 Salt Lake City, UT – Kilby Court
04/04 Boise, ID – Flying M
04/07 Seattle, WA – Chop Suey