Published on August 2nd, 2013 in: Assemblog, Conventions/Expos, Critics/Criticism, Feminism, Film Festivals, Horror, Movies, The Internets, TV |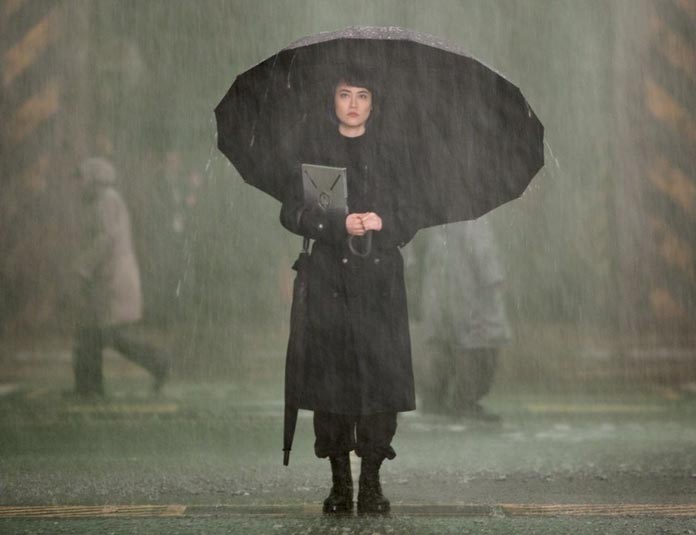 Rinko Kikuchi as Mako Mori in Pacific Rim
New this week on Popshifter: Brad reviews yet another Scream Factory reissue, this time it's The Burning; Jeff finishes up this month's Waxing Nostalgic Cover Albums series with Replicants' eponymous album; Paul informs critics that being average is not worse than being bad; John pays tribute to The Olivia Tremor Control's Bill Doss; I embrace the post-punk transvestite stylings of The Garden on their new album The Life And Times Of A Paperclip; and enjoy a lot of good movies new on home video and in theaters: Trance, Kiss of the Damned, The Last Will and Testament of Rosalind Leigh, and Berberian Sound Studio.
More TIFF films have been announced this week! Most of the Midnight Madness selections and all of the Vanguard selections were posted on the TIFF website, in addition to a bunch of other programmes. Again, I'll be posting my list of picks in the upcoming weeks, once all the films have been posted.
Regardless of how you feel about Pacific Rim, wait, scratch that. I have noticed quite a lot of Internet disappointment in Pacific Rim over the last few weeks. Internet disappointment is fine but when it turns into self-righteousness it bothers me. A lot of this has revolved around a couple of issues:
1. Pacific Rim is just another dumb movie with corny dialogue and doesn't deserve all the excitement and praise it's getting.
Let's address that, shall we? If you thought Pacific Rim was dumb, that's fine. But then why exactly is it so enraging that it seems to be popular among moviegoers? It didn't exactly blow the lid off other films in terms of gross profits, so it's not like it's taking money away from movies you liked more.
2. Pacific Rim didn't pass the Bechdel Test and is a failure in feminist terms.
Yes, the first part of the previous sentence is true. However, compared to a lot of other blockbuster movies, Pacific Rim is way ahead of the pack in terms of how it portrays women.
Here is an article on the visual intelligence of Pacific Rim that explores why it isn't dumb. I hope that people read this and reconsider their assessment of the movie. Some of the comments are full of that same self-righteousness I mentioned above, so proceed with caution. Another article, on how Pacific Rim still promotes feminist ideals even though it doesn't pass the Bechdel Test, is also worth a read. Whether or not movies are dumb or sexist should not hinge on one thing, i.e., corny dialogue and the Bechdel Test, so let's all try and be a bit more open-minded in our analysis.
Indiewire has an ongoing column on tech stories that filmmakers and film fans need to be aware of. This week, there's a link to a Wired piece on cord cutting, which is something we haven't discussed in a while. Interestingly, the article begins with a premise we first discussed back in February, that it's still TV even if you're not watching it on a TV. The article goes on to argue that those who watch TV on devices other than an actual television actually watch more TV than those who limit themselves to the television only, so the Internet is actually increasing TV viewership.
Showtime has a new series planned titled Penny Dreadful, which will be set in Victorian London and star Eva Green and Josh Hartnett. Juan Antonio Bayona (The Orphanage) will direct the first two of eight episodes and the series itself is executive produced by Sam Mendes and written by Skyfall screenwriter John Logan. If those aren't enough bona fides for you, consider that Penny Dreadful is going to tackle origin stories of Dr. Frankenstein, Dracula, and Dorian Gray. Penny Dreadful begins filming in London this fall and will premiere on Showtime in 2014.
A story that Film School Rejects posted last week regarding San Diego Comic Con has captured my attention. It's about gaming voice actor and screenwriter (X-Men, X2) David Hayter and his directorial debut, Wolves.
I've long wished for werewolves to become as iconic in the pop culture consciousness as vampires (although the show Teen Wolf does seem to have a massive following, I haven't seen it). I realize that both the Twilight and Underworld series include wolves, but I'm thinking more of Joe Johnston's The Wolfman (which I loved). It seems like Wolves won't be as old school gothic as the recent Universal film but it does seem like it might lend some gravitas to a creature that isn't treated with as much respect as vampires or zombies.
—Less Lee Moore, Managing Editor