Published on August 2nd, 2013 in: Current Faves, DVD, DVD/Blu-Ray Reviews, Horror, Movie Reviews, Movies, Reviews |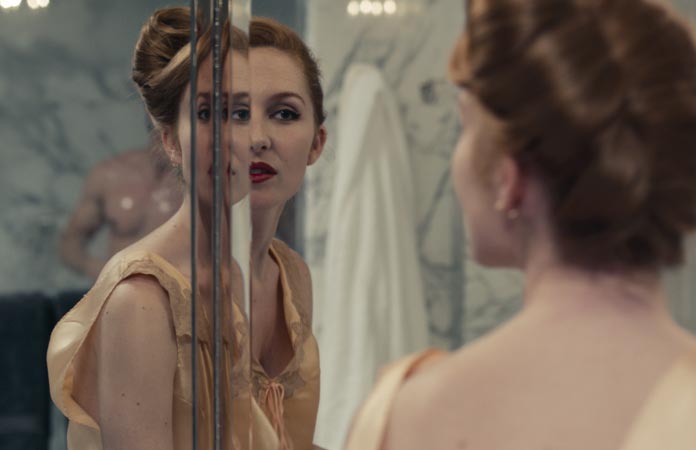 If anything could be more thrilling and sexy than Kiss of the Damned, it would be the fact that this is writer and director Xan Cassevetes's first film. The daughter of John Cassavetes and Gena Rowlands, her pedigree is as assured as her talent.

Kiss of the Damned is the vampire movie that we've all been waiting for, engorged with atmosphere, sex, betrayal, and blood. It's indebted to films like Daughters of Darkness, The Hunger, and the oeuvres of Jean Rollin and Jess Franco. Yet it feels fresh and invigorating and not like a retread at all.
Part of this is because Cassavetes isn't afraid to confront vampire tropes with plain language and a bit of gallows humor. Djuna (Joséphine de la Baume) lives a lonely, nearly monastic life until she spies Paolo (Milo Ventimiglia) in a video store. It sounds over the top and in truth, it is, but it works so well that you become swept up in the pull of its tide regardless.
This is also due to the incredible score from Steven Hufsteter (the same one responsible for post-glam power pop nugget "Pretty Please Me") and seven tracks from witch house geniuses Demdike Stare. Hufsteter's compositions vibrate with the vintage vibes of the Vampyros Lesbos soundtrack and help to set the tone for the film.
Intense close-ups, warm lighting, an unforgiving sky, and establishing shots of an imposing house encircled by a forest and a lake all help to ground this fantastic tale in something that is both sensual and cerebral. We vampire fans know that the female vampire is a metaphor for forbidden sexuality, and Cassavetes exploits this in an enticing, erotic way. There are also enough chilling moments to remind us that vampires still have fangs, no matter how much we may love them.
The cast is the perfect assemblage of European and American actors. Ventimiglia is the brooding, passionate writer torn between dreams and practicality. De la Baume is a Victorian romantic, while her troublemaking sister Mimi (Roxane Mesquida) gives us the Miriam Blaylock side of things. The gorgeous, gravel-voiced Anna Mouglalis is the vain, yet kind-hearted artiste who holds salons to ponder and philosophize on the ennui of the undead. Additionally, nature's omnipresence plays as big of a role as the actors themselves.
The internal conflict of the vampire is vividly personified in the conflicting personalities of Djuna and Mimi and again within Paolo himself. Although callous, self-loathing Mimi feeds off drama like so many tossed-aside sexual partners, it's the sudden appearance of Paolo's decidedly unhip Hollywood agent Ben (the always enjoyable Michael Rappaport), with his Bluetooth earpiece, Dockers pants, and good intentions, that threatens to crumble the weblike world the lovers have constructed around themselves.
Kiss of the Damned doesn't end on a happy note, but on a melancholic, realistic one, ensuring that it's destined to be a future classic of the genre.
Kiss of the Damned was released on DVD through Magnolia Home Entertainment on July 23. The disc includes interviews with Joséphine de la Baume, Milo Ventimiglia, and Roxane Mesquida as well as theatrical trailers. The commentary track from Xan Cassavetes is refreshingly candid and insightful.