Published on August 2nd, 2013 in: Current Faves, DVD, DVD/Blu-Ray Reviews, Horror, Movie Reviews, Movies, Reviews |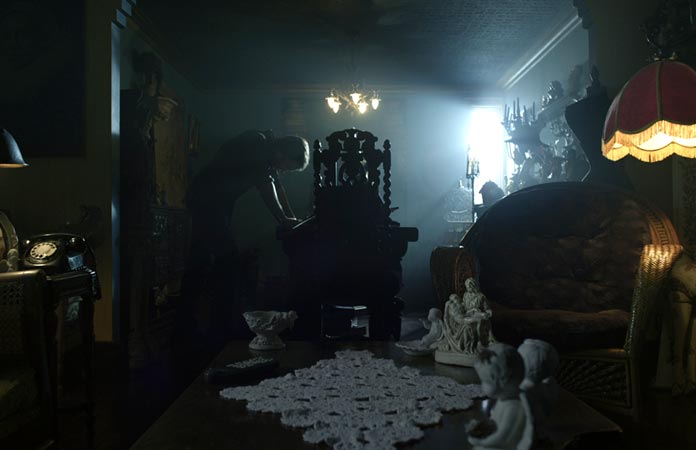 The Last Will and Testament of Rosalind Leigh is the feature film debut of Rodrigo Gudiño, founder of Rue Morgue magazine. It hearkens back to the Gothic thrillers of the 1960s but it isn't a period piece. It's more of a slow burn than most slow burning films, but once it catches flame it becomes genuinely sinister.
There is little dialogue in Last Will, as most of the movie rests on the shoulders of Aaron Poole, who portrays Leon Leigh. It's the kind of dialogue that demands close attention. There is however, a lot of narration from Vanessa Redgrave, who portrays Leon's deceased mother Rosalind. While the ubiquitousness of her vocal presence might seem superfluous at first, it's not. The Last Will and Testament of Rosalind Leigh is a movie that rewards careful viewing.
The center of the film is Rosalind Leigh's house, which is as Gothic as one would expect from a film with such a long title. It is literally crammed with large, antique furniture, sculptures, statues, taxidermy, weaponry, books, plants, and artwork. The disorienting, achingly slow long takes and pans make the movie feel unbearably claustrophobic at times, but as things progress we realize that is exactly what we're supposed to feel.
Not much happens until Leon plays a tape he finds called Communicating with the Dead. Then Last Will gets scary with a quickness. This is the kind of movie that would have scared the soul out of me as a kid and manages to give me the genuine creeps as an adult. There aren't a lot of special effects here, but the ones that are present are unsettling enough to keep you awake at night. (I can attest to this personally.)
Describing too much of the plot of Last Will might ruin its beautifully constructed atmosphere. It's a haunted house movie, but it's also a character study, and an examination of family dynamics, all viewed through the cloudy lenses of religion and superstition. It is also quite moving. The Last Will and Testament of Rosalind Leigh is reminiscent of Poe's The Fall of the House of Usher and no doubt Poe would be honored to have been an inspiration.
The Last Will and Testament of Rosalind Leigh was released on DVD on July 30 through Anchor Bay Entertainment Canada and Raven Banner Entertainment.
The disc includes a Making Of featurette as well as one on composer Mercan Dede. Although it might be surprising to discover that the house used in the film is a real one, complete with all of decorative trappings, it won't be a surprise to find that it inspired the idea for the film. The commentary track is an interview of sorts conducted with Gudiño by Rue Morgue contributor Stuart "Feedback" Andrews that delves deeply into every aspect of the creative process for the film. There is also a poster and photo gallery and Gudiño's earlier short film The Facts in the Case of Mister Hollow.