Published on July 30th, 2013 in: Current Faves, Music, Music Reviews, New Music Tuesday, Reviews |
By Less Lee Moore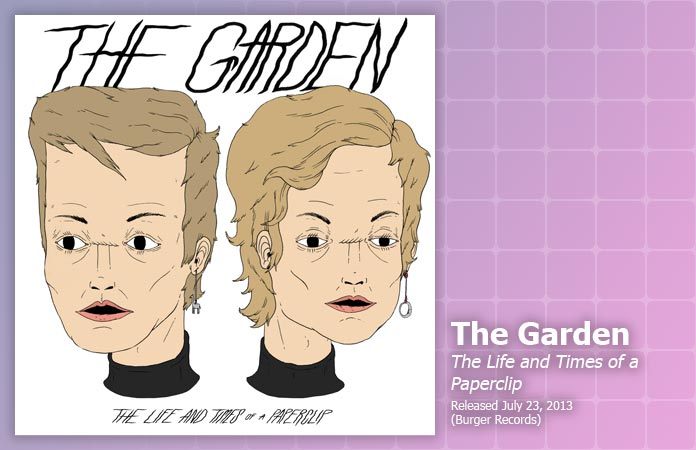 My introduction to The Garden was the video for "I Am A Woman." I was immediately taken with the band's sound and the low budget, nonsensical video that featured one member wearing women's clothes and makeup. Music that sounds like Killing Joke and The Minutemen? Guys in drag? Sign me up.
The Life And Times Of A Paperclip is the Burger Records debut of the duo known as The Garden, 19-year-old identical twins named Wyatt (vocals, bass) and Fletcher (drums, drag) Shears, who started making music a couple of years ago. Although the album has 16 tracks, it's only 19 minutes long, but the songs are so good, you'll be happy to listen to it on repeat for a couple of hours at a time.
As it turns out, the Shears twins are influenced by exactly what I thought initially, but their lyrics are an entirely original creation. There are songs about animated inanimate objects ("The Apple"), bugs ("The Moth"), and household items ("Life As A Hanger," which describes exactly what it purports in the title). The contrast between music that has come to signify nihilistic irony and nonsense lyrics could come across as pretentious; instead it's amusingly absurdist. Angry youths railing against the system are transposed into blades of grass in "Grass," written from the point of view of things that are actually "mowed on, stepped on, pissed on." It's kind of hilariously brilliant, actually.
It's impressive how much depth of sound the band is able to achieve with two instruments. There's an echoey quality that draws me in and holds me there. The entire album is fantastic, but "What We Are" and "Goose Egg" are the best examples of this aesthetic, with staggered, meaty rhythms that leave me excited at the thought of what these guys could do with songs that were twice the length.
After you've experienced the wondrous delights of The Garden, then you can learn about how Fletcher's quasi-transvestite tendencies existed before the video, how the brothers accidentally became runway models for Hedi Slimane at Saint Laurent, and how they speak in their own language at times. It sounds too weird to be true, but the fact that it is true makes The Garden even more interesting. You should also check out their side projects Enjoy and Puzzle, which sound nothing like The Garden and more like straight up trolling.
What are these two crazy kids going to do next? I have no idea, and likely, they don't either, but it will be fun to watch.
The Life And Times Of A Paperclip was released by Burger Records on July 23 and is available to order from the label's website. You can listen to the album on Bandcamp.