Published on July 31st, 2013 in: Music, Music Reviews, Reviews, Waxing Nostalgic |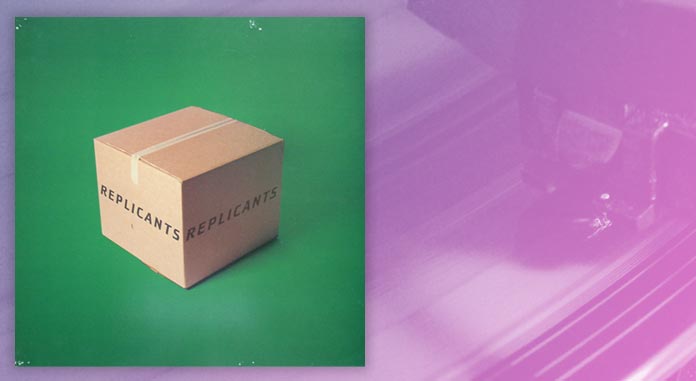 Take the guys from space-rock band Failure, Tool's first bassist, and a kick-ass keyboardist and set them to deconstructing and rebuilding some of the finest rock songs of the 1970s and 1980s. The result is the band (and their eponymous 1995 release), Replicants.
It's, well, a little weird. Therefore, I love it.
Think "overdrive." This whole album sounds like it was played on a motorcycle. Vrooms and squeals tear through some of your old favorite songs, which frankly, needed a remake.
The album opens with a disconcerting version of The Cars' "Just What I Needed." It's totally recognizable and familiar for about 30 seconds. It then proceeds to lose its mind in public, breaking down like a crazy ex-girlfriend jealous of your sister. It feels barely restrained, with a sense of crazed glee you only get from people embarking on a very bad idea, yet pulling it off.
This goes right into a seven- (yeah, seven) minute-long version of "Silly Love Songs," by Paul McCartney & Wings. Guest vocals from the Right Reverend Maynard James Keenan on this track only help to underpin the weirdness of the whole event.
Failure, as a band, was always concerned with the mechanics of madness. This interest bleeds over into Replicants. You'll find a post-Floyd Syd Barrett song here ("It's No Use") and a weirdly jaunty version of Tubeway Army's "Are 'Friends' Electric?" There's also a version of "Destination Unknown" that transforms Missing Persons next-wave anthem into a creepy exploration of alien abduction.
Replicants is an acquired taste, without a doubt. Andrews's breathy vocals are an almost constant incongruity; they neither anchor a song nor ruin it. The distortion never ends, even through a ballad like John Lennon's "How Do You Sleep?" If there were ever a cover album that would enrage the purists, it is Replicants.
What Replicants do exceedingly well is find the spirit animal of any given song. These tunes aren't covered; they have been set free. They run and ramble and become better than what they were. You've never heard these songs in these ways before. Normally, when I say something like that, I follow it up with a terrible comment about the listener being better off slicing his or her own ears off with a serrated bread knife.
Nope.
Replicants is one of my favorite albums of all time, easily in my top 20 of forever. From the clever mockery of Neil Young's "Cinnamon Girl" to the absolute screaming perfection of David Bowie's "Bewlay Brothers," Replicants is a perfect cover album, from start to finish. It's a little hard to find, from what I understand.
Find it.