Published on April 12th, 2017 in: Comedy, Podcasts, Retrovirus, Reviews, TV, TV Or GTFO, TV Reviews |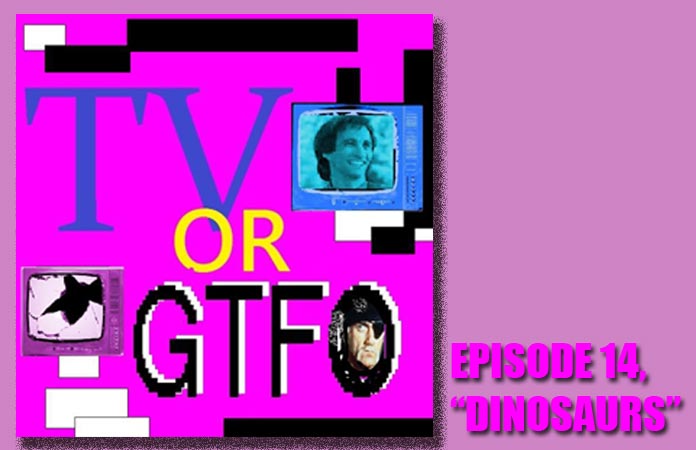 On TV or GTFO, we try to keep things pretty light, and never expect that things will take as dark a turn as they do on this week's episode. If we're not mistaken, this is the first show we've covered in which a baby dies! Is it another gritty police drama? No, it's Dinosaurs, a "high" (because you pretty much have to be) concept sitcom about a family of prehistoric lizards, by way of Archie Bunker. It was the final project from Muppeteer Jim Henson, before his death in 1990. What were you smoking at the end there, Jim Henson?
For a show that delves into such heady topics as steroid abuse and body dysmorphia, racism and xenophobia, masturbation, corporate crime, and of course, environmental destruction, it's easy to forget that these are actors in giant rubber suits, being voiced by the likes of Jessica Walter and Sally Struthers. Regardless, none of the heaviness of those episodes is adequate preparation for the pitch-black non-humor of the show's final scenes.
And let's talk about the Baby, shall we? My goodness, this creature makes Steve Urkel look like Don Draper. If you don't want to strangle him by the end of this episode, I'll eat my hat. And at the time of the show's peak, such as it was, this fucker was everywhere. You could barely walk through a mall in the early 1990s without hearing the incessant wail of "NOT THE MAMA!"
So strap in and up your dosage of antidepressants, because things are about to get rough for a family of prehistoric predators as TV or GTFO does Dinosaurs!
Don't forget to like and subscribe to TV or GTFO in iTunes, on your favorite podcast app, or check out the episode right here!