Published on December 21st, 2016 in: Best Of Lists, Movies, Music, Soundtracks and Scores, TV |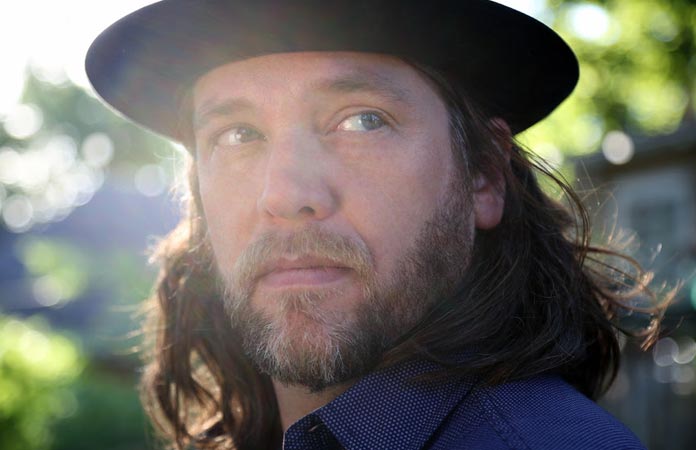 I'm a rabid collector of soundtracks on vinyl, so I decided to break out my Favorite Ten Soundtracks separate from my Favorite Ten Albums, in general. For both lists, I'm only picking albums released in 2016 (whether a first release or re-release). I'm also only picking albums that had a physical vinyl release. The lists themselves are in no particular order.
Top Ten Soundtracks of 2016
The Neon Demon, Cliff Martinez
I'm a big fan of Cliff Martinez. The work he's done recently for Nicolas Winding Refn's films has been especially outstanding. (In addition to The Neon Demon, he did Drive and Only God Forgives.) This record has been in constant rotation at the house. (We had it cranked on set while shooting the music video for my song "Leavin' By Sundown.")
Biutiful, Gustavo Santaolalla
This is an older soundtrack, but Silva Screen did a special limited run vinyl release this year as part of the British website Zavvi's "Secret Soundtrack" series. They put out some amazing soundtracks this year, but, sadly, the "Secret Soundtrack" series has been discontinued. This particular one really turned me onto the work of Gustavo Santaolalla. (I'm particularly fond of the soundtrack he did for the videogame The Last of Us which was originally released on vinyl by Mondo in 2015.
Luke Cage, Adrian Younge
I found out about Adrian Younge's work early this year and became an instant fan. I love his melding of hip hop beats with Morricone-esque grandeur. I have yet to see this Netflix show, but the soundtrack is phenomenal. Serious head bobbin' vibe.
Stranger Things, Vol 1 & 2; Kyle Dixon & Michael Stein
It feels redundant to point out the awesomeness of this soundtrack since it's become so mainstream. But it's just so good! Even beyond John Carpenter pastiche, it has a groovy synth vibe that is undeniable. (I did see this Netflix show and I did enjoy every minute of it.)
The Fountain, Clint Mansell
Mondo's release of The Fountain soundtrack on vinyl is fantastic! Mansell had another great vinyl release this year with High-Rise, but I'm going with The Fountain as my pick. Beautiful, epic, and inspiring.
Taxi Driver, Bernard Herrmann
Waxwork did a fantastic re-release of this soundtrack in 2016. Though they are mostly known for horror soundtracks, they did a killer job on this album. From the artwork to the sound quality, it can't be beat. I have a soft spot for this soundtrack as it takes me back to a time in my life when I used to watch this movie all the time.
Twin Peaks, Angelo Badalamenti
This is one of my favorite soundtracks of all time, so to finally see it released on vinyl this year was quite exciting. As per usual, Death Waltz did a top notch job with both the art and the sound quality. Even though I listened to this soundtrack hundreds of times in my younger days, it really did feel like hearing it for the first time on vinyl.
Fight Club, The Dust Brothers
The packaging alone qualifies this album for my list. Mondo went all out, forcing you to actually rip open the cover to get to the vinyl inside. I've always wondered why the Dust Brothers haven't done more work in recent times, but this album is a great reminder of the top-notch work they did in their prime. Electronic beats dripping with exhilaration and nostalgia.
The Revenant, Ryuichi Sakamoto
I have yet to see this film, but the soundtrack is magical: a great mix of different sounds which create vast, evocative soundscapes. I've grown so fond of the soundtrack, I almost don't want to see how it's used in the film since the music contains such vivid imagery on its own.
Rome Armed To The Teeth / The Cynic The Rat And The Fist, Franco Micalizzi
This Death Waltz release early in the year really took me by surprise. I was expecting the typical run-of-the-mill 1970s Italian "waka-waka" soundtrack. Instead I got one of my favorite records of the year. The first disc actually reminds me of Adrian Younge's vibe a bit. If this album hasn't been sampled by a hip-hop producer yet, it's just a matter of time. The beats are large and the horns are super fly.
Top Ten Albums of 2016
Take Me To The Alley, Gregory Porter
I absolutely love Gregory's 2013 record Liquid Spirit and his new release does not disappoint. The songwriting, vocals, and musical arrangements are impeccable. The title track "Take Me To The Alley" is beautiful. My girlfriend and I had front row seats to see him perform here in Nashville in June (our second time seeing him perform). He takes the songs to a whole new level in a live setting and his band is truly amazing. (His drummer Emanuel Harrold is especially stunning!)
Hopelessness, Anohni
This is Anohni's first solo release. She was previously known for her work in Antony and the Johnsons. I'm a huge fan of their records. She changes up her style a bit on this new project, but it's just as awesome. (It's less "chamber pop" and more electronic.) Dark lyricism and haunting vocals. Killer lines like: "Explode my crystal guts / Lay my purple on the grass."
We got it from Here… Thank You 4 Your service, A Tribe Called Quest
I'm an old school Tribe fan. There was a time in my life when The Low End Theory was constantly playing. Even though it's been 16 years, the new album in no way feels like a cheesy "we're obligated to like it since they got back together" album. There have been some amazingly creative hip hop albums these last few years and I think this album stands up there with the best of them.
A Seat at the Table, Solange
I'm always a fan of mixing up genres, which Solange does wonderfully on this album. I'm also digging this new "minimalist R&B" vibe that's been cropping up lately. (Sadly Frank Ocean's Blond/e was ineligible for this list since it didn't come out on vinyl in 2016.) The music itself has a soundtrack vibe that I dig. Don't touch my hair!
A Sailor's Guide To Earth, Sturgill Simpson
Although my own music is typically classified as Americana, I don't listen to a whole lot of Americana in general. That being said, this album knocked me out the first time I heard it. With Sturgill's Grammy nomination, it's great to see him getting so much mainstream recognition. This album is an "art" album in the best sense of the word.
22, A Million, Bon Iver
The first time I heard this album, I didn't know what to think other than, "I need to hear that again!" I've been a Bon Iver fan after seeing them perform at the Ryman touring for their previous album. The music and performance that night was beautiful. (And they had two drummers!) This new album sounds like it's from another place that exists out of time. Modern, but ancient. I'm normally not a big fan of over-the-top vocal effects, but everything just meshes perfectly on this record making for a moving listening experience. (And I'm a sucker for the mysterious song titles and symbols in the album art.)
Sign "O" The Times, Prince
Of all the great musicians we lost this year, Prince probably hit me the hardest. Through all his eras, he's been there right with me through all my own. It was a treat to get this new 2016 vinyl re-release to replace the scratched up original copy I had. What is there really to say about this album that hasn't already been said. It's probably my favorite Prince album… which is saying a lot considering how many incredible albums he put out.
Sorceress, Opeth
I'm a longtime Opeth fan, so it's always fun seeing what new directions they explore with each album. I liked their last couple albums quite a bit, but I think this one tops them both. The songs are melodic, yet still heavy and chaotic at times. Lyrically I feel like Åkerfeldt has opened up a new door. I've always appreciated his lyrics in the atmospheric sense, but the lyrics on this album feel more personal. Ironically, my favorite track on the album might be the instrumental "The Seventh Sojourn." It's epic and powerful… especially at loud volume!
The Complete Cathedral Oceans, John Foxx
John Foxx was another new discovery for me this year. Once I delved into this gorgeous five-LP collection I was immediately hooked. Trippy, ambient soundscapes that will transport you to an alternate universe.
Exodus Of Venus, Elizabeth Cook
I really dig the latest release from fellow East Nashville resident Elizabeth Cook. This is one of the freshest Americana records I've heard in some time. Each song has its own sonic personality so the record is exciting to listen to. There are shades of country, blues, and psychedelica with some Stevie Nicks vibes sprinkled in. The lyrics are dark and original. Most importantly the songs just groove. (Can't help but bob your head to "Evacuation.")
We reviewed Stewart Eastham's Dancers In The Mansion on August 12.