Published on December 16th, 2016 in: Americana, Country Music, Current Faves, Music, Music Reviews, Retrovirus, Reviews |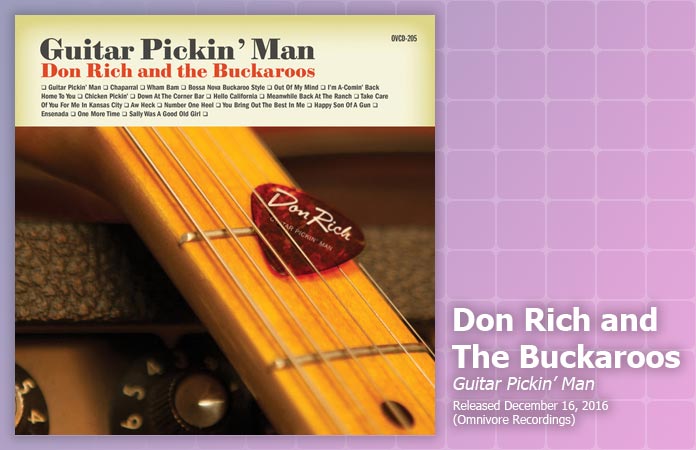 In the pantheon of great guitarists, there are ones that come easily to mind: Jimmy Page, Jimi Hendrix, Chuck Berry, Jeff Beck, B.B. King. I'd add the Buckaroos' Don Rich to that list. His style is immediately recognizable, and without his sonic experimentation, Buck Owens's catalog would lack a certain verve. While Owens was always happy to dip a toe in the rock side, Don Rich's playing upped the ante. His fuzzed-out guitar work on "Who's Gonna Mow Your Grass?" is as fresh and timely as anything recorded in 1969, and viscerally satisfying. This is pretty remarkable for someone who was hired to play fiddle.

Omnivore Records is here to feed your need for more Don Rich, collecting 18 tracks from Don Rich and the Buckaroos into one handy package, Guitar Pickin' Man. It makes a perfect complement to the Buck Owens and the Buckaroos collection they released last week (The Complete Capitol Singles 1957-1966, review) and gives a fine overview of Don Rich's singular musicianship.
One of the things that makes Don Rich and Buck Owens's music so notable is the uncanny similarity their voices had when singing harmony. They matched each other so subtly that they sound like the same person singing harmony with themselves. But in listening to Guitar Pickin' Man, it's hard to imagine that this Don Rich is the same person. He doesn't sound like Buck Owens when he sings solo,; instead, he has this warm, twangy tenor that is unmistakably his. His giggly delivery on "Wham Bam," a plea against marriage, is so utterly charming, you can hear him smile as he sings.
Charm is the watchword for Guitar Pickin' Man. The title track is previously unreleased, and taken from Hee Haw. It's beautifully bright and solid, and Rich's voice is delightfully pleasant. "Hello California" is full of nice harmonies and a gleeful, swinging jauntiness. "I'm A-Comin' Back Home To You" boasts a smart piano line from Earl Poole Ball (best name ever?) and percolates with joyfulness. "Take Care Of You For Me In Kansas City" is propulsive with delicious piano work. The Ray Charles-esque soulfulness of "One More Time" is an exciting surprise. It's driving, with a gospel chorus singing backup, and a testament to how wildly talented Don Rich and the Buckaroos were.
The Buckaroos were one of the greatest bands around. They excelled at instrumentals, like "Chaparral," which sounds a bit like their hit "Buckaroo" but even twangier. The Buckaroos are tight here, and Rich's guitar playing is nimble as anything. But they weren't strictly country, as shown by "Bossa Nova Buckaroo Style" and "Ensenada." The former is, of course, a Bossa Nova track that the Buckaroos sound as if they were born to play. It's lovely and rich, and Rich's picking is fantastic. The latter is gorgeously delicate and frankly stunning. Contrast that with "Chicken Pickin'," a captivating exploration of Don Rich's signature guitar picking (which does sound rather chicken-y).
Guitar Pickin' Man is an incredibly likable album, like the man himself. It's crushing to think how young Don Rich was when he lost his life, and how much potential he had. Still, he left behind a catalog of excellent music that is ready for a fresh delve into. This is a perfect document of his indelible style.
Guitar Pickin' Man was released by Omnivore Recordings on December 16.