Published on December 9th, 2016 in: Country Music, Current Faves, Music, Music Reviews, Reissues, Retrovirus |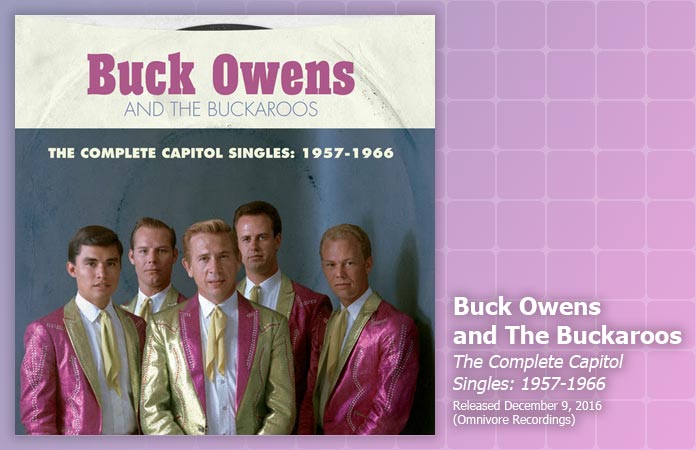 Once again, Omnivore Recordings gives us the Christmas gift we need: a new Buck Owens and the Buckaroos compilation. The Complete Capitol Singles 1957-1966 covers a particularly creatively fecund phase in Buck Owens's career: the early days at Capitol, his partnership with the brilliant Don Rich, and a string of hits that defined the influential Bakersfield Sound. The Complete Capitol Singles 1957-1966 is gorgeously remastered and sounds stunningly good. Crisp, even, with that trebly production that Buck favored (so it would sound good on AM radio) sounding better than ever.

The Complete Capitol Singles 1957-1966 is, as we've come to expect from Omnivore, smartly packaged with loads of information (as well as stellar music). In addition to liner notes culled from Buck's autobiography, photos, and a foreword from Dwight Yoakam, there is a detailed sessionography included, breaking down the personnel on each track, the session dates and times. My mind is blown by this attention to detail and makes me love the album even more than I was predisposed to. For a Buck Owens completionist, it's a giddy dream come true.
Fascinating, too, is hearing the evolution of the Buck Owens and the Buckaroos sound. The earliest tracks sound like they could be any country artist from 1957: the producer declared that background vocals (which were en vogue at the time) were a must, and so they were added. And they don't sound right. "Come Back" sounds like Elvis. With background singers. They're not bad songs, either. "Sweet Thing" has a pleasant lope to it, and is rarely heard.
By his second session with Capitol, Buck Owens had more autonomy, and was allowed to do things his way. As a result, he had a minor hit with "Second Fiddle" and Capitol was happy. "I'll Take A Chance On Loving You" has the chugging beat of the Bakersfield Sound and is recognizably a Buck Owens song (though the Buckaroos that we know and love haven't been formed yet). The guitar is bright, the fiddle crisp—it's all there. Ralph Mooney is an MVP, supplying fine steel guitar on "Under The Influence Of Love" and "Under Your Spell Again," wherein Buck harmonizes with himself (this is pre-Don Rich).
The Complete Capitol Singles: 1957-1966 has all of the hits one might want from Buck Owens and the Buckaroos, and it's a fine testament to what a great singles band Buck and the Buckaroos were. These are catchy, perfect, under three-minute nuggets of genius played by one of the best bands of all time (oh, I am going there. I will always go there).
"Act Naturally" sounds impeccable and if you listen carefully to the drums, you can hear one of the hallmarks of the Bakersfield Sound: a tightly closed hi hat that clicks like a wheel on a train track. "Love's Gonna Live Here" boasts a smart guitar solo from Don Rich and delightful harmonies. "My Heart Skips A Beat" has such an unexpected drum roll in it that it never fails to make me smile (because I am a simple person). "I Don't Care (Just As Long As You Love Me)" has one of the chunkiest guitar sounds in country music and grin-inducing harmonies, and is one of those tracks where Buck and the Buckaroos married country to rock, albeit subtly, as they increasingly did as their career wore on.
But what also makes The Complete Capitol Singles: 1957-1966 a great investment of your time and music buying dollars is the inclusion of some oddities. The compressed production of "Tired Of Livin'" adds to the nervous feeling of the already-edgy song. Buck's series of duets with Rose Maddox fall on the curious side for this reviewer; I don't love her voice. Their "Mental Cruelty" is a little cringeworthy, with spoken words and her very specific singing voice. "Loose Talk" is far superior and jaunty. Owens's take on "Save The Last Dance For Me" is effective and honky tonk-flavored, and a lovely surprise.
The Complete Capitol Singles: 1957-1966 is the perfect gift for anyone with ears, for any occasion. Suffering through a breakup? The Buckaroos have you: "Before You Go" and "Cryin' Time" will soothe your aching heart, in different ways (Hint: one rocks like mad and the guitar riff is of the gods). Is it Christmas? Here, listen to "Santa Looked A Lot Like Daddy," which absolutely sails. Do you just love excellent guitar playing? Check into the sessions that took place after Don Rich started playing lead electric guitar (1963-ish) and marvel at the sounds he coaxed from that instrument. Buck Owens and The Buckaroos were unparalleled musically. Here's hoping all the love that they're getting from Omnivore helps remind the music-listening public of that.
The Complete Capitol Singles was released on December 9 from Omnivore Recordings.