Published on December 2nd, 2016 in: Current Faves, Documentaries, Let Us Now Praise Noise, Metal, Movies, Music, Trailers, Video |
By Tim Murr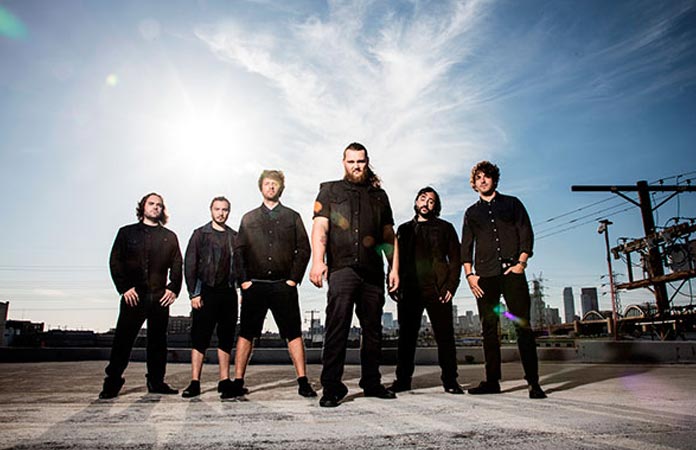 This week's rundown of my favorite listening includes a new album, a music video, and a documentary.

Oni, Ironshore (Metal Blade Records)
Oni, from Ontario Canada, have unleashed their debut album Ironshore, a progressive metal masterpiece. I mean that. I became totally absorbed by this album as soon as I started listening to it. The technical procession of the musicians, with the clean/growl vocals and introspective, intelligent lyrics make for an exciting aural adventure. With an incredible album cover inspired by the band's namesake—a shapeshifting demon from Japanese lore—Oni hits a lot of buttons for me all at once. Ironshore landed November 25, just in time to make my year's end best of list.
Visit Oni's artist page at the Metal Blade site to learn more about the group and purchase a physical copy of the album. You can also buy a digital version at their Bandcamp page. Connect with them directly on Twitter @TheOniBand.
Dark Palms, "13 Years of Solitude" video
I love Dark Palms' debut Hoxbar Ghost Town (review) and "13 Years of Solitude" is one of the best songs on the album. Imagine a hopeful, catchy Joy Division and you're close. Or just watch the video. It's an entertaining, kind of lighthearted and features the band all wearing animal head masks. For some reason I really love humanoids with animal heads. I'm weird. Dark Palms are awesome. Check it out.
Morphine: A Journey Of Dreams documentary; directed by Mark Shuman (release date: December 9)
One of the greatest, most innovative, and exciting bands that America has ever produced, Morphine is getting a documentary and it's hard to not feel a little emotional just watching the trailer. Singer/bassist Mark Sandman died in 1999 after suffering a heart attack on stage in Italy. If you don't know Morphine, you need to immediately go buy Cure For Pain. They were alt-rock jazz noir that was incredibly accessible to the general public. The trailer features live performances, TV appearances, and lots of interviews. It looks really fantastic. Watch it below. You can order the DVD from MVD Entertainment Group.