Published on April 29th, 2016 in: Americana, Current Faves, Music, Music Reviews, Post-Punk, Reviews |
By Tim Murr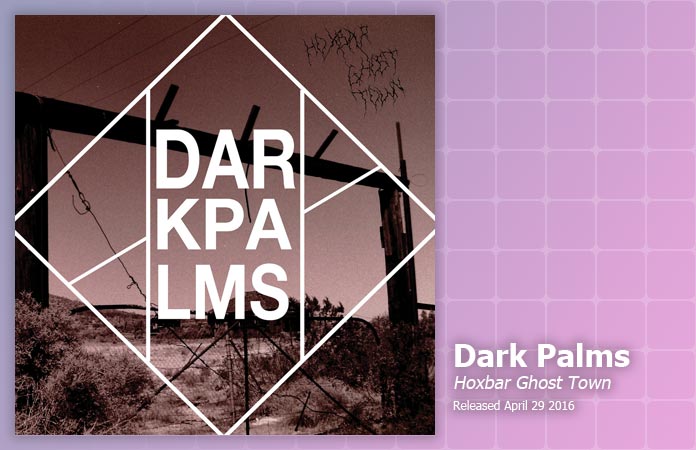 I have waited months to write this review. Why? Because I've had access to Dark Palms' debut album, Hoxbar Ghost Town, since last year. I fell in love with this beast right away, but I couldn't share it with anyone! No one could know the joy and energy I was devouring while waiting for it to officially drop. Now, friends, the time is yours, to join me on this journey into the weird, dark heart of this post-punk, Americana-goth adventure!
Hoxbar Ghost Town feels like a lost David Lynch road film. "Plateau" drops you in at a seemingly arbitrary point, already running, the music and words spiraling together. From there it's all desolate highway and haunted fate. There's a great pop sensibility amid the rumbling rhythms and fuzzed-out guitars.
Formed by guitarist Timothy Grisham, after the end of his group Happy Noose, and joined by Kenwrick Ward on drums, Roger Landberg III on bass, and Laurence Goldenstar on vocals, Dark Palms is a band with an old soul. They've only been around a short while, but they sound like they've been playing together for years. Their debut single, "Ghost Horse" b/w "Locket" (which isn't on the album) was a perfect teaser for Hoxbar Ghost Town, displaying the group's range of death rock/goth influence mixed with post-punk and reaching a charged up Samhain vibe.
"Rock and roll will save your soul, that's what they tell me… " Goldenstar belts out on "13 Years Of Solitude" and there's a sneering conviction in those words and that sentiment is echoed through all ten tracks. Hoxbar Ghost Town would have easily made my best of list last year and certainly will this year. Fans of Gun Club, Coliseum, and early Afghan Whigs will really dig this, but Dark Palms brings so much to the table, making their aggressive and noisy debut so palatable, that I think it will appeal to a wide range of rock fans.
Recommended tracks for preview are "Plateau," "13 Years Of Solitude," and "Ghost Horse."
Hoxbar Ghost Town was released April 29 and is available on Bandcamp.