Published on June 7th, 2016 in: Current Faves, Horror, Music, Music Reviews, Reviews, Science Fiction |
By Tim Murr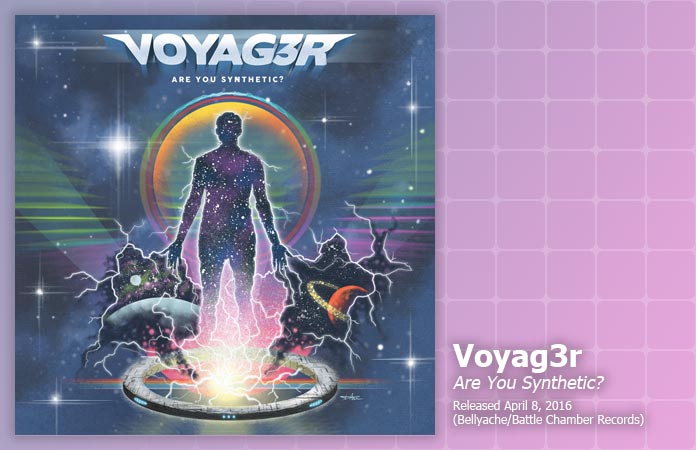 Following up 2014's Doom Fortress (review), Detroit, Michigan's Voyag3r returns with a spaced-out concept album called Are You Synthetic? Artist and Acid Witch singer Slasher Dave provides the gorgeous album cover, outdoing his iconic cover for Doom Fortress. Musically Voyag3r continues to give fans what they want while growing and evolving.
If you're unfamiliar with Voyag3r, they are a synth rock trio in the vein of Pertubator or Werewolves In Siberia. Their music calls to mind the great horror soundtracks of the 1970s and '80s as created by John Carpenter or Goblin.
According to the band's website:
Voyag3r bring their blend of Synth/Space/Progressive/Rock to new heights with this ambitious concept album, which covers remote corners of metaphysics, theoretical space destinations, humanity's origins and destiny, and plenty of music fit for vengeful/horrific space battles.
Indeed, the 13 tracks on Are You Synthetic? certainly conjure these ideas and imagery. The first track, "Deep Space Saga," feels like the opening to the most epic sci-fi film ever. "Sinister Creation" sounds like a lost classic track from Alice Cooper, minus the vocals of course. "Raise Your Shields," the album's first single, could have come from a 1980s era Dario Argento film. "Running Out Of Air" and "Scramble All Fighters" are also Italian cinematic heaven. Are You Synthetic? wraps up neatly with a reprise of "Deep Space Saga."
After it's all said and done, Are You Synthetic? will leave you wishing there was a film to go along with this amazing album. All you fans of releases from Death Waltz and Waxwork Records should check this out. And the limited edition translucent blue vinyl from Bellyache Records looks gorgeous. For those without turntables, Battle Chamber Music is handling the CD/cassette/digital release, which you can order at the band's website.
Are You Synthetic? was released on April 8.