Published on September 12th, 2014 in: Current Faves, Horror, Movie Reviews, Movies, Music, Reviews, Science Fiction |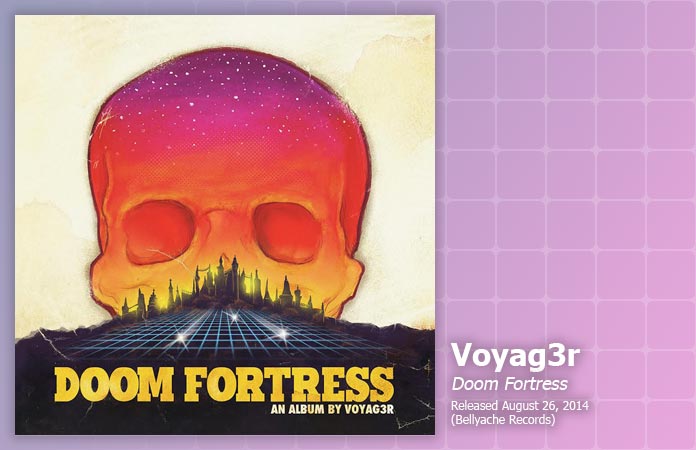 Owing as much to Emerson, Lake and Palmer as they do to John Carpenter and Fabio Frizzi, Detroit instrumental synth-rockers Voyag3r (pronounced "Voyager Three"), create harrowing sci-fi soundtracks for non-existent films. Their first full-length release is called Doom Fortress, and it is precisely as happy as it sounds.
Everything shimmers with tension on this release, like heat waves off blacktop in the sunset. It makes you want to run. It makes you want to hold a futuristic weapon. At its worst, it makes you want to watch MegaForce. At its best, it evokes memories of the soundtracks from your favorite old VHS movies, the ones you wore out from repeated viewings and can still quote lines from today.
Trying to recreate the sound of old music with new equipment never works. It's always just a little too bright, a smidge too perfect. There's no mess to it, no vibrancy. It lacks an essential energy that the older music inherently possessed. That's the reason why Doom Fortress works as well as it does; this is all analog, baby. To quote their website, "Doom Fortress was recorded using vintage analog synths, electric guitar through vintage tube amplification and maple shell acoustic drums. All music was recorded to 2″ analog tape (MCI JH-24 2″ Analog 24-Track w/ALIII remote) through various vintage pre-amps and a 1977 Custom Harrison 3232 console for maximum authenticity and spirit in capturing this classic sound."
I know what about half of that means, to be honest, but I certainly understand the result. This music did not come from a can. This doesn't sound like something someone spent two minutes tweaking around with in ProTools or GarageBand. This is a pure flashback, vintage instruments being used the right way. You can hear every knob twiddle and lever slide. There's some delightfully nasty guitar tone here, too; nothing says "six strings that drew blood" quite like an old tube amp, and they are in full effect on this release.
Voyag3r takes their schlock seriously. With track titles like "Summoning the Forgotten One" and "Lord of Doom Fortress," any other approach would be unacceptable. This album is what it feels like to be hunted and desperate for a place to hide. It's exhausting, but because of exhilaration, not boredom.
The resurgence of interest in this type of music, best exemplified by the Italian band Goblin's first US tour last year, is still going great guns. Voyag3r is doing it as well as, if not better than, anyone in the game. There are even points on the album where it feels like the band is holding back. If that's the case, a live show from this band could be absolutely monstrous.
There are only six tracks on the record, so it's a short listen. It's great on repeat, though, and if there's Lazer Tag in Heaven, Doom Fortress is the music the Angelic Gamemasters will play for you during every round.
Doom Fortress was released digitally on August 26; physical copies will be released on September 16. All can be ordered from the Voyag3r website or Bellyache Records.