Published on April 10th, 2016 in: Canadian Content, Concert Reviews, Current Faves, Music, Reviews |
April 9, 2016
Sony Centre for the Performing Arts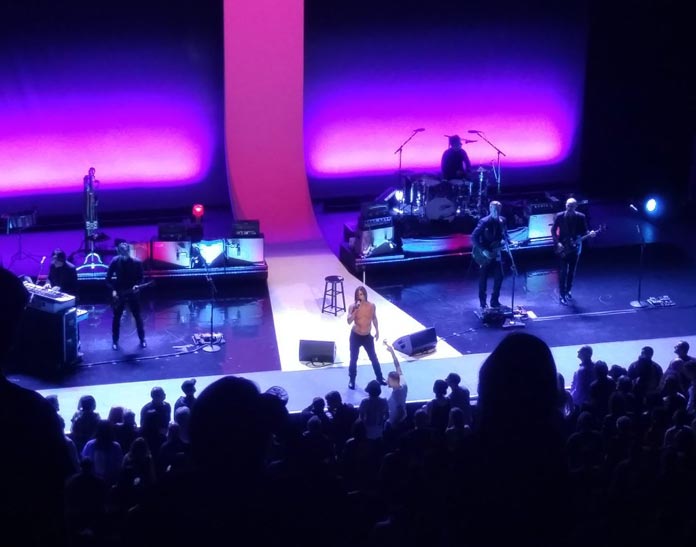 Photo credit: Angry Jeff
Last night still doesn't feel real.
I first saw Iggy Pop in 1994. I had just gotten into The Stooges and Iggy's solo album New Values, so I was pretty excited. This was the American Caesar tour; the show was at the legendary Tipitina's in New Orleans. My friend and I stood at the front and I remember being awestruck by Iggy's performance of "I Wanna Be Your Dog." But it wasn't until later when Iggy grabbed my hand and sang to me that I truly freaked out. I tried to be cool; I can't even remember the song, but it was likely "Beside You." So, that was a moment.
Fast forward to 2010 and that infamous free show by Iggy and The Stooges at Yonge Dundas square in Toronto. By now, I'd become pretty well-versed in Iggy's musical history. It was so crowded that I could only catch glimpses of Iggy and the band, which at the time still included Scott Asheton on drums, along with Steve Mackay, Mike Watt, and James Williamson.
It was enough to give me uncontrollable goosebumps, especially when the band played "Gimme Danger." In a true synthesis of pop culture influences, all I could think about was Velvet Goldmine and That Scene where Ewan McGregor's Curt Wild—a very thinly veiled but pitch-perfect Iggy Pop—performs a gut-wrenching version of The Stooges track from Raw Power. Iggy Pop was (and is) my Curt Wild, an irony that was not lost on me then or now.
So it is today that I recover from my own Post Pop Depression, having seen Iggy Pop perform for the third—and very possibly the last—time. I'd avoided reviews of the Post Pop Depression album until I wrote my own, so I didn't know about all the Berlin and Bowie influences publicly acknowledged by Josh Homme and Iggy Pop, but I keenly felt them on the album.
When Iggy came barreling out to the strains of "Lust For Life," with Josh Homme, Dean Fertita, Matt Helders, Troy Van Leeuwen, and Matt Sweeney playing the fuck out of the song, it was all I could do not to explode. This song holds so much meaning for me. It was my rallying cry during a particularly troubled period in my life, and hearing it—and seeing it—performed live was almost more than I could bear. When the band followed it up with "Sister Midnight," I couldn't help it. I just started crying. Because David Bowie, you see.
I'm certain I don't have to explain how I felt when David Bowie died in January. "Gutted" comes close, but nothing could possibly verbalize the sensation of feeling both emotionally adrift and bereft. And of course, when Bowie died I couldn't help but immediately think of Iggy Pop and how sad he must have been. So hearing Iggy do This Song was too much good and too much sad at the same time.
The rest of the night alternated between the most excellent songs from Post Pop Depression, an album which I love more and more with each passing day, and The Idiot and Lust For Life, which are the Bowie and Iggy albums that everyone knows so well (though it wouldn't be the only time the two collaborated). "Sister Midnight" was the first of many instances wheen I burst into tears during the course of the evening; for nearly two hours, my emotions threatened to reduce me to a blubbering heap. It felt like Iggy knew that we needed to hear these songs and even more so that he needed to perform them.
Sure, Iggy could have come on stage in pajamas and the band could have been clad in jeans and T-shirts, but no, that would never happen. The stage lighting resembled a classy TV performance from the 1960s and the band members were in matching black suits. Iggy dropped his jacket after "Sister Midnight" because you know, he's Iggy Fucking Pop.
The band, particularly Homme, truly brought the goods last night. (In addition to being an awesome musician and singer, Homme has some killer stage moves.) I mean, can you imagine being a fan of Iggy's Bowie period and getting to perform those songs live on stage? The pressure must have been immense, and the excitement even more, but I simply cannot imagine anyone else besting the performances of these guys. If you were too young to get to see these albums performed live back in the day, and that Roadkill Rising box set wasn't enough to satiate you, then this was like we'd been granted some kind of Blackstar dispensation.
Iggy sounded amazing, too, and despite being a few weeks shy of 69 and suffering from a pretty pronounced limp (thanks to one leg being shorter than the other, a situation later compounded by multiple injuries) he truly does look fantastic. Do you know any other guys his age that could do what he does? Yeah, I didn't think so. He performed for us, letting us admire all the sinews on his body, each hard-won scar and imperfection.
Every song was glorious, from "Mass Production" to "China Girl" to "Nightclubbing" to "Tonight" and oh, you can go look up the setlists online. But "Repo Man" was an unexpected delight that left my jaw on the floor. He did a couple of stage dives, he wandered into the crowd and snaked through the rows to sing "Fall in Love with Me," like we hadn't already. He insisted on turning on the houselights a few times so he could see us. He dropped F-bombs like so much candy. He paraded around in one audience member's proffered fur coat and looked gorgeous doing it. After a visceral rendition of Post Pop Depression's album closer "Paraguay," he apologized (and I knew he would) saying that he wasn't talking about us.
And then, with "Success," the perfect, ironic singalong, he was gone. I'll never be the same. Thank you, Iggy Pop, for everything.