Published on April 1st, 2016 in: Current Faves, Music, Music Reviews, Reviews |
I followed my shadow and it led me here
What is the problem if I disappear?
—Iggy Pop, "In The Lobby"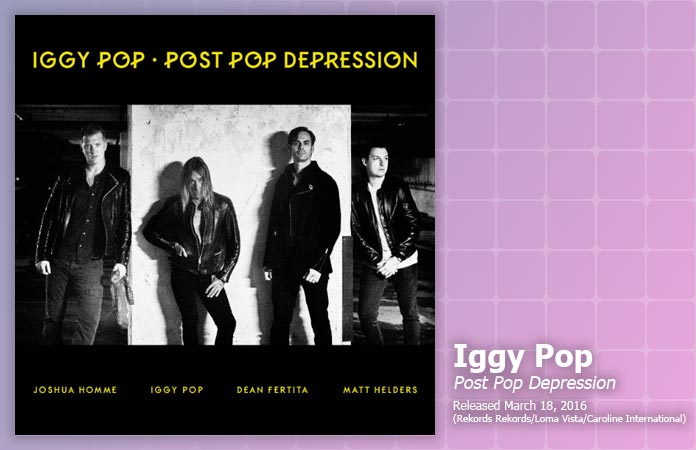 There's Iggy Pop and then, there are The Stooges. Or at least, there were, since Iggy himself is the last surviving original member. And while Iggy's solo work has always been distinctly different from his work with The Stooges, a look at his discography reveals a history of playing well with others: David Bowie, Steve Jones, Ivan Kral, Whitey Kirst, Glen Matlock, James Williamson, and others. Post Pop Depression is the latest in a long line of Iggy Pop collaborative albums, this one with Queens of the Stone Age's Josh Homme and Dean Fertita, as well as Arctic Monkeys drummer Matt Helders.
The album was recorded in secret in Joshua Tree which, like David Bowie's Blackstar, gives it a certain thrilling quality, and the absence of several months of hype (Post Pop Depression was released just two months after it was announced publicly) gives it a chance to stand on its own merits. Granted, those merits are pretty impressive.
Post Pop Depression is an Iggy Pop album, make no mistake. While the stamp of Homme's musical style is interwoven into the songs to the point that each does indeed sound like a collaboration and not Iggy Pop plus a backing band, when you hear James Osterburg's voice, there can be no mistaking it for anything else.
Iggy Pop is an icon and a legend, yes, but he's also a singer and a performer. He's a musician, too, but that's not why people listen to his albums; that's not why people go to see him in a live setting. What distinguishes his catalogue is that provocative quality, the ability to picture him in your mind's eye while you hear the music.
As such, Post Pop Depression might seem disappointing to fans at first blush. It's not as immediately visceral as Beat 'Em Up or Skull Ring or even American Caesar. It doesn't have the gloss of Brick By Brick or Blah Blah Blah or the metallic sheen of Instinct. It's not as jazzy and improvisational as Avenue B or Préliminaires, but it does invoke the confessional, poetic spirit of both.
There's a sparse quality to Post Pop Depression. Nothing feels extraneous or out of place. There's a restraint in Homme's production that allows Pop's voice to be felt in all its raw, grizzled glory. Even "Gardenia," which is the shiniest, catchiest tune on the album, is marked by sharp basslines and even more pointed lyrics: "Alone in the cheapo motel / By the highway to hell / America's greatest living poet / Was ogling you all night." It wouldn't be an Iggy Pop album without Iggy poking fun at himself and singing about sex.
And that's another thing that distinguishes Iggy Pop from his peers—although technically he doesn't have any, so we'll just call them "musicians in his age group." He's an incredible intellectual but he doesn't feel the need to be pedantic or pretentious, nor does he come across like he's trying to be cool. So a couplet like "And it's all about the edge / And it's all about the dancing kids / And it's all about the sex / And it's all about done" ("In The Lobby") resonates in a way that it wouldn't if say, Mick Jagger were to sing these same words. Similarly, "Sunday" might seem like a lazy title for a lazy day, but its rolling drumbeat and flawless rhythm section indicate otherwise, as do the lyrics which spit disgust at slick senators and corporate lawsuits, sentiments more fully explored in the bleached bones of "Vulture."
"German Days" might start off with a riff that sounds like Led Zeppelin filtered through Queens of the Stone Age, but the title seems to directly reference those halcyon days spent with Pop's most famous friend and collaborator, David Bowie. Iggy Pop has experimented with many different sounds and styles while always remaining true to himself, and there are those think he was most himself when he was working with Bowie in the late 1970s on Lust For Life and The Idiot. If Post Pop Depression is reminiscent of any prior part of Iggy Pop's career it would be that one.
Part of this is because Homme's harmonies inhabit the spaces that Bowie's did at one time: they are piercing, off kilter, and generally the exact opposite of Iggy Pop's style of singing. The trade-off between Homme's backing vocals and the female singers at the end of "Sunday" evokes the golden years of Bowie and Pop's collaborations, which makes the title of the album resonate even more.
One can hardly think of Iggy Pop without thinking of The Stooges, or even David Bowie, and in a world that has neither, what does that mean for Iggy Pop? "American Valhalla" addresses this issue bluntly, even though it was written before Bowie's death.
Where is American Valhalla?
Death is the pill that's tough to swallow
Is anybody in there?
Who do I have to kill?
I'm not the man with everything
I've nothing but my name
That last lyric is spoken, a capella, at the end of the song, Iggy at his most naked and vulnerable. "Chocolate Drops," with its vulgar, funny take on the ephemeral nature of fame and money ("When you get to the bottom you're near the top / The shit turns into chocolate drops"), ends with a line that could be interpreted as an indication that Iggy Pop has wrestled with his demons and won: "There's nothing in the dark / It's just some old excuse / Hanging on / Let it go," he sings.
The last song on Post Pop Depression, "Paraguay" suggests otherwise. "Wild animals, they do / Never wonder why, just do what they goddamn do," opens the track, and it ends with incendiary vitriol, when Iggy dispenses with rhymes and just lets all his rage fly: "You fucking phony two-faced three-timing piece of turd" he screams, among other things.
Some things can't be explained or interpreted; they just are, and they can only be felt. That's what Iggy Pop does best and that's why he's still relevant after all these years.
Post Pop Depression was released on March 18 via Rekords Rekords/Loma Vista/Caroline International.