Published on March 17th, 2016 in: Americana, Music, Music Reviews, New Music, Singer/Songwriters |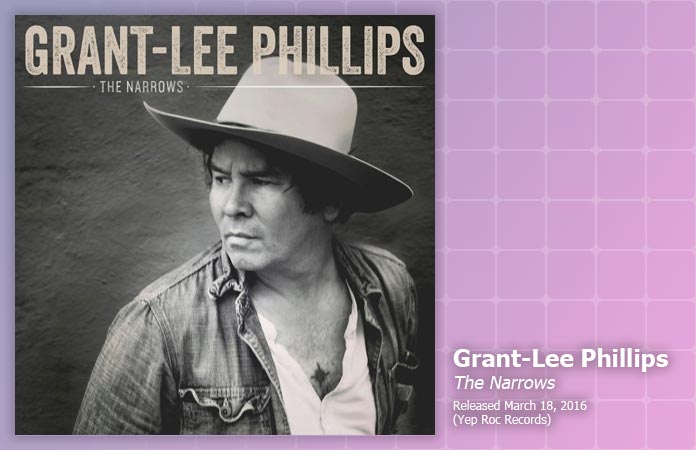 It behooves every writer who will review Grant-Lee Phillips' new album The Narrows to mention that he was Stars Hollow's beloved Troubadour on Gilmore Girls, so I will also mention it. I will also mention that Gilmore Girls is being rebooted for Netflix (as most everyone with an Internet connection will know) and that Grant-Lee Phillips will be returning to sing songs on the street corners of Stars Hollow and annoy Taylor Dosey.
The Narrows is a beautifully produced, sepia-toned slice of Americana. Grant-Lee Phillips is a wonderful songwriter and story teller, creating evocative moments with his words. There's a definite sense of place on "Moccasin Creek." It's "way back in the Ozarks" and he "might find a few arrowheads, down in the mud." It's a trip to the ancestral home and the mythology that comes with it. It's a hit of melancholy on a hot summer day. It cuts close to the bone for this reviewer; Phillips has perfectly captured the area where I grew up with "Moccasin Creek."
Incredibly evocative, too, is "No Mercy In July." It's a quiet, visceral song. Phillips makes the listener feel the relentless heat and the lack of rain on sunbaked days: "Shade's no shelter on days like these". The brushed drums are like drops of rain on dusty ground.
There's a timelessness to The Narrows. The guitar-heavy "Tennessee Rain" is fresh and earnest, and would sound perfectly in step with 1980s college radio. It's not retro, and it's not a pastiche, though. It's swelling and emotional and just ageless. "Holy Irons" is pure Americana, a Civil War song with delicate mandolin. It's emotion-filled and wonderfully moving. "Taking On Weight In Hot Springs" is languid and leisurely. Phillips's vocals are terrific, and the story is told in a confidential tone. It's a gorgeous, intimate tale of taking the waters and rubbing elbows with gangsters. A full world is built in this song. It's tangible. The rockabilly tinged "Loaded Gun" is driving, marked by desperation and freedom. Grant-Lee Phillips delivers his rapid-fire vocals in a more hushed manner than one would imagine possible.
The Narrows is an incredibly fine return for Grant-Lee Phillips. There are stories of the everyman here, like the rich shot of the working class of "Just Another River Town," or the people fearing "when the big one comes" on the dreamy "San Andreas Fault." His vocals are warm and exceptional and his song craft has aged like a mellow wine.
The Narrows will be released by Yep Roc Records on March 18.
Tour Dates:
April 1 – McCabe's Guitar Shop – Santa Monica, CA
April 18 – All'1.35 – Cantu, Italy
April 19 – Teatro della Concordia – San Costanzo, Italy
April 20 – Bravo Café – Bologna, Italy
April 21 – Orpheum Extra – Graz, Austria
April 22 – B72 – Vienna, Austria
April 23 – TBD – Hamburg, Germany
April 24 – Vega Jnr. – Copenhagen, Denmark
April 25 – Bitterzoet – Amsterdam, Holland
April 27 – Pop Up Du Label – Paris, France
April 28 – Borderline – London, England
April 29 – Louisiana – Bristol, England
April 30 – Deaf Institute – Manchester, England
May 1 – Whelans – Dublin, Ireland
RELATED ARTICLES: