Published on February 5th, 2016 in: Current Faves, Feminism, Music, Music Reviews, Reviews |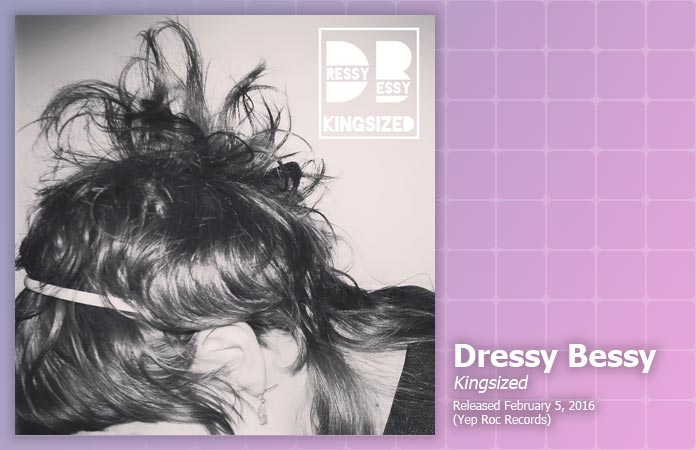 After a seven-year hiatus, Denver-based Dressy Bessy have returned with the sugary popified, jittery delicious Kingsized. Joined by a who's who of the what-used-to-be-college-radio stalwarts (but is surely called something else now), Kingsized is a return to form with an added grittiness. Guitars are fuzzy and heavy, providing a smart counterpoint to meringue light, sunshiny melodies and Tammy Ealom's distinctive vocals (think: the sound of the Shangri-La's smoking under the bleachers with the Slits).
The lead-off single (and opening track), "Lady Liberty" is impossibly bright and catchy, with sweet harmonies from White Flag's Rebecca Cole. Peter Buck supplies lithe 12-string. If I were running for office, I would proclaim it my theme song, though the opening line of the sinuous "These Modern Guns" ("For the love of Christ and stuff') is completely wonderful and runs a close second.
I tried to figure out just what band the title track sounded like, and could only come up with the obvious: Dressy Bessy. The busy track has got a 1990s, college-radio vibe, and I suppose it comes down to the "if it's not broken, don't fix it" maxim. Dressy Bessy's sound is easily identifiable. They may have magpied bits from influences, but put together, these bits make Dressy Bessy sound wholly like themselves. That Dressy Bessy sound is distilled in "Make Mine Violet," a seaside candy fest of delicious harmonies and grungy guitar. Conversely, "Dirty Birdies" sounds like a lost Berlin track, down to the shouty male back up vocals and keyboard bloops.
While Kingsized is filled to the brim with sticky sweet tracks, Dressy Bessy isn't afraid to get heavier, like on the punky, chugging "Get Along (Diamond Ring)." Pylon's Vanessa Briscoe-Hay adds glorious harmonies to Ealom's melody. "57 Disco," too, is harder edged, with farifsa supplied by Scott McCaughey of Young Fresh Fellows (and the Minus 5). "Cup O Bang Bang" builds on an urgent, insistent guitar riff with a dash of carnival organ to a loose, improvisational feel. It's like jazz made by indie musicians, minus the jazz. Peter Buck, again, adds smart-12 string and Eric Allen (Apples In Stereo) plays bass.
Dressy Bessy aren't reinventing the wheel on Kingsized. They stick to the formula that makes their music undeniably theirs; catchy, hooky tunes; Tammy Ealom's very specific voice (lyrically and aurally); and a sugar crush of power-pop goodness. It's a cohesive, welcome return.
Kingsized was released on February 5 by Yep Roc.
Tour Dates:
February 5 – Flux Capacitor – Colorado Springs, CO^
February 6 – Hi-Dive – Denver, CO^
February 10 – Atwood's Tavern – Cambridge, MA#
February 11 – Bowery Electric – New York, NY#
February 12 – Union Hall – New York, NY#
February 13 – The Boot & Saddle – Philadelphia, PA#
February 15 – Gypsy Sally's – Washington, DC #
February 16 – Strange Matter – Richmond, VA#
February 17 – Grey Eagle – Asheville, NC*
February 18 – Cat's Cradle – Carrboro, NC*
February 19 – The Earl – Atlanta, GA*
February 20 – 40 Watt – Athens, GA*
February 22 – The Basement – Nashville, TN
March 4 – Replay Lounge – Lawrence, KS
March 5 – Off Broadway – St. Louis, MO+
March 6 – Cosmic Charlie's – Lexington, KY
March 7 – Zanzabar – Louisville, KY
March 8 – Club Café – Pittsburgh, PA
March 9 – The Grog Shop – Cleveland, OH
March 10 – Southgate Revival House – Newport, KY
March 11 – Empty Bottle – Chicago, IL
March 12 – Kiki's House of Righteous Music – Madison, WI
March 13 – 7th Street Entry – Minneapolis, MN
March 14 – Des Moines Social Club – Des Moines, IA
March 17 – SXSW Official Showcase – Austin, TX
^w/The Born Readies
#w/Old Monk
*w/The Pylon Reenactment Society featuring Vanessa Briscoe-Hay
+w/Whoa Thunder