Published on March 4th, 2016 in: Current Faves, Matshifter, Pro Wrestling, Reviews, TV, TV Reviews, Underground/Cult |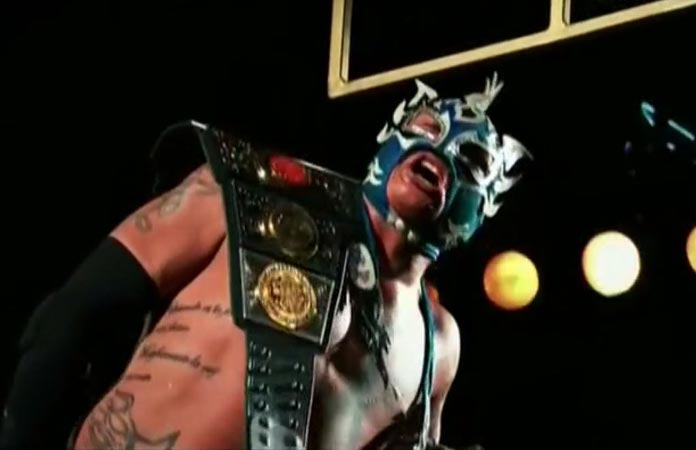 A very subtle theme in this season of Lucha Underground has been Catrina's meddling with powers she doesn't fully understand since wresting control of the Temple from Dario Cueto. Since assuming power, she's done things like reneging on the stipulations of the Gift Of The Gods title to make Cuerno wrestle Fenix in a Ladder Match instead of giving him his title shot or trying to manipulate Pentagón Jr. (not a good idea at the best of times). She may be a magical teleporting queen of death, but you have to think that these things have consequences.
In a vignette to open up tonight's episode, Mil Muertes demands a match with both Pentagón and Puma, but Catrina refuses. Muertes gets so heated that he grabs her by the throat but she immediately teleports away (the production on this show is really good most of the time but Catrina's teleportation looks pretty cheesy). It's one of the first signs of genuine dissension between the two, which furthers the idea that she may not be able to keep control of the Temple like Dario Cueto could. Muertes is enraged as we get a…
WHOMP WHOMP! Titles!
After a forgettable encounter between Sexy Star and Kobra Moon that ends when Marty the Moth distracts Star and causes her to lose the match, it's on to Puma facing off against Pentagón Jr. This should be a really great, hard-hitting match between the two biggest stars on the show but it's cut way too short when Mil Muertes gets up from his Bone Throne, tears off the cast he's been wearing since the premiere, and hits the ring. Mil absolutely crushes both guys and stands over them, screaming in triumph in a legitimately scary scene. In a vignette afterwards, Muertes declares that he's going to wrestle both men next week, and Catrina is visibly angry at this.
Fenix's story on Lucha Underground has had, you could say, some ups and downs. In the first season, he picked an extended fight with Mil Muertes (they're natural enemies, considering that Mil Muertes means "a thousand deaths" while Fenix has always boasted "a thousand lives") that was a major arc last year. First, he defeated and actually killed Muertes in a Grave Consequences match (in which one stuffs their opponent in a coffin to win) and briefly took on Catrina as a manager. She promptly double-crossed him, resurrected an even stronger Mil Muertes, and helped him to destroy Fenix right back. Muertes went on to win the Lucha Underground Title from Puma in the season finale.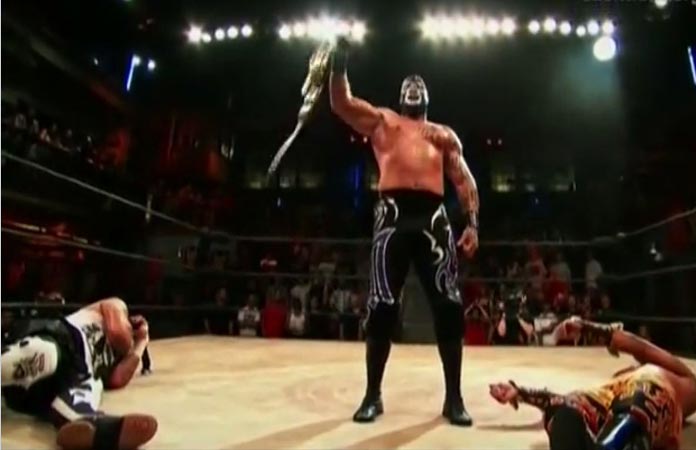 Fenix, being, well, phoenix-like, was resurrected and managed to capture the Gift of the Gods title, an elaborate belt that grants its owner a shot at the Lucha Underground Title. The catch is that the belt must be defended until that title shot. It can be lost at any time, conferring the title shot to the new holder of the belt. This is exactly what happened to Fenix in the premiere of season 2, with Cuerno capturing the Gift of the Gods.
All that leads up to tonight's main event, a Ladder Match where the Gift of the Gods is suspended over the ring, and a wrestler has to set up and climb one of the many ladders strewn about the Temple to get it. This is complicated by the fact that their opponent is actively preventing them from doing this by beating them up and hitting them with things like, well, ladders.
Fenix and Cuerno make their entrances and proceed to have one of my favorite matches this season. These two fight all over the Temple, including on top of Catrina's office, the upper deck of the stands, and of course, on top of ladders. After Fenix reverses Cuerno's Thrill of the Hunt slam from the top rope by flipping him through a table, he climbs the ladder and grabs the Gift of the Gods. A staredown with a seething Mil Muertes, since Fenix is the only one in Lucha Underground to really have his number, and we're out for the week.
I really enjoyed most of this episode (let's never speak of Sexy Star vs. Kobra Moon again) since it set up a bunch of potential contenders–all with unique motivations–for Mil Muertes's championship. Puma still wants revenge for losing the title to Mil. Pentagón broke Mil's arm in the premiere and also has beef with Catrina. Cuerno's title shot was snatched away by the wicked queen last week. Fenix has claim to a shot with the Gift of the Gods title, while also being miffed about Mil killing him last year. And let's not forget that Dario Cueto and Matanza are both coming back to reclaim the Temple at some point. All of this should come to a head in the next few weeks, so it's a pretty exciting time in the back alleys of Boyle Heights.
Have a great week, Believers!
RELATED LINKS: