Published on February 26th, 2016 in: Current Faves, Matshifter, Pro Wrestling, Reviews, Sports, TV, TV Reviews, Underground/Cult |
Last week we saw the debut of Joey Ryan, but that wasn't the most eventful thing to happen to Joey in the last seven days –our hero momentarily threw off the sleaze to propose to his girlfriend Laura James during a wrestling match. (Caution: Not Safe For Work Environments That Discourage Adorable Things).
Tonight, though, is about violence, and our main event of pretty-man Johnny Mundo versus steroid-man Bryan Cage should be a wild one.
We open on Vampiro in voiceover, talking about how he's separate from his "real" persona, Ian Hodgkinson, like his dark side. He says that he was in control, not Ian, when he took Pentagon under his wing and trained him. Now, says Vampiro,he has an apprentice so vicious that he can make Ian's nightmares a reality. There's a little more about their backstory in the new issue of the Lucha Underground comic, called "The Demon Within."
Back at the Temple, it's Jack "Dragonslayer" Evans versus The Darewolf PJ Black. It's a fun match that drags a bit in the middle, but picks up at the end when Evans uses an unusual bridge maneuver to win the match. Afterwards, Drago runs in to avenge his loss from a few weeks ago and by gum, he's got nunchucks, so you know he means business. Evans is too quick and slides away as Drago looks pissed, or at least I think he does since his mask covers his entire face. Meanwhile, PJ Black picks up the dropped nunchucks and stares at them intently. I have no idea why.
Cutting into the show is a weird 1980s-car-salesman-style vignette that looks like it's on VHS (think of the opening of Better Call Saul). It's for a guy named "Famous B" and he'll make you famous. This is complete with a phone number you can call. I'm not sure if this guy's supposed to be a wrestler or a manager, but he seems pretty funny.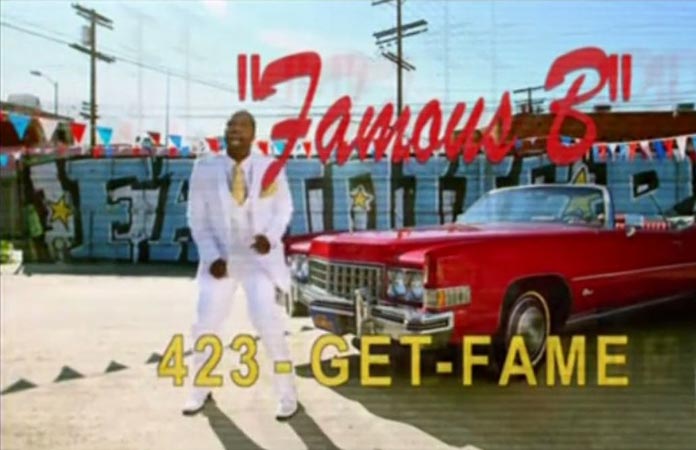 Up next is a match between Cuerno and his rival from season one, Killshot. This is a fine enough match that ends with Cuerno hitting the Thrill Of The Hunt for the win, but when Cuerno continues to beat down Killshot after the bell and Fenix runs in for the save, it seems a little too similar to the end of the last match.
Texano faces off against the Crew and Chavo Guerrero in a continuation of their rivalry from last week. This is a Gauntlet match, meaning that Texano will face each of the three opponents in succession. He quickly dispatches Cisco and Castro, despite interference from Chavo throughout. When Texano faces off with Guerrero, though, Chavo's teammates hold down his leg, allowing Chavo to win the match. Good action again, but this is now the third match in a row to have ended with some interference.
We're far away from the Temple and Boyle Heights, at Dario Cueto's shipping container. Cueto tells Black Lotus about how his mother abused him and his brother Matanza when they were children, and that one day Dario stood up to her. He was, unfortunately, unable to back up his words and Dario's mother came after him with a hot iron. WHY AM I TEARING UP AT THIS WRESTLING SHOW?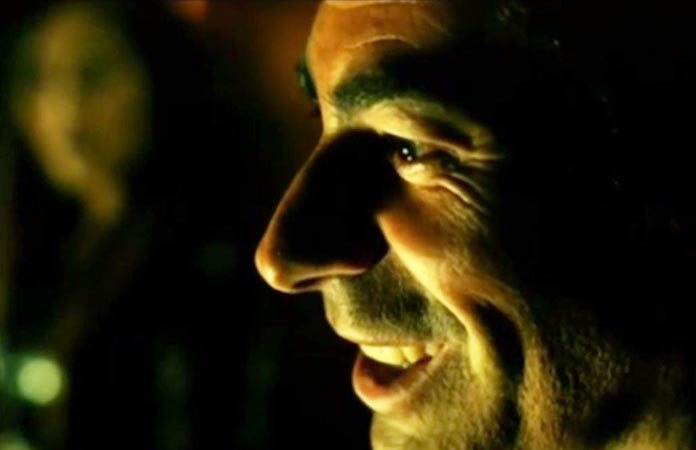 Dario goes on to tell Lotus that Matanza got between them and beat their mother to death with a statue of a bull. When Lotus understandably recoils in horror at this, Dario laughs and says it was a happy memory, because she was evil and this is how he developed his taste for violence. I have to hand it to Luis Fernandez-Gil here, this was one of the best-acted scenes on the show so far. I mean, it probably helps that he's an actual actor and not a wrestler, but still.
Pentagón Jr. works out in a ring when Catrina comes by. He demands a match against Puma next week and when Catrina balks, they scuffle and he begins to put on the armbreaker. When Catrina grants the match, she uses her magical powers to teleport away, but not before saying that he'll regret ever putting his hands on her. I adore Pentagón but I didn't really enjoy seeing him put the armbreaker on Catrina in this segment, even in the usual Lucha Underground context. The show already walks a fine line by even employing intergender matches, and I think that putting more violent characters like Pentagón (Muertes would qualify here too, like in the premiere against Ivelisse) in those situations comes close to crossing that line.
Finally, it's main event time with "guy who works part time as a mold for mannequins" Johnny Mundo and THE MACHINE (hey did you hear he's a machine?) Cage. At the risk of sounding repetitive, I have the exact same comments about this match as the others. Lots of fun, but with the same damn ending. This time, it's a debuting female talent named Taya Valkyrie that interferes on Mundo's behalf, slipping him a lead pipe that shuts down the Machine fast. Afterwards, they pose together looking pretty, but that doesn't change the fact that every match on this show ended the same way. You're better than this, Lucha Underground.
The post-credits scene has Cuerno busting into Catrina's office, reneging on their agreement and demanding his Gift of the Gods title shot against Mil Muertes next week. Catrina seems taken aback, and denies Cuerno his match, saying he's already booked to defend the Gift of the Gods against Fenix… in a ladder match. Poor Cuerno, he can't catch a break, because Fenix is pretty much an actual bird.
Outside of the awesome Dario Cueto segment, there's not a whole lot in this week's episode I can recommend watching. The matches were the same level of action you get every week, but with interference at the end of every one, it felt monotonous and stale by the time the main event rolled around.  Not my favorite episode, friends, but next week's ladder match with Cuerno and Fenix, as well as Puma and Pentagón Jr. should both be outstanding matches. Adios!