Published on March 1st, 2016 in: Feminism, Music, Music Reviews, Reviews |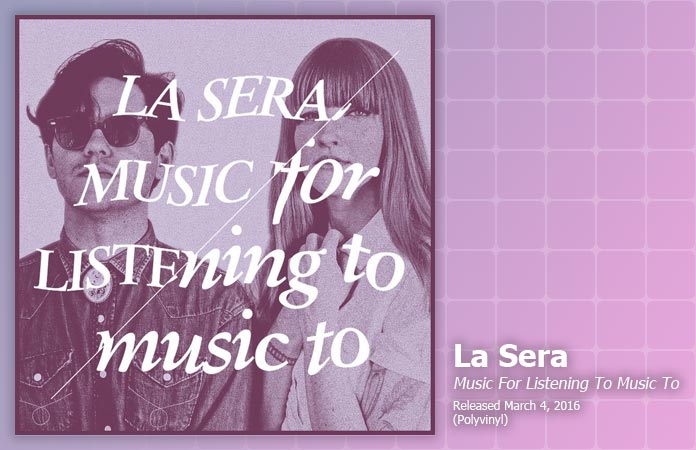 La Sera is back and things have changed. Their newest, Music For Listening To Music To, is a kinder, gentler album than their last effort, 2014's wonderful Hour Of The Dawn. It lacks the bite of Hour Of The Dawn, but perhaps that's the result of front woman Katy Goodman being newly married (to guitarist/cowriter/band mate Todd Wisenbaker) and in lurve and all of that. The songs are less challenging and not as confrontational. That's unfortunate.
Ryan Adams produced Music For Listening To Music To. The album has a 1980s college radio feel with Peter Buck-like guitars. In fact, Music For Listening To Music To has a definite throwback, IRS Records feeling to it. "High Notes," the album opener, veers into cow punk territory. It percolates and drives, but Goodman's voice is an acquired taste. It's high, easy, and very girly. It's not hard to listen to, but it's just so passive. On Hour Of The Dawn, Goodman sang with grit and fire. It's missed.
There are times, of course, where Katy Goodman's voice hits the sweet spot. The atmospheric and spare "Shadow Of Your Love" is quite pretty. There's a very specific guitar pedal that's used throughout Music For Listening To Music To, and on "Shadow Of Your Love," it breaks through like an echoey wave. It pops up on "Begins To Rain," another leisurely track, jolting the listener like an electric volt.
Todd Wisenbaker steps up to the mic for the duet "One True Love." It's a charming bit of jangle pop, and incredibly sweet. "I Need An Angel" is another duet, in which Wisenbaker sounds a bit like Blixa Bargeld when he comes in. It's propelled by a smart bass line and rattling guitar.
It's hard not to compare Hour Of The Dawn to Music For Listening To Music To. The latter, while obviously coming from a happy place in Katy Goodman's life, doesn't feel as vital. It's an inoffensive, easy Sunday morning kind of album. There's space for that, too, La Sera are capable of so much more.
Music For Listening To Music To will be released on March 4 by Polyvinyl.
Tour Dates:
03/12 – Los Angeles, CA – Echoplex / Force Field's 10th Birthday Bash #
05/06 – Chicago, IL – Empty Bottle
05/07 – Detroit, MI – Marble Bar
05/08 – Toronto, ON – CMW
05/09 – Montreal, QC – Casa del Popolo
05/10 – Boston, MA – Great Scott
05/11 – New York, NY – Market Hotel
05/12 – Washington DC – 9:30 Club %
05/13 – Morgantown, WV – 123 Pleasant Street %
05/14 – Columbus, OH – Skully's Music Diner %
05/15 – Champaign, IL – The Accord %
05/16 – Lincoln, NE – Vega %
05/17 – Denver, CO – Marquis Theatre %
05/18 – Albuquerque, NM – Launchpad %
05/19 – Phoenix, AZ – Rebel Lounge %
05/20 – San Diego, CA – Ché Café %
05/23 – Los Angeles, CA – Fonda %
05/27 – Portland, OR – Revolution Hall %
* = w/ DIIV
# = w/ Lightning Bolt, Wax Idols, Sonny & The Sunsets & more!
% = w/ Titus Andronicus
RELATED LINKS: