Published on January 21st, 2016 in: Current Faves, Feminism, Music, Music Reviews, Reviews |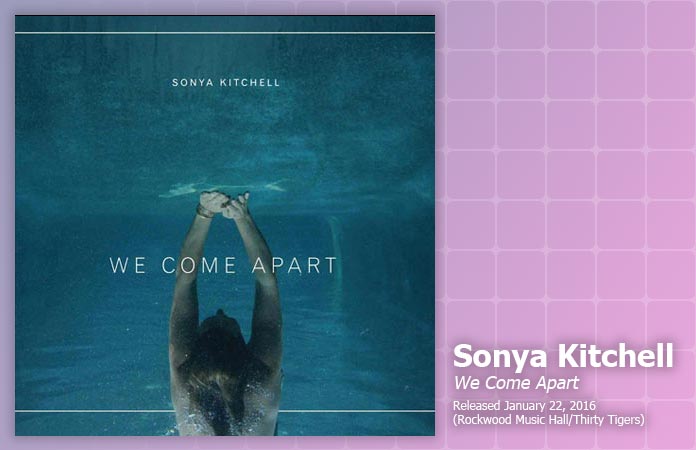 Sonya Kitchell began her recording career in 2006 when she was 17 years old, which is impressive enough to note. Better yet, after her debut, Words Came Back To Me, Kitchell diversified by recording an EP of string quartets, collaborating with Herbie Hancock on The River: The Joni Letters, playing at Montreaux Jazz Festival, the Newport Folk Festival, and winning two Grammys (for The River: The Joni Letters, and Tedeschi Trucks Band's Revelator). She's a woman of many parts and a rich wellspring of talent.
Sonya Kitchell's latest album, We Come Apart, is, frankly, brilliant. Kitchell's voice is incredibly versatile and her emotional range is just as impressive. There are songs that are stunning and simple, yet moving and haunting ("Swallowing The Rain"), and songs that verge on the tribal; urgent but remarkably restrained ("Hurricane"). We Come Apart is lush with layers of instrumentation and meaning that only become more captivating upon relistening.
The album opener, "Follow Me In" is evocative. Atmospheric layers of guitar lay down a gossamer sheet for Kitchell's multilayered vocals, some whispered, all beautiful. Guitars evoke seagulls, and the sea is more than a metaphor. It's deeply lush.
Lush is something Kitchell does quite well. Even at its most stripped down, like the title track, there is an undeniable sumptuousness to her music. "We Come Apart" is hushed, as quiet as a prayer. Horns are muted, the drums beat a low cadence, and the song is utterly moving. "James" is gorgeously intimate with an unusual melody (where my ear thought she'd end low, she soared high). It's delicate, like a blown-glass bird and so private it's like we shouldn't be hearing it at all. "Stay For A While," too, is intimate. And honest. Her vocals are exquisite velvet. It sounds like it felt amazing to sing.
But it's not all verdant balladry and quiet introspection on We Come Apart. "At First," with quiet horns and sax from The Dap Kings, is a spare deconstructed girl-group song. A hummable, dreamy swing, it's made for slow turns on the dance floor. The first single, "Mexico," bears a delightfully fuzzy bass line and a sunny sultry feeling with a lonesome organ as an afterthought. Kitchell's vocals are pure honey with a hint of sand. "Lucifer" wears a "torn T-shirt" with a harp in his hand. It's elegance plus mischievousness; a clever pas de deux with harp and strings.
If you heard, say, "James," and then heard "This Feeling," you might swear that they couldn't possibly be by the same person. "This Feeling" is a shank to the gut. Punky, sneering vocals front experimental, angry bluegrass. It's a bracing, thrilling moment in an album full of thrilling moments.
We Come Apart is an album that gets richer and finer upon repetition. There are layers to unpack: twinkling keyboards, understated horns, and Kitchell's glorious, nuanced vocals. She's an incredibly gifted artist. We Come Apart sparks and catches, with clever melodies and Kitchell's dazzling range.
We Come Apart was released by Rockwood Music Hall/Thirty Tigers on January 22.
Tour Dates:
1/22: New York, NY @ Mercury Lounge (9pm)
1/28: Cambridge, MA @ Lizard Lounge (10:30pm)
1/29: Portland, ME @ One Longfellow
2/5: Arlington, VA @ Iota Club & Cafe