Published on January 25th, 2016 in: Metal, Music, Music Reviews, Reviews, Soundtracks and Scores |
By Tim Murr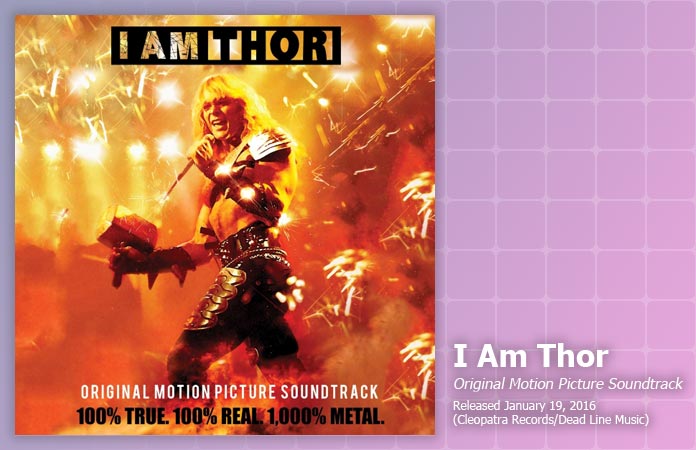 Welcome to my fourth Thor review in the last year! I've been on a quite a journey of discovery with Jon Mikl Thor. When I reviewed the re-release of his landmark 1983 album, Unchained, my memory of Thor the frontman, was fuzzier than my memory of Thor the guy that was in that Adam West zombie movie.
Since then I've reviewed his newest release, Metal Avenger (2015), an album that contained some of his strongest material to date. Then, there was the fantastic documentary, I Am Thor. Rock documentaries are pretty common and usually just a boring fan letter to the subject. Sometimes not even including any of the artist's music due to rights issues. I Am Thor delivers by being a compelling documentary, chock-full of music from Thor's entire career and featuring great interviews with many people from Thor's life.
The soundtrack is a mixed bag at best. If this were a "Best Of," I'd have to give the collection some low marks, but it works as a historical document and companion to the film. The problems with the soundtrack arise from the inclusion of Thor's non-metal tracks. With the exception of The Ticks' "Hey Tonight," a great Beatles-esque rocker that Jon played bass on, the pre-glam Thor tracks are largely forgettable. We're only talking about the first three tracks, though.
Track four is the excellent glam classic, "Keep The Dogs Away." Tracks five through nine are from Thor's two 1980's albums, Unchained and Only The Strong. Track ten, "Thunderhawk", from the 2002 album Triumphant, is the only metal-era Thor track on here I don't like, but it seems to be a hit live. Next is the Triumphant version of "Warhammer," which also appears as a bonus track on the Unchained re-release. "Devastation Of Musculation," the title track of the 2006 album, and "Metal Avenger," the title track of the 2015 album, are both solid rockers.
Then come two tracks from Thor's collaboration with Raleigh, North Carolina's punk group, The Ass Boys. When I first listened to the soundtrack, which was before I watched the movie, I turned my nose up at these two tracks. They struck me as childishly vulgar and stuck out as badly as the album opener, "We Are Body Rock." After watching the film, I feel like I get these two tracks and, silly as they may be, they are also really fun, sleazy punk rock in the vein of Antiseen. The album closes with "Crunch, Crunch, Yum, Yum," the soundtrack to Jon's kid comic about healthy eating. It is what it is.
This would not be a good introduction for anyone new to Thor's music. That would be Unchained. For fans of the film, though, and Thor completists, this album is well recommended.
The soundtrack for I Am Thor is available now from Cleopatra Records/Dead Line Music.