Published on April 17th, 2015 in: Canadian Content, Current Faves, Music, Music Reviews, Reissues, Retrovirus, Reviews |
By Tim Murr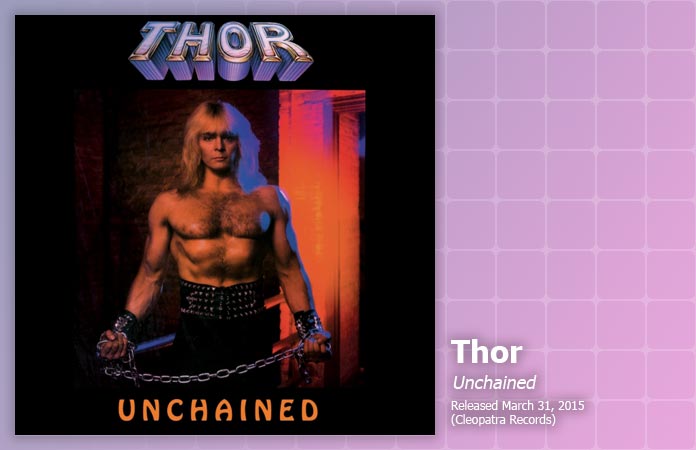 There are so many sub genres in heavy metal that black metal progenitors Mayhem stand under the same umbrella as pop glamsters Poison. Which is kind of cool when you think about it. There's so much that you can do with metal, so many styles you can mix in, so many identities that exist shoulder to shoulder.
There's a little bit of everything that falls under the metal banner these days. Back in the early '80s you had a bit less diversity. What constituted metal was much easier to define then. You had Black Sabbath and other slower, heavier hard rock acts, and then you had the New Wave of British Heavy Metal, which, when combined with hardcore punk, inspired the burgeoning thrash/speed scene. This, in turn crossed over into the punk scene with bands like Black Flag, who added a more metallic sound to their punk aggression.
In 1983 Iron Maiden and Judas Priest were making their influence felt across the genre and imitators were rushing to catch up. Even Sabbath and Alice Cooper had to update their sounds to stay relevant. Glam was coming on hard with groups like Motley Crüe, Hanoi Rocks, and Twisted Sister. (I know this is one big generality, but I'm just trying to lay out the rough landscape for those not in the know.)
One group that brought a bit of NWOBHM, a bit of Sabbath, and a bit of Alice's theatricality was THOR. Lead by Jon Mikl Thor, a world-class body builder with long, flowing blond hair (who could've played Marvel's Thor had the MU kicked off in the 1970s), THOR started off as a poppy hard rock band in '77, but by '83 had morphed into a much heavier, epic metal band. Jon hit the stage as THOR, backed by a tight and talented band clad in black leather and spikes. They occupied a special time in history where a band could be as outlandish looking as possible (Devo, Gary Numan, Man-O-War, Twisted Sister, Boy George) and be a hit. Thor was like a pro wrestler crossbred with David Lee Roth and had the showman's penchant of both. (But Van Halen never wrote anything as good as "Warhammer.")
THOR'S 1982 EP, Unchained, made story songs catchy as hell. Every track on Unchained sold Jon as THE Thor and recounted tales of battles and victories in the great tradition of epic poetry, but sounded just like a 1983 metal album should sound like.
This set THOR apart from a band like KISS whose music rarely matched their look. THOR was consistent; the look, the songs, the stage show. Jon lived, wrote, and performed as Thor. Even on a song with shades of KISS like "Rock This City," there's still that legendary air. The God of Thunder would certainly party after a battle. He'd certainly rock the city.
Take away THOR'S muscles, costumes, and stage antics (like bending a steel bar with his teeth) and what you have left are the songs. THOR probably could have gotten by just on the songs alone, because they are incredibly catchy. After my first listen to Unchained I had "Anger" stuck in my head.
The total package, though, is what makes THOR the band, THOR the man, and THOR the concept so interesting, like Alice before him and GWAR afterwards.
Cleopatra Records' reissue of Unchained contains the original EP, six bonus tracks, and the original master recordings of the EP. The masters are much more raw, almost punk in sound. Out of the entire reissue I found only one dud, "I Am Your Sire." The bonus tracks are killer. "Warhammer" and "Rag-Na-Rock" are not your typical bonus track fare, in that they almost outshine anything else on Unchained.
The vinyl version of Unchained comes with a comic (which I really want!) originally produced for a comic convention appearance to promote the album. The CD comes with a DVD, which contains one music video and a bunch of concert footage. As far as overall quality goes, it varies from song to song, but I've owned and loved punk VHS tapes in way worse shape. The concerts were part rock show/part sideshow strongman act and even feature Loki and the Grim Reaper at one point. As far as the music video goes, well . . . it was the 1980s and THOR probably didn't have much in the way of a budget, being an indie band. It doesn't take away from the fact that it's a good song.
Fans of classic metal will love Unchained and it might convert a few who aren't. I can sum the album up easily as simply a fun listen. Given how serious metal has become (Doom and Black Metal generally don't leave a lot of room for catchy sing along choruses), I think that's something we should welcome.
Unchained Deluxe Reissue was reissued by Cleopatra Records on March 31 and is available on CD/DVD and vinyl.
I AM THOR Movie Tour:
April 18 – Calgary Underground Film Festival (Q&A at the festival and Calgary Comic-Con)*
April 20 – Cindelphia Film Festival – Philadelphia, PA
April 25 – Keep It True Festival – Germany**
May 28 – Muskelrock Festival – Alvesta, Sweden*
June 5 – Brooklyn Film Festival – Brooklyn, NY*
August 7 – Little Rock Horror Picture Show Festival – Little Rock, AR*
September 5 – Portland Film Festival*
*with THOR live performance
**with THOR tribute band