Published on August 28th, 2015 in: Current Faves, Music, Music Reviews, Reviews |
By Hanna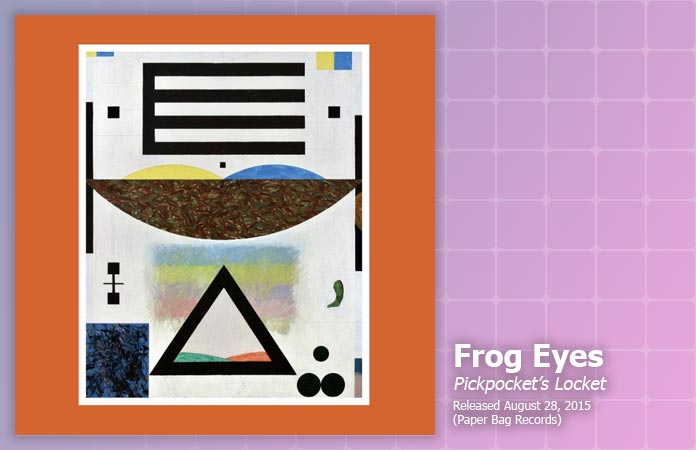 Pickpocket's Locket is the follow up to Frog Eyes' comeback album from last year, Carey's Cold Spring (review). That album, influenced by a number of personal experiences such as the death of frontman Carey Mercer's father, led the band into a more restrained and accessible style of music and lyrics. The press release for Pickpocket's Locket explains the background for the album: Mercer's father left him an acoustic guitar, which he used as inspiration.
For Pickpocket's Locket, Melanie Campbell has returned with her characteristic epic drumming style. The rest of the basic band consists of Shyla Seller on piano and Terri Upton on bass. String arrangements are by Spencer Krug, who should be familiar to fans from his previous work in the band.
It is immediately clear while listening to the album that its basis lies in the acoustic guitar, as the core of the songs is comprised of a sparse combination of drums, guitar, and vocals. This pared-back style makes the songs intimate and easy to understand. There is an emphasis on repetition in the vocals, lyrics, and instrumental parts, which is typical of Frog Eyes as a band, and also adds emotional weight, such as in "Death's Ship" which seems based on memories of life. The song meanders through experiences, lingering on some. Its rolling drums are like a theme running through the album and providing cohesion.
There are a lot of string parts, sometimes lush and sometimes simple solo pieces. They provide an elegant background. Some songs build to a crescendo: "Rip Out The Fences That Fence the Garden" and "Joe with the Jam" add more and more instruments and repetition to become orchestral. Others songs, like "The Demon Runner" and "In A Hut," offer a simple, almost classical folk style.
This new, more acoustic direction gives the album a conversational tone that makes it very accessible, a quality that might be attractive to new listeners. It's a bit like exchanging stories and bonding with someone very late at night.
I discovered a surprising Bruce Springsteen sound to some of the songs. With the strings and acoustic rock setting, they feature rolling rhythms and conversational phrasing quite similar to Springsteen. Along with the aforementioned "Rip Out The Fences That Fence The Garden," "Rejoinders In A Storm" and "I Ain't Around Much" showed this influence clearly and beautifully. Lyrically, too, they touch on many the same topics as a lot of Springsteen songs: changing relationships (especially between fathers and sons), sharing memories, time passing. The influence was so clear that it was reassuring to see Darkness On The Edge of Town mentioned in the press release, because I honestly thought I was starting to imagine things.
Aside from the more easily parsed lyrics, the lyrics seem generally abstract, using alliteration, vowel rhyme, and repetition to add structure to the songs, rather than just narrative meaning and phrasing. Mercer's voice has returned to the more dramatic, chanting style he used before Carey's Cold Spring, which makes this album sound more like the band's earlier work despite the differences in musical arrangements.
While Carey's Cold Spring combined barely contained emotions and sweeping music with an intimate edge, that intimacy becomes more intense on Pickpocket's Locket. The emotions build and draw you in, and the music and meanings that seem straightforward at first soon become more elaborate and complicated. Carey's Cold Spring was well received last year, and Pickpocket's Locket takes what that album started and evolves in a new direction, one which firmly places Frog Eyes back on the map of experimental indie music.
Pickpocket's Locket was released by Paper Bag Records on August 28.
Tour Dates:
September 11 Toronto, ON @ Smiling Buddha
September 11-12 Hamilton, ON @ Supercrawl
September 17-20 Victoria, BC @ Rifflandia
September 18 Portland, OR @ Wonder Ballroom
September 19 San Francisco, CA @ Fillmore
September 20 Los Angeles, CA @ The Regent Theater
September 21 Santa Cruz, CA @ Crepe Place
September 23 Bellingham, WA @ Shakedown
October 16 Seattle, WA @ Neptune
October 17 Vancouver, BC @ Commodore Ballroom