Published on July 11th, 2014 in: Current Faves, Music, Music Reviews, Reviews |
By Hanna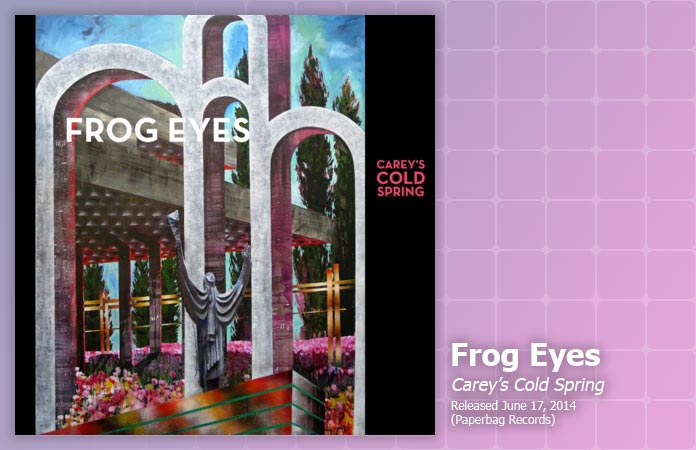 After a hiatus of three years, during which the album was already mostly finished, Frog Eyes' Carey's Cold Spring was self-released by Carey Mercer through Bandcamp last October, and is now being released by Paperbag Records on vinyl and CD.
The various issues that led to the delay in recording and release are dramatic. Carey Mercer's father passed away; then he himself was diagnosed with throat cancer. Starting a family changed the dynamics of the band, which is based on the couple Carey Mercer and Melanie Campbell, and other band members left and were shuffled around.
These changes are all discernible in the record, even though the differences are difficult to pin down. Older Frog Eyes songs give an impression of being intentionally uncontrolled, more violent, both in musical experimentation and in style. Tanis Gibbons's drumming is more measured and less chaotic than Melanie Campbell's, but has a constant presence. The songs have more structure and repetition, leaning towards a verse-chorus structure, and are also generally shorter. Guitar work by Dante DeCaro and Nic Bragg adds some new, gentler sounds, but fits into the Frog Eyes style easily. With Carey Mercer using a more restrained and even singing style with fewer types of vocal sounds and fewer modulations, the emotions are less explosive and more simmering.
While the older albums are concept albums, Carey's Cold Spring has no concept, just themes. I feel the themes are easy to connect, from societal unrest and war in "Country Child" and "Needle in the Sun," to internal conflict in "A Duration of Starts and Lines That Form Code" and "Don't Give Up Your Dream.". There is a lot of vaguely Biblical imagery, often doom or grief related, in songs like "The Road is Long" and "Claxxon's Lament," but also a wry sense of humor, as in "Seven Daughters," which opens with: "Woe: be they sad, be they the country singing fad?".
The themes of the songs seem to fit precisely into the atmosphere of the present time, with conflict and anxiety close at home, as well as internationally. This is odd considering the songs were written quite a while ago, but then, these themes of unrest and loss are universal, and the feeling of suppressed emotion in the music gives the songs directness.
With the simpler, slightly more subdued musical style and the sweeping character of the lyrical subjects, this is an album that invites more emotional closeness than Frog Eyes' music had before. It's unsurprising that it seems to be, and is presented in the media as, the result of a series of emotional developments in Carey's life, because this album is in itself a series of emotional developments. But there's also an intellectual element, provided by the musical experimentation and the complex lyrics.
The future of the band, with members changing and Carey's illness, is uncertain, but it's great to see this album get a wider release and to hear that Frog Eyes will be touring. The connection that Carey's Cold Spring embodies deserves to be shared.
Carey's Cold Spring was released by Paperbag Records on June 17.
Tour Dates:
August 14 Victoria, BC. Centennial Square
August 18 Detroit, MI. The Pike Room*
August 19 Toronto, ON. The Drake*
August 20 Ottawa, ON. Mavericks*
August 21 Montreal, QC. II Motore*
August 22 Boston, MA. Cafe 939*
August 23 New York, NY. Rough Trade*
August 25 Washington, DC. DC9*
August 26 Columbus, OH. Rumba Cafe*
August 27 Chicago, IL. Schubas*
* = w/ PS I Love You