Published on April 11th, 2014 in: Interviews, Music |
By Cait Brennan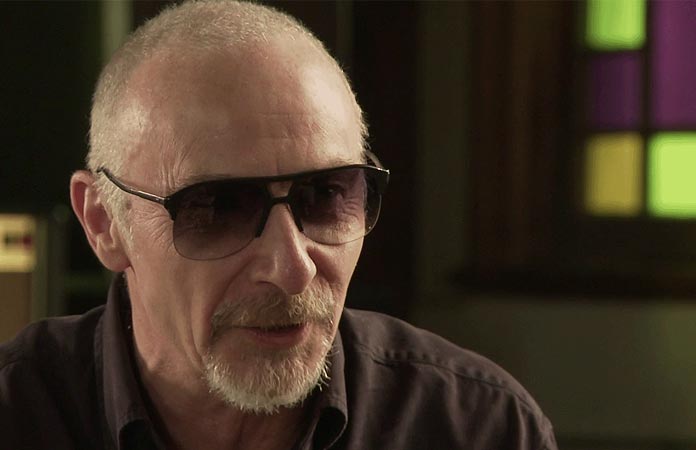 Read Jeffery X Martin's review of Don't Ask Me Questions.
The new documentary Don't Ask Me Questions follows the storied career—and much-heralded return—of Graham Parker and his band the Rumour. Popshifter's Cait Brennan asked Graham some questions about his career and the documentary in an email interview.
Popshifter: Graham, thanks for agreeing to the interview. Having been a fan of your work for years, it was a thrill to see you getting the documentary star treatment, and revisiting some great moments from your career, as well as seeing you make new music with the Rumour! I know this film was many years in the making—tell me how it got started.
Graham Parker: The Gramaglia Brothers, who made the film, approached me in 1998 in a venue called the Long Island Brewing Company. How I remember that I don't know! Just one of those gigs that sticks in my mind, perhaps because the legendary Elliot Murphy was my opening act.
I told the Gramaglias that I thought a documentary about me would bore people stupid and sent them on their way. However, a couple of years later my short story book was coming out and I was planning on doing a promo tour, reading bits from the stories and singing songs I'd written to go with them. I called the Gramaglias up and said that maybe they should film some of the shows and do a documentary specifically about this. Of course, that opened the door and I couldn't stop them and they just continued gathering material bit by bit over the years.
This film was essentially finished by 2010, then I went and reformed the Rumour, and so the Gramaglias' dream ending was now coming to pass.
Popshifter: There was a successful Kickstarter crowdfunding campaign to help back the film—which once again shows how passionate and loyal your fans are. Tell me a little about that relationship between you and your audience. How do you keep them coming back, and what do they give you that keeps it interesting and meaningful for you?
Graham Parker: I was knocked out by the response to the Kickstarter drive, which was the Gramaglias' idea. I couldn't believe so many people would be so interested. As for my fans, there's nothing quite like getting that feedback from people who really know my songs, often from many periods in my career. There are many who just know the oldies, but also a solid amount who seem fascinated by my constant output. I guess that's what keeps me at it as much as anything, although I also find that I can't seem to stop writing stuff that I think is worthwhile, so I've just got to share that with them.
Popshifter: By a weird (and happy) coincidence, about a week ago I got my hands on one of my favorite solo albums of yours, your 1988 live album Live! Alone In America, with that fantastic version of "Three Martini Lunch." This was right after another brilliant studio record, The Mona Lisa's Sister. The film doesn't spend too much time on your post-Rumour solo period; what did you set out to accomplish going off on your own, and what are some of the moments you've liked best?
Graham Parker: I think musically, my breakthrough post-Rumour record was The Mona Lisa's Sister because I decided I should call myself a producer and reduce the excesses of '80s production techniques. I deliberately pared that record down to four instruments with few overdubs. Producers at that time were still treating the drums as if they were the most important thing on the record! I decided that the singer and the song were the most important thing on the record and I've stuck to that rule ever since.
It was not easy to tell a record company in the '80s that producers just ruin everything! But I stuck to my guns and I consider that everything's been much better since that album. That was the major accomplishment, establishing that ethic. And I think Deepcut To Nowhere, Don't Tell Columbus, and Struck By Lightning are some of my best works and they were produced by me with co-producer/engineers handling the technical aspects.
Also, the 1988 tours that I did with Brinsley and Andrew Bodnar in the band promoting The Mona Lisa's Sister were as successful as any with the Rumour. It then seemed natural to me to go out and do a solo tour. Strip it down even more. Musically, I've got so much out of doing that solo thing over the years. It just opens up the songs and has improved my singing a lot.
Popshifter: I know you worked with Brinsley often in the post-Rumour years, and you played with Andrew for a while as well, but some of the guys you hadn't played with in years. When you rang them up, was everyone immediately receptive to a reunion? Were there any sort of bruised feelings about the breakup?
Graham Parker: All the guys were immediately up for the idea of doing a record. I must say that after seeing the documentary I realized it wasn't as easy as I'd thought when I got them all together for a meeting back in 1981 and announced that I wanted to move on and make records with other musicians. But in those days, I had tunnel vision and once I'd made up my mind I was not gonna pussyfoot around. But jump ahead 30 plus years and it actually seemed like everyone was waiting for my call! It was all positive and natural. When you're younger, you often have a harder shell; I certainly did, and I didn't consider anyone else's feelings much. But at this age, none of that was going to come between us. It's a bonus we're all alive and playing well, is the way we looked at it.
Popshifter: What was the moment like when you and the Rumour were first back in the room together? Any initial concerns it might not work?
Graham Parker: It's always a stressful situation for me going into the studio with brand new songs. You've got no idea whether you're going to fall flat on your face and realize what you've written isn't good enough. So this was no different from usual! I did have the additional worry that maybe these new songs weren't right for the Rumour, but then I realized that I hadn't written the songs that went on my first album with them in mind, because they didn't even exist as a band then. I just wrote a bunch of songs, and that's the same as it's always been.
Popshifter: How is the experience different for you working with the Rumour versus working with the Figgs?
Graham Parker: I've only done one album using the Figgs as the backing band, and I've used a couple of the members individually. I've done a lot of touring with them, though, but it's not that different regarding the dynamics of the situation. You have a few ups and downs and you have to figure out what's working and what isn't, but musically the Rumour has a much more complex sound, and in the studio you've got to focus more and keep track of all this complexity coming out of the speakers. It's a bit more challenging as a producer.
Popshifter: In the film, you guys seem to almost just pick up where you left off—there's still that great spark and it sounds brilliant. Has your approach to working together changed?
Graham Parker: It's pretty much the same as it was in the beginning except we don't play at those breakneck speeds. There's plenty of pace, but it's not crazy now and therefore the real musicality of the band is much more on display.
Thank goodness for that!
Popshifter: It's been a couple of years—how has the reunion been going since the documentary?
Graham Parker: We've done two tours of America, one in the UK, and at the end of May we do a more extensive tour of the UK and also Europe, ending with the Bergen Festival in Norway in June. And we are about to go into the studio in April to record a new album. No idea when this will come out, but I've had the songs for at least a year and I'm dying to get them in the bag.
Popshifter: What was the This Is 40 experience like? I know Judd Apatow is a fan, and it's great timing that it happened while the documentary was coming together. It's just a great concert, too. Has This Is 40 brought you new fans?
Graham Parker: Being part of that movie was just such a blast, it almost hurts to think about it. I wished I could be in another one immediately after! I didn't want it to end. But I've no idea if anyone who didn't already know the music has become interested enough to come and see us live or bought a record. Record sales are so flat for 90 percent of artists who aren't brand new and catching some trend or other, that it's all negligible now. Even some people who are already fans will say, "Great record, I downloaded a track on Pandora!" What can you say? "Thanks for nothing"? Ha!
But there's no doubt being in a movie that was box office number three in America and out there all over the world ups my profile considerably. It's been a really marvelous break for us and we couldn't have asked for any better way to fall into a reunion. Plus, we got that DVD This Is Live out of it with all the songs we performed whilst filming the movie. Now that looks and sounds incredible, seeing as it was filmed and recorded in the highest definition you can get.
Popshifter: There are great tributes in the DVD from Bruce Springsteen, Black Francis, Nick Lowe, and Joe Jackson to name but a few. What were your thoughts when you saw those tributes?
Graham Parker: Those guys were very generous I must say. Wow, was all I could think when I saw it. Bruce made the most perceptive comments that actually enlightened me regarding my own music! Sometimes you don't see these things because as an artist, you're often so occupied with getting your work across in terms of technique and style that by the time you've finished a piece of work you stop considering the emotional side of it because it's been captured, and now it's time to move on. I was stunned to hear what it was that Bruce got out of it, and touched by everyone's compliments.
Popshifter: You've been hugely influential, but the film sort of implies that you were too uncompromising to make it really big. Do you think that's true? If you had it to do over again, is there any point where you'd go back and compromise, do a yogurt commercial, sell Toyotas, or something?
Graham Parker: Well, it's the filmmakers' movie, not mine, and those guys always need some angle. They grabbed hold of that and played it up. People have all kinds of theories about why I'm not a household name, but I think there are Graham Parker fans and then there's everybody else. I don't think a huge audience was ever going to get it. It's just one of those things. I think what I do is fairly unpalatable to most people. It's not about compromising or not. I don't think Britney Spears or Coldplay, for instance, have compromised one little bit. Like me, they just do what they do.
Popshifter: The film is a very loving tribute. What's the fiendish, malevolent, dark side of Graham Parker that the filmmakers edited out?
Graham Parker: There is none! I keep telling people I'm the sweet, sensitive guy, but they don't believe me!
Popshifter: I love the marvelously twisted tales in Carp Fishing On Valium. "Did Otis Play The Big C" is probably my favorite . . . and it's great that it's finally back in print. And The Other Life Of Brian was a mad blast. Any more stories in the works?
Graham Parker: You obviously know your GP stuff, thanks! I guess I had a few years off when I wrote those books, because they were actually written in the same period, just published at different times. The '90s were an odd decade for me; it was all sort of on and off. Since then my music and live work have been so constant that I haven't had that space you need to write anything of any length. There's so much more work and editing goes into even a 20-page story than a four-minute song. Songs and recording are a much more instant creation. But there's always the future, and hopefully I'll get into it again some day.
Popshifter: One of the interesting things in the documentary was your love of nature and the outdoors. Have you always had that connection with nature? What does that experience give you?
Graham Parker: Growing up in the country, all us kids had some basic understanding of what was around us in nature. We knew quite a lot about what was living in the woods and waterways nearby. We weren't in the middle of nowhere—there were four or five bustling towns very nearby—but we grew up being able to identify various species of birds, for instance, and all kinds of other creatures and plants. Even people who grew up to become bank managers or mechanics had a reasonable amount of knowledge about nature. I just found it all fascinating and still do. We were surrounded by countryside, and to be ignorant about that would have been very dull. So I guess it's just stuck with me. I watch a lot of nature shows!
Popshifter: I know you're heading out with the band for more shows, and the documentary is going to bring your music to a lot more fans. It seems like it's been a very productive and hopefully fulfilling time for you. What's next?
Graham Parker: The recording is about to begin on the next record, then more touring in the UK and Europe. I'm not looking too far ahead of that, really. There's plenty on my plate to deal with.
Popshifter: Thanks so much for taking the time, and best of luck with everything!
Graham Parker and the Rumour are on tour now in the UK and Europe. Visit Graham at http://grahamparker.net.
Thanks to Jeffery X Martin for help with the questions.