Published on April 23rd, 2016 in: Blu-Ray, Documentaries, Feminism, Film Festivals, Horror, ICYMI, Movie Reviews, Movies, Music, Music Reviews, Podcasts, Reissues, Retrovirus, Reviews, TV, TV Reviews |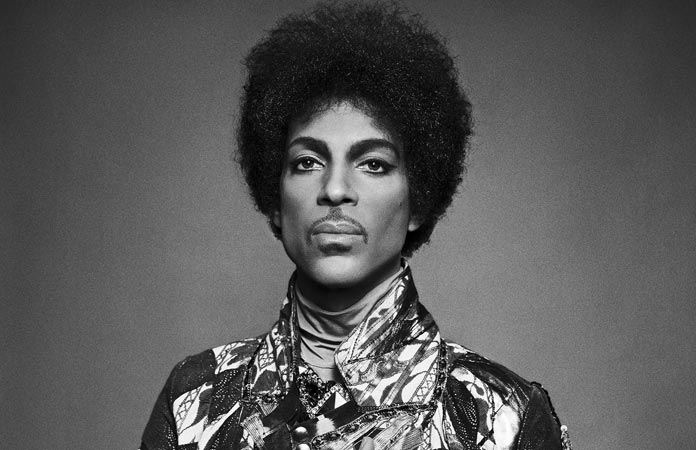 Another week, another beloved and peerless musician has left us. In case you've been on some sort of Luddite retreat, you've heard the news that Prince has passed away at age 57. There are far too many good articles contemplating his death online to list them all here, but you might enjoy this one, in which I ponder what it means to lose our heroes, "The Beautiful Ones U Always Seem 2 Lose."
Here are two vastly different new releases you might want to check out: Cherry Red Records has released Tiny Tim: The Complete Singles Collection (1966-1970) about which Hanna writes the following:
Hearing a grown man do a believable Shirley Temple imitation is always a beautiful experience, and "Mickey the Monkey," a song from the perspective of a monkey in a zoo providing his story to the child listener, seems almost a comment on Tiny Tim's own position as a novelty performer: "While you're watching me, I am watching you, too / You're as funny to me as I am to you."
On a totally different segment of the musical spectrum is Trágame Tierra, the long-awaited follow up to Big Black Delta's self-titled debut. Why this record isn't blowing up I cannot imagine. I've seen only two other reviews for it, and one of them is the most ghastly and insulting thing imaginable, on a website whose name rhymes with "Consequence of Sound." Ignore that crap, and just read about how great this album is.
Unicorn Booty's got some music news for you on this week's NOW HEAR THIS, including the Afropunk festival lineup and more.
Game of Thrones fans are gearing up for the new season which starts tomorrow and at Everything Is Scary, Tim Ford discusses the most frightening characters on the show. None of them is Cersei Lannister. If vintage sitcoms are more your speed, you can check out the first two episodes of the TV or GTFO podcast, in which our own Sachin Hingoo teams up with Gary Heather to talk about Perfect Strangers and Hulk Hogan's Thunder in Paradise.
Laury Scarbro has a lot to chew on after Outsiders' episode 11, while Carol Borden has a lot to say about Scandal, How to Get Away with Murder, and more on the Cultural Gutter.
Movies? You want movies? We got 'em. Well, we have reviews, at least. Dump those copies of Bride of Re-Animator in the trash, but not before picking up Arrow Video's glorious new reissue, which Tim Ford assures us is the definitive edition. Sachin reviews a couple of Hot Docs movies, the new ten-part film essay from Werner Herzog, Lo and Behold: Reveries of the Connected World and the more-horrifying-than-an-actual-horror film Tickled. Women In Hollywood has their always-welcome list of women-centric, directed, and written films for the week, including the fantastic High-Rise, which I'll be reviewing next week.
Unicorn Booty is the best site you're not reading, unless of course, you are already reading it, in which case, yay! The excellent "A Trans Person Explains What's Really Behind Transphobic Bathroom Bills" does exactly what the title suggests, but there is oh so much more good stuff in there. There's also a rundown of why Harriet Tubman should be on the US $20 bill as well as some huge developments in world LGBT politics.
Oh, and if you're having trouble sleeping at night, by all means, do not read this creepy assessment of H.P. Lovecraft's uber-creepy short story "The Festival" by Peter Counter on Everything Is Scary.