Published on April 19th, 2016 in: Current Faves, Music, Music Reviews, Retrovirus, Reviews, Uncategorized, Underground/Cult |
By Hanna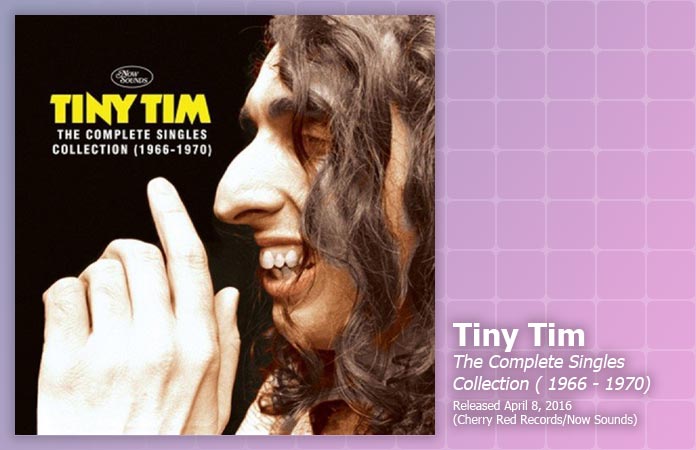 This year marks the 20th anniversary of Tiny Tim's death, providing a good opportunity to revisit his heritage. By now, his place as a cult artist and important archivist of old songs is assured, and most of his work can be found on some compilation or other. This compilation from Cherry Red, however, collects his singles from his breakthrough or "peak era" as they call it, from 1966 to 1970. It represents his journey towards being a mainstream artist, and his attempts to remain one. That specific idea is a new one for a Tiny Tim compilation, and definitely interesting.
A significant amount of work has been put into ensuring this compilation says something about this phase of his career. The actual compilation of songs, by Steve Stanley, is exactly as complete as labelled, including Tiny Tim's singles from before and after he signed to Reprise. The liner notes, by Kristian Hoffman, do a great job of tracking this phase of his career and putting it into context. It is arranged in chronological order, and the liner notes include a bit of background info on Tiny Tim's life and career, as well as some information on each song's background and recording.
Seeing his singles put together like this, it's striking that they really don't represent all his best-known or best songs from that period. Nor are they even his most mainstream interest songs. "Living in the Sunlight," for instance, was never released as a single, nor was his version of "I Got You Babe." However, the singles, put together, all represent his artistic direction in the late 1960s well.
His move into the (countercultural) mainstream happened through his use of nostalgia and optimism in his classic singles, such as "Tiptoe Through the Tulips," "Fill Your Heart," and "April Showers." After that, comes a sidestep into children's entertainment, with his album For All My Little Friends. The '60s ended with Tiny Tim seemingly confused about his direction, with more whimsical songs focusing on love and childhood, as well as a couple of bizarre patriotic songs with a more complicated relationship to irony. The array of songs he dug up during this phase of his career is huge, ranging over centuries and many genres of music.
The balance between love of these songs and gentle parody is perfect in the earlier singles. The arch humor of "April Showers," "Tiptoe Through the Tulips," "Bring Back Those Rockabye Baby Days," "This Is All I Ask," and "Am I Just Another Pretty Face?" and those songs expressive of hippie ideals like "Fill Your Heart" and "What the World Needs Now," provide both a comment on those songs and also an amplification of their optimistic tone. It's no coincidence that these songs propelled him into stardom, as they are works of genius in their layering of sincerity and camp, containing subversive little touches like him switching from his masculine baritone to a falsetto, or making feminine squealing noises and little throwaway comments.
"Little Girl," a version of the dark folk ballad from the 19th century, is frankly creepy and culminates in hysterical falsetto weeping. "The Other Side," a proper psychedelic work, is also on the scarier spectrum. "Great Balls of Fire" is pure camp, as are the children's songs "On the Good Ship Lollipop" and "Mickey the Monkey" from For All My Little Friends. This album is not very popular in the liner notes, but it's a work of genius in the way it emphasizes the surrealism of the unfamiliar childhood cultures of the past and it definitely deserved its Grammy nomination.
Hearing a grown man do a believable Shirley Temple imitation is always a beautiful experience, and "Mickey the Monkey," a song from the perspective of a monkey in a zoo providing his story to the child listener, seems almost a comment on Tiny Tim's own position as a novelty performer: "While you're watching me, I am watching you, too / You're as funny to me as I am to you."
The latter day singles "Why?" (a cash-in single with wife Miss Vicki), "The Spaceship Song" (written by Tiny Tim himself and adorable), and "Movies" are unapologetically camp and, strangely, also concern the main obsessions of the burgeoning glam rock scene, i.e., old movies and space travel. "Why?" is fantastic because it's extreme in its sugary sentiment and the exact opposite of any definition of cool, and described in the liner notes as "rather lame." "Am I Just Another Pretty Face?" is the sort of funny, sweet song that could just as well have been recorded for his Reprise albums. Along with "Movies" it was recorded at Vitrix, and, as the liner notes state, it is a tragedy that several other songs from this recording session were lost. It does work very well as a closer.
Trouble starts about halfway through the compilation, as Tiny Tim turned quixotic towards the end of his Reprise contract and decided to release a number of patriotic war-related singles. It starts with "America I Love You," a decent song from a perfectly nice 1940s Alice Faye musical set in World War I, and culminates with the alienating double bill of "Don't Bite The Hand That's Feeding You" and "What Kind Of American Are You?"" two World War I era songs about how criticizing the actions of the US is wrong and anyone who does it should just leave.
One of the great things about Tiny Tim as a song revivalist is that he never sugar coats the past, but simply pulls things from it, and allows you to reconsider them in a new context. The record company perhaps considered these songs ironic, even campy, as the liner notes emphasize, but Tiny Tim's exact position towards them is more complicated. He seems to have loved everything he chose to sing, had very specific ideas, and made many questionable song choices. The fact that he himself was such an outsider in the America he claims to love gives these songs a poignancy nobody else could have given them, at least.
The vein of creepiness underlying the starry eyed naivete and the artistry of performance which is an essential part of Tiny Tim's work shines through extremely well on this compilation. A dark folk song like "Little Girl" works well with the chirpy sweetness of his early singles, and "On The Good Ship Lollipop" contrasts wonderfully with the shady, nationalistic "Don't Bite The Hand That's Feeding You." Tiny Tim always knew what worked for him, and it's clear from that balance of sweet and dark that he managed to always keep that balance despite the fact that the commercial direction of his career became more and more muddled and eventually failed.
It's equally apparent that production values declined the further into the compilation you get. Tiny's work with Richard Perry is generally accepted as having the best and most sympathetic direction, and this is again borne out by this compilation. With less time or opportunity to fine tune his takes and performances the quality of the songs does suffer a bit, and with a clear remaster, this shows more.
Still, as a showcase of what he could do this compilation is relatively complete. It is a good idea to show the development of Tiny Tim's early career in this way, and it's interesting to see how he established himself as an artist and tried to hold on to his fame, even as circumstances worked against him and he was eventually left to slide more or less back into obscurity. The range of his knowledge of old music and of his performance abilities show through, affirming that he was more than a mere novelty. Hopefully, this anniversary year will herald a further revival.
The Complete Singles Collection was released by Cherry Red Records/Now Sounds on April 8.