Published on April 22nd, 2016 in: Current Faves, Music, Music Reviews, Reviews |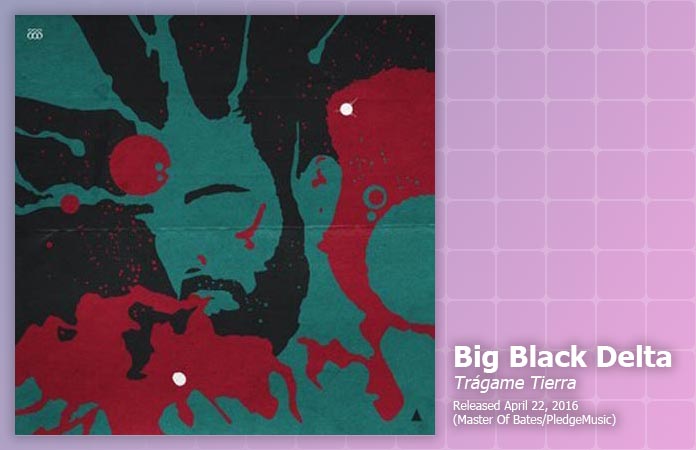 "It's a saying here in Chile when something terrible happens and you want to disappear from the face of the earth. Is there a similar sentence in English?"
–Username kiesha, regarding the phrase "trágame tierra" on WordReference.com
Sometimes upbeat, happy music doesn't cut it. Sometimes there needs to be that murky undercurrent of melancholy or it just feels fraudulent. So much of modern pop music is missing that yearning quality; there is not enough darkness to temper the glittering, brittle, and frequently hollow light.
Big Black Delta, the musical alter ego of one Jonathan Bates, knows this. Big Black Delta exploded into my musical consciousness in 2012 with an EP that was like nothing I'd ever heard before or since. The self-titled full-length release that followed it was a tour de force of varying sonic landscapes: ridiculously, almost hysterically hooky, while at other times shockingly contemplative, or even sinister. It was one of my Top Ten favorites of 2013.
It seems impossible but with Trágame Tierra, somehow Bates has managed to exceed all expectations, pushing the Big Black Delta sound into new territories that I didn't even know I wanted or needed. It was totally worth waiting those three years for its release. These songs are shorter and punchier than the ones on BBD's debut, without those long fadeouts. The glorious, multitudinous layers of harmonies are still around, though, combining the honeyed grumble of Bates's voice with breathy, warm synths.
Opening with the wistful and lovely "H.A.," Trágame Tierra draws you in immediately, before it rips into the first jubilant single, "Steer the Canyon," with Bates's soulful voice on full display. But it's not just Bates's vocals which delight. There are several unexpected and inspired choices for guest vocalists, including Debbie Gibson (yes, THAT one), Susanne Sundfør, and the incredible Kimbra.
"RCVR" is rife with the vibrancy of the best pop songs of the 1980s, alternating between Bates and the still-amazing voice of Gibson, and boasting an impeccable chorus, terrific bass lines, and an utterly perfect chord progression in the instrumental bridge. If that wasn't enough, it's followed by Kimbra's stupendous performance on "Bitten by the Apple," a retelling of Genesis 3 from Eve's perspective. There is simply no way that words can adequately convey the magical, haunting, and intoxicating quality of this song.
"Kid Icarus" feels like a bridge between the last album and this one. All the BBD hallmarks are there: swooping keyboards, those eerie choir-like harmonies, and a bridge that catches you by the ear and won't let go. On the other hand, the frenetic, exotic "Overlord" is dominated by a chirpy synth beat and Sundfor's passionate vocals. "Well My Heart" is another track that is completely unique, sounding like a cover of a song that was originally conceived for a straight-up rock band, then deconstructed and reassembled for the express purpose of accommodating swoony synths and reverbed guitar. (It even includes background vocals from Dhani Harrison.)
"Let's Go Home" reaches dizzying heights of ecstasy and then Trágame Tierra, with nowhere left to go, crashes beautifully into bittersweet bliss, with the repetitive, soothing qualities of "It's OK."
The comedown before the comedown, the delightfully named "Strange Cakes," is another chance for Bates to show how beautifully he can sing, no matter how much he distorts and tweaks his voice. On that front, I cannot conceive of anything more achingly beautiful than "I See Fit," which includes some kind of vocalized clarinet effect that is as peculiar as it is moving. Bates may not have included those long fade-outs this time around, but he just saved them up and put them all in one place, the final, ten-minute title track, all sustained, poignant keyboards that feels like floating in a sensory deprivation tank.
Although Trágame Tierra has the same emotional sheen as ELO's best work and is, truly, what Duran Duran's recent Paper Gods could have (and should have) been, there is no mistaking Big Black Delta for anyone else because simply put, no one else sounds like Big Black Delta. The only reason these songs aren't dominating the radio is that the music industry is so fractured and over-curated these days, it's likely no one would even know what to do with an album like this. In a year that's already seen some impressive releases, Trágame Tierra is going to be a tough one to beat.
Trágame Tierra was released April 22 via PledgeMusic.
Tour Dates:
May 1 – Minneapolis – Fine Line Music Cafe
May 3 – Dubuque, IA – The Venue
May 4 – Kansas City – Middle Of The Map Festival
May 5 – Chicago – Empty Bottle
May 6 – Detroit – UFO Factory
May 8 – Toronto – Adelaide Hall (Canadian Music Week)
May 9 – Montreal – Bar Le Ritz
May 10 – Burlington VT – ArtsRiot
May 11 – Baby's All Right – Brooklyn
May 13 – Boston – Cafe 939
May 14 – Albany – The Hollow
May 15 – Philadelphia – Milkboy
May 16 – DC – Black Cat
May 17 – Baltimore – Metro Gallery
May 19 – Vancouver – Biltmore Cabaret
May 20 – Seattle – Crocodile
May 22 – Portland – Doug Fir Lounge
May 26 – San Francisco – Great American Music Hall
May 27 – OC – Constellation Room
May 28 – LA – The Regent
May 29 – San Diego – Casbah