Published on July 14th, 2017 in: Music, Music Reviews, Reissues, Retrovirus, Reviews |
By Hanna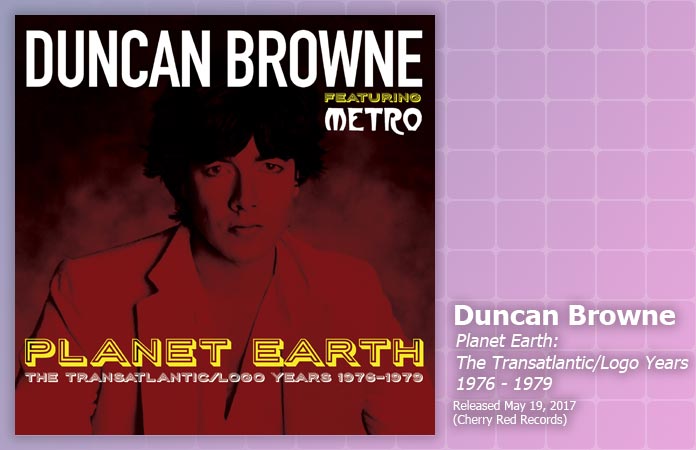 This year would have marked Duncan Browne's 70th birthday, had he not died in 1993. It also marks the 40th anniversary of the Metro album. Extensive re-releases of Duncan Browne's work are rare, and anyone looking for his music will be happy with this reissue containing all his late 1970s work for Logo/Transatlantic: his two solo albums The Wild Places and Streets of Fire but also the entire Metro album.

By now, Duncan Browne is a fairly well established cult figure, though there is still no significant mainstream recognition for his work. As the booklet for this reissue states, he changed musical styles radically several times, each time finding a measure of success, but never of a lasting kind.
Until his work with Peter Godwin— who is interviewed in the booklet–and Sean Lyons on the 1977 Metro album, Duncan Browne was a folk artist. His albums from the late 1960s and early '70s are all in an intricate, semi-classical folk style. From the Metro album onward, he switched to electric guitar, a focus on synths, and a rich, prog-influenced sound. Many elements of his earlier style, though, such as the intricate layering of background vocals, the complex arrangements, and his distinctive style of guitar playing are still in evidence. His guitar playing is just as skillful and inventive on electric guitar as it is on acoustic.
The Metro album takes up most of the first disc of this compilation. The first album of Metro the band, the album is the only one including Duncan Browne's work, and is musically positioned on the crossroads between glam rock, punk, goth, and New Romantic. It's lush, and presents a dark romanticism in its lyrics, which describe a decadent love affair. In a just world, it would be included on every best albums list, or at least in every work on the birth of punk and New Romantic, but it was not commercially successful and has now become at most a cult darling. It's a eulogy for glam rock and prog excess and a look ahead to the synth-driven, darkly glamorous future of the new wave.
Duncan Browne's major contributions are the technically sophisticated guitar parts, whispery background vocals, and the rawer, more rock sound of this album compared to the later Metro albums which are more synth-based. It's ahead of its time, but despite that, it presents a fully developed aesthetic and sound. This makes it an all-time great album and the best of the three included here.
While the Metro album is fairly easy to get in continental Europe, it's significantly more obscure and harder to buy in the rest of the world, and it hasn't had a proper re-release in ages. Again, in an ideal world that would recognize the true value of this album, it would get its own extra deluxe re-release on its 40th anniversary, but barring that, any good quality re-release is welcome, and this is definitely that. After the album, the single edit of "Criminal World" is included, which is only shorter, cutting back the instrumental parts.
Duncan Browne's two solo albums are divided over the second half of the first and the second CD. The Wild Places is all on the first disc with the Metro album, with one song nudged over to the second, with Streets of Fire and the extras on the second disc. The fact that they're just about not completely on a disc each is annoying, but on the other hand it's difficult to see how else the albums could have been divided. In any case, it doesn't lead to any odd listening experiences, since The Wild Places and Streets of Fire are stylistically a lot alike, both to each other and to the Metro album. Some of the songs are even Metro album leftovers.
The Wild Places as an album is slightly rougher and more experimental than the Metro album. "The Wild Places,",the lead single, was a hit in The Netherlands and to a lesser extent in the rest of continental Europe, thanks to the legendary performance on the Dutch music show TopPop (wrongly labeled a German show in the booklet). It's hard to overstate how well-known this performance and consequently the song were and still are. It was a defining moment in Dutch TV, and it launched Duncan Browne as an off-beat rock star. It's a great song, a long, dreamy rock ballad with some synth-based, prog style instrumental digressions. Like the Metro album songs, its imagery is romantic and glamorous. It's easy to see how it captured people's imaginations, and it found its place in music history in The Netherlands if nowhere else.
The rest of the album consists of similar lush synth-driven rock ballads like "Roman Vecu" and "Kizarasu." The Crash" is more upbeat and pop. "Planet Earth" is a highlight of the album, a sweet ballad with cute space-themed imagery, and "Samurai" is an unlikely Metro album leftover, a dirty romp of a rock song that wouldn't have fit onto that album but is fun here. There is one long instrumental piece called "Camino Real" on which Duncan Browne lets loose experimenting with rhythm and different musical styles.
Streets of Fire feels more cohesive as an album, as if Duncan Browne had settled into this style. It seems like more of a union, with a few more straightforward synth-rock songs like "American Heartbeat," "Things to Come," and "Restless Child of Change." There are a few lush ballads such as and "She's Just a Fallen Angel" and the main single "Fauvette." The highlight of the album is "Niña Morena," a tense and minimalist ballad using pared down Spanish guitar and eerie, layered background vocals, as well as Spanish poetry. Then there are two instrumental pieces, "Streets of Fire" and "Cancion de Cuna/Street Echoes," the first of which is bluesy and the second quiet and sad.
There are a number of bonus tracks on the second disc, consisting of single edits and some unreleased and rare songs. The single edits aren't hugely exciting but they are interesting because many of the singles are difficult or impossible to get. All the single edits are basically shorter versions of the album track. The single edit of "The Wild Places" has the instrumental digression at the end edited out. Single edits of two B-sides, the instrumental pieces "Camino Real" and "Streets of Fire," are also included.
The coup of this compilation is the previously released song from 1979, "China Girl," a gentle ballad which sounds similar to most of the songs on Streets of Fire, and Cherry Red's reason for reissuing these albums in the first place. "The Toys," apparently released previously but still rare, is more interesting musically. It's a bona fide new wave dance song, so much so that it sounds like a cover version of something by another post-punk band. It's entertaining that in 1979, as David Sylvian was cutting off his hair and Duran Duran were still forming, Duncan Browne recorded this great New Romantic single. It's sad that this was never released as a single, as it could have meant another shot at success. Both songs sound a little rough but it's easy to see what could have been.
For anyone curious about Duncan Browne's appeal or looking for an entry point into his music, this compilation is excellent. It contains all his more commercial work. Similarly, it will be useful to anyone without ready access to his late '70s albums. Completists will be interested in Peter Godwin's comments on the Metro album in the booklet and the unreleased and rare tracks.
Duncan Browne may have switched genres a lot, but he was a master at each one he worked in, while the Metro album itself should be counted as one of the greatest alternative albums of all time. Seeing his work together like this, it's forever boggling that Duncan Browne wasn't more successful, and that even as a revival artist his appeal is mostly cult. The only thing to do is to keep reissuing until the world listens.
Planet Earth: The Transatlantic/Logo Years 1976-1979 was reissued by Cherry Red Records on May 19.