Published on June 16th, 2017 in: Horror, Listicles, Music, Top Twenty Lists |
By Tim Murr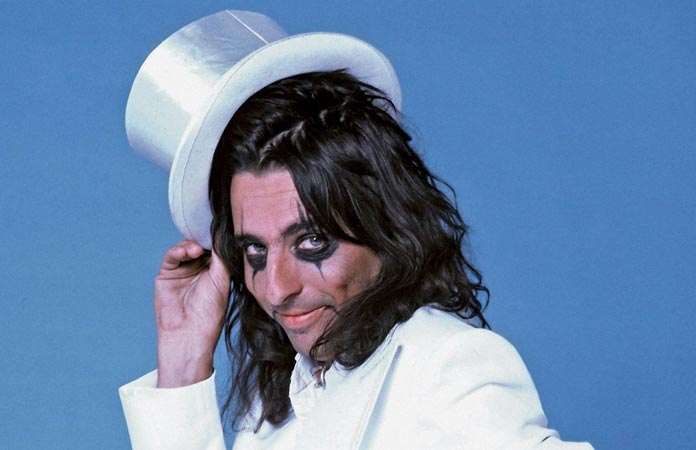 Alice Cooper, 69 years young, has reunited with three members of the original Alice Cooper Band and hit the road to support their new album, Paranormal. This will be the first new Alice album in six years and the first with Michael Bruce, Dennis Dunaway, and Neal Smith since 1973's Muscle Of Love. On the official Alice website you can find videos of the reunited group playing in Nashville recently(with a current member of Alice's touring band standing in for the departed Glen Buxton). They sound fantastic.
Alice himself still looks good, but who knows how many more years anyone has, so if Alice comes to your town, try not to miss it! I saw him on the Theater of Death Tour a few years ago and then a year or so later playing with Iron Maiden and the shows were phenomenal.
So in honor of a new Alice album I thought I'd make you an imaginary mix tape of the top 20 best deep tracks from across Alice's storied career!

20) "Refrigerator Heaven" from Easy Action, 1970
The title might be more familiar than the song itself since the phrase is used in the necrophilia anthem "Cold Ethyl" from Welcome To My Nightmare. This was from the second album, just before the group hit it big with Love It To Death. "Refrigerator Heaven" is about being cryogenically frozen.
19) "Hallowed Be My Name" from Love It To Death, 1971
On their breakout album, which had the hit "I'm Eighteen," Alice explored the ups and downs of being in a rock band, voodoo, sex, the second coming of Christ, a tribute to horror actor Dwight Frye, and a song about end times called "Hallowed Be My Name." The track is one of the hardest rockers on the album and the darkest track by far, even when compared to the long and very Doors-esque "Black Juju."
18) "Halo Of Flies" from Killer, 1971
"Under My Wheels," "Be My Lover," and "Desperado" were all hits and "Dead Babies" became an infamous staple of live sets, but the centerpiece of the Killer album was the long, prog spy epic "Halo Of Flies." Alice puts on his James Bond suit, loads up some gadgets and sets out to smash a S.P.E.C.T.R.E. -like organization called Halo Of Flies. The track is amazing and displays just how great that band really was. (Bonus: track down the cover by Jello Biafra and The Melvins)
17) "Escape" from Welcome To My Nightmare, 1975
Alice's first grand rock opera and first album without the original lineup, was a massive live hit. Get the concert DVD; it's fantastic. The album's closer, "Escape," is simply one of the best rock songs ever, anthemic and fun and pure Alice.
16) "Millie and Billie" from From The Inside, 1978
After being admitted to an actual mental institution for alcohol addiction, Alice teamed up with Elton John's writing partner Bernie Taupin for a glossy, pop-rock comeback, with featured a few tinges of disco and big 1970s production. Nearly every song ranks among Alice's best, but one track, "Millie and Billie," stands out for its sheer weirdness. It's an over-produced '70s-era Nashville country duet with Marcy Levy about two lovers who murder her husband: "God made love crazy so we wouldn't be alone, He was thinking of us, He was thinking of us…" It's scary and hilarious in equal measure.
15) "Prettiest Cop On The Block" from Special Forces, 1981
The first of Alice's three "blackout period" albums (albums he has no recollection of recording), Alice had adopted a punk/new wave sound, which mostly worked for him. Regardless of fans and critics initial dismissal of these albums, they yielded some very good tracks. "Prettiest Cop On The Block" is one of Alice's funniest, about a cross-dressing cop who hits the streets in "silk lace stockings and a bulletproof vest."
14) "Fresh Blood" from Dada, 1983
The last of the blackout albums and Alice's last with Warner Bros., Dada was a dud commercially and Alice has stated he has no idea what it's about, but it remains his scariest album. There are a lot of different personalities on the album, some of which seem to be the man behind Alice, Vincent Furnier, in spiritual battle with the monster he created. "Fresh Blood" is pure Jack The Ripper/Dracula material and probably the most classic horror track of the bunch. It's all stalk and kill, and a great rocker.
13) "The World Needs Guts" from Constrictor, 1986
Alice returned to the world, meaner, heavier, and more focused with 1986's Constrictor. Maybe best known for the track "He's Back (The Man Behind The Mask)" from Friday The 13th Part 6: Jason Lives, it features a fantastic set of songs that brought Alice into direct competition with the hard rock and metal of the day that been riding his coattails while he was in artistic decline. "The World Needs Guts" is anthemic speed metal, the kind of rebellious musicAlice invented in the first place.
12) "The Gail Trilogy" from Raise Your Fist And Yell, 1987
Alice reached his bloody pinnacle with the tour for this album, which was so graphic that German officials banned some of the gory segments from being performed on stage. This was a great era for Alice artistically, with two solid metal albums and an appearance in John Carpenter's Prince Of Darkness. The album ends with a trilogy of songs that tell a short story about a serial killer and a woman he loves named Gail. "Chop, Chop, Chop," "Gail," and "Roses On White Lace" really reflect the slasher boom of the era and are Alice's darkest moments on any album.
11) "I'm Your Gun" from Trash, 1989
Trash was everything that Raise Your Fist wasn't: slick, commercial, and lacking any horror elements at all. Alice was disappointed over how planned out and controlled the recording was because the label demanded a hit, but the subsequent tour was much more spontaneous and wild. The album does have some very good tracks, despite embracing some of the worst aspects of '80s hair metal. The filthy album closer, "I'm Your Gun," is a fast, almost pornographic track that has just enough of the old Alice sneer to redeem some of the album's lesser moments.
10) "Might As Well Be On Mars" from Hey Stoopid, 1991
The old Alice came roaring back with Hey Stoopid, which was a strong amalgamation of everything good about '80s Alice. There was even a nod to Welcome To My Nightmare at the end. Of all the kickass tracks, "Might As Well Be On Mars" was one of Alice's all-time great power ballads.
9) "Sideshow" from The Last Temptation, 1994
Alice gave us another epic rock opera with Last Temptation, which featured an accompanying three-part comic book series written by Neil Gaiman (Sandman, American Gods). Musically, the album moved away from '80s metal and fit more comfortably with the grunge rock of the day; it even featured Chris Cornell (RIP) on vocals and co-writing duties for two tracks. The album opener, "Sideshow," is as much of an Alice of a track as you could ask for: snotty, sneering, anthemic. I'm surprised it wasn't a single.
8) "It's The Little Things" from Brutal Planet, 2000
After a six-year hiatus from recording, Alice had a hell of a lot on his mind and maybe a bit of a chip on his shoulder. Though he was often on the road between Temptation and Brutal, his profile wasn't particularly high. In his absence, another boy-with-a-girl's-name singer with shocking stage antics had hit the mainstream and Alice, always the chameleon, came back with a beefy industrial sound and heavy lyrics that reflected his Christian ideas in a post-Columbine world. Brutal Planet and its sequel Dragon Town were the deepest, darkest Alice albums to date. They were two parts to a sprawling dystopian epic, but they weren't without their fun moments. "It's The Little Things" is a fast tempo rocker where Alice warns that while he doesn't care if you burn down his house or poison his cat, "if you talk during the movie I'll kill you right there."
7) "Disgraceland" from Dragon Town, 2001
While Brutal Planet was very listenable album despite the heavy lyrics and more aggressive industrial sound, Dragon Town was a much less fan-friendly affair. There were no singles released from the album and it was the second worst charting album of Alice's career. It's not a failure, but definitely more for hardcore fans. "Disgraceland" is a wacky rockabilly break from the industrial dirge, where Alice puts on his best Elvis impersonation and takes on The King's messiah-like persona. It's a bit judgmental, but also darkly funny.
6) "Novocaine" from The Eyes Of Alice Cooper, 2003
After getting all the heavy stuff off his chest, Alice returned to more of a classic rock sound with this album. In a different era it would have been full of big hit singles, but without new Alice making it to the radio, no MTV coverage, and declining record sales for the industry as a whole, there was no chance for another "School's Out." "Novocaine" is a catchy but mean song about a man fondly remembering old bad injuries and how he wishes he could feel the pain again, because "when you touch me, when you hold me, you're just like novocaine… I don't feel anything."
5) "Dirty Diamonds" from Dirty Diamonds, 2005
Alice continued in the classic hard rock vein with his next album. Dirty Diamonds starts strong and sadly peters out a little over half way through, but there are still a number of great tracks. The title track in particular is a full bodied crime noir epic, full of betrayal and violence. It also boasts great riffs and a horn section.
4) "The One That Got Away" from Along Came A Spider, 2008
Alice's return to pure shock rock came with this serial killer rock opera. Alice made his first music video in a number of years as well, getting his pal Rob Zombie to direct the ten minute mini-epic. "The One That Got Away," which shows up in the middle of the second half of the album is a cool rocker with a great chorus.
3) "What Baby Wants" from Welcome 2 My Nightmare, 2011
While Along Came A Spider and "Wind Up Toy" from Hey Stoopid called back to '75's Welcome To My Nightmare, it was 2011's Welcome 2 that gave us a proper follow up to the landmark classic. Every song perfectly tells Steven's Dante-esque descent into hell. Again, Alice came in with a bit of a chip on his shoulder to prove who he was. The album is completely schizo in its shifts from one genre to another, while still remaining 100% Alice. Pop punk, disco, pop, garage rock, Tom Waits-ness, nu-metal, classical… but it all makes sense. Picking one song off this album wasn't easy, but what I settled on was the one that surprised me the most. "What Baby Wants" is a duet with Ke$ha, who plays the Devil. I'm not usually a fan of that young lady, but she's actually gives an enjoyable performance and delivers a "Oh really?" that's just delightful.
2) "School's Out/Another Brick In The Wall" from Raise The Dead: Live From Wacken, 2014
This is a bit of a cheat, maybe, but I saw Alice perform this version of his classic when he played with Iron Maiden in Charlotte, NC. The song becomes an extended jam working the chorus of the Pink Floyd song into the show closer. It's quite a magic rock moment that had the whole crowd shouting along.
1) "Science Fiction" from Science Fiction Bootleg, 1969
This is an EP that has been re-released MANY times under many names. It's more of a fans only thing, really, but the track "Science Fiction" is an awesome Frank Zappa/Doors psych-jam. Seven and a half minutes of a band still trying to land on who the hell they are, and it is awesome.
So, go forth and buy music because here's your guide to dive in beyond a greatest hits package. I could've made this list about 100 songs long, but you need to discover some things for yourself, fiends. Pleasant nightmares!