Published on May 26th, 2017 in: Americana, Current Faves, Music, Music Reviews, Reviews |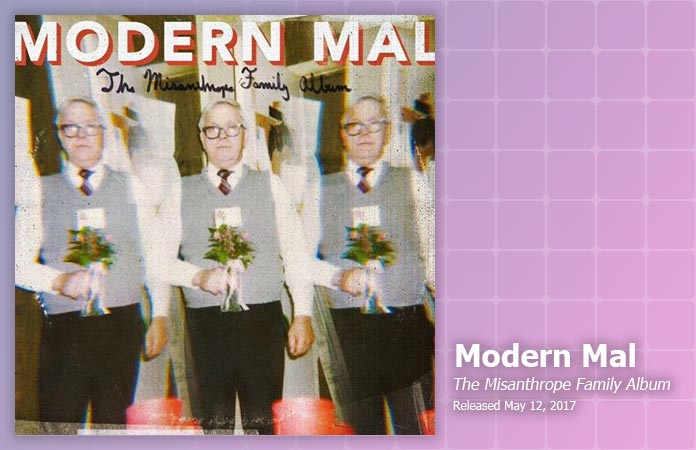 Modern Mal is the meeting of a pair of Northern Michigan songwriters, Rachel Brooks and Brooks Robbins. It's a little psychedelic, a little surfy, a bit garagey, sometimes folky, and it can all be covered by the umbrella of Americana, but perhaps a more Gothic strain.

There are a few things that Modern Mal's The Misanthrope Family Album brings to mind. The mix of the darkness of Brooks Robbins' vocals and the lightness of Rachel Brooke's voice recall Mark Lanegan and Isobel Campbell's sublime Ballad Of the Broken Seas. The garagey doo wop of "Just A Satellite" sounds uncannily like a lost Holly Golightly song; she and Brooke have a similar glorious timbre to their voices. Brooks Robbins often sounds like San Fermin's Allen Tate, with his gravelly growl.
The Misanthrope Family Album is a stealthy winner, drawing inspiration from a family friend that the pair took care of on his deathbed. His reclusiveness and misanthropic way of looking at the world colors the album, but also lends a poignancy. It's about family and about grief and about magic. As a whole, it's a tidy package of appealing songs. It's a collage of yellowed pages and dried flowers, with a plastic hula girl that clung to the rim of your daiquiri and a photo of some strange guy wearing a fez.
The production is lovely. The quietly hula-ing "Wild Heart" opens The Misanthrope Family Album. It's got a spacey, spacious feeling, a soothing track that bursts into a larger sweetness where Brooks asks, "Would you love me / if I had a wild heart, too?" and the only answer could be yes. Her voice is utterly appealing, like on the delicate and pretty "Clean." The expansive "You Don't Hear Me Crying" has a great memorable chorus, though the verses are a bit light. "Space Debris," a melange of quasars and piano, is like a marriage of Queen and Lou Reed via Rufus Wainwright. It feels like it's coming to an end, gorgeously and dreamily with multitrack vocals that wash over like so many stars, before taking an unexpected left turn into a swell of Brian May-esque guitars. It's a treasure.
"Carl" treads directly into Lanegan/Campbell territory, with a circus-like descending glockenspiel. It's a song to sing in a dirt-floored tent, a delicacy of lovely harmonies and dreaminess. Robbins' voice is a bit more of an acquired taste, but his rough, underwater croon of "S.O.S." has a certain charm, and the introspective weirdness of "Anxious Entertainer" is very effective. The singalong of "The Mystery Of Death" is almost jaunty. It's music out of time. The dark darkness of "Dan And Mary Ann" is quirky and singsong-y, a perfect marriage of his darkness and her lighter touch.
The Misanthrope Family Album is one of those albums that defies easy categorization. Modern Mal have made an album that isn't afraid of walking on the darker side of the street, but will still take a moment to bask in the sun.
The Misanthrope Family Album was released on May 12.