Published on May 5th, 2017 in: Current Faves, Feminism, Music, Music Reviews, Reissues, Retrovirus, Reviews |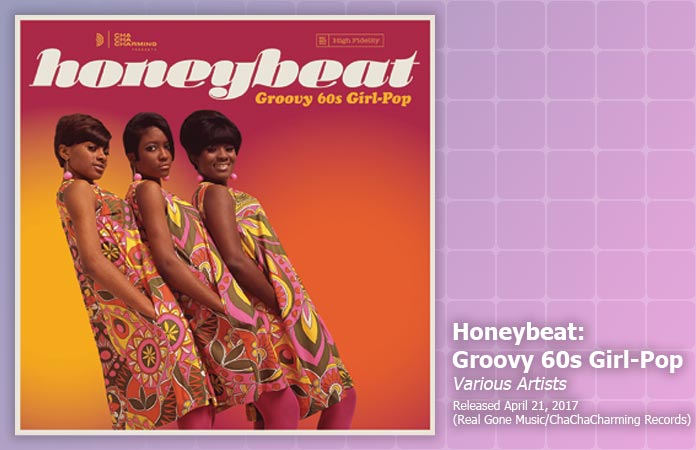 There is no better mood raiser than a girl-group compilation. This is a scientific fact (that perhaps I have just made up). Finding long-lost girl groups, hearing those sweet harmonies, losing yourself in that "falling in love feeling": it's the best kind of bliss. A new compilation from ChaChaCharming and Real Gone Music, Honeybeat: Groovy 60s Girl-Pop, is an instant happy maker, with groups that are unfamiliar, groups that really should have made it, and some names that are a delightful surprise.

There are the songs that feel perfectly classic, like Gia Mateo's "If You Can't Say Anything Nice," featuring her soulful vocals (and Ellie Greenwich on back-up vocals) coupled with fuzzed-out guitar. Or The Glories moody and intense "No News," reminiscent of the Supremes' "Love Child". Or the stately and elegant "Talk That Sweet Talk" from Dorothy Jones. A Goffin and King song, it stayed in the vault for 60 years, and what a pity. Jones' vocals are gorgeous, backed with a lovely string arrangement.
There are songs that sung by familiar names. Country singer Skeeter Davis turns in "I Can't Stay Mad At You," a perfectly bright girl-group chestnut, produced by Chet Atkins. She's been cheated on, but she's going right back to him, and she sounds at home with the poppy style. Nichelle Nichols (that Nichelle Nichols) has a killer jazz voice that flies into head voice and just keeps going higher. It's an incredible performance of "Why Don't You Do Right?" Erma Franklin might not be a household name, but her sister Aretha is. Erma's tough-talking "I Don't Want No Mama's Boy" soars with her rich vocals, and her backup singers are unbelievably cute and giddy. The windswept dream of "You're My Loving Baby" is lush and romantic. The lead singer of The Sweet Things, Francine "Peaches" Hurd, went on to notoriety with Peaches and Herb. Little Eva's take on "Stand By Me" is a bright charmer.
Honeybeat is loaded with treats. Sandi Shelton's exquisite "Baby You're Mine" is a lusciously relaxed stunner. Andrea Carroll's "Gee Dad" came in a sleeve with a glossary of tween terms to decipher the lyrics. It's surfy music for twisting on the beach, and it's adorable and silly and makes NO SENSE at all without that glossary. The sheer snotty perfection of The Lollipops' "nah nah nah"'s on "Don't Monkey With Me" are a treasure. These are little girls that sound like little girls. The Pussycats' "The Rider" is an atmospheric, spooky, minor chord song in the vein of the best tragedy songs (think "Leader Of The Pack" or "I Can Never Go Home Anymore"). It's magnificent with a weirdly abrupt ending. "I Wish I Had Known" from Sandra Phillips is a dazzling performance, soulful and ripping. The What Four's "I'm Gonna Destroy That Boy" sounds like Bananarama made a Bond theme. They're not the strongest of singers, but there's a verve and excitement in a catchy package with fierce lyrics.
Honeybeat is a treasure. There are copious, thoughtful, witty liner notes from ChaCha Charming's Sheila Burgel (the compiler of Honeybeat) and songs that will make you feel better. If you're sad, they're perfect to wallow with. If you're happy, they're life-affirming and joyous. Girl groups have been maligned as frothy nonsense, but honestly, girl groups are an antidote to self-serious ridiculousness. Girl groups rock.

Honeybeat: Groovy 60s Girl-Pop was released on April 21 by Real Gone Music and ChaChaCharming.