Published on April 20th, 2017 in: Current Faves, Feminism, Music, Music Reviews, Reviews |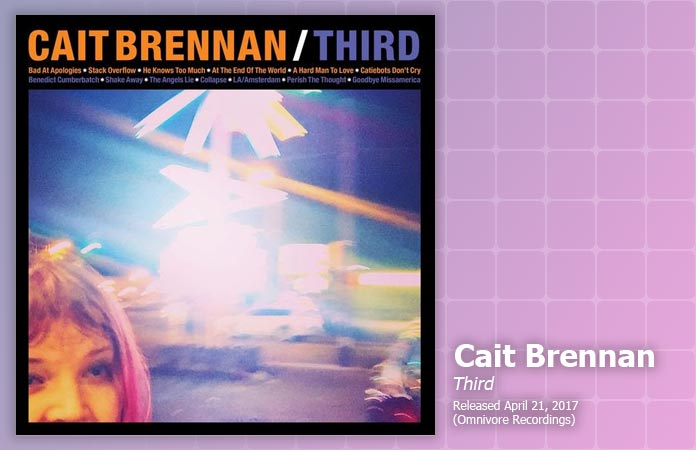 Cait Brennan's follow up to her critically acclaimed debut, Debutante, is a stunner. Where Debutante felt like the incredibly talented bastard daughter of Harry Nilsson and ELO, who fell asleep while listening to AM radio in the 1970s and made an album about it, Third lives and breathes where it was born: Ardent Studios in Memphis. Third is muscular and fierce, but it can break your heart with a word.

It's enormously thrilling to hear the evolution of an artist, and Third represents a leap forward for Brennan. With musical soulmate, multi-instrumentalist Fernando Perdomo (Emmitt Rhodes, Fiona Apple, Beck, etc.), Brennan has hit a sweet spot. Her gift for clever lyrics—never too on the nose, but smart and witty as hell—married to her fearless magpie-ing of styles and influences is well met by Perdomo's guitar god solos and well of musical skills. Add to that Cait's frankly insane four-octave range and boundless treasure of harmonies, and you are left with one of the most exciting albums of the year.
Third has the energy of a live album without the bloat. Cait and Fernando recorded at the Ardent Studios, home of Big Star, and, while it sounds very woo woo, the energy of the studio seems absolutely essential to Third. Perhaps having Jody Stephens drop by for encouragement helped, or perhaps it's the use of Alex Chilton's Mellotron and Chris Bell's Gibson 330, but there is electricity to Third, even in the quiet beats.
The nervy opening line of "Bad At Apologies" sets the tone: "Yeah, I'm the asshole who stole your boyfriend." The song feels like it might explode into chaos at any moment. Perdomo has an absolutely ripping guitar solo on the track.
When you think you might twig how the melody will go, Cait Brennan zigs. Or zags. Her power ballads are more POWER than ballad. The gorgeous "At The End Of The World" is velvety and her voice just bleeds emotion. She sells it, but it's not selling, it's just… being. Her vocals have become stronger and amazingly even more assured from Debutante. The layers of vocals of the Princely "Caitiebots Don't Cry" are haunting and bold. "Stack Overflow," too, nods to Prince, and feels strong as hell (check out the mesmerizing bridge). The soulful "Perish The Thought" is a glorious tour de force of harmony.
Cait Brennan has a knack for catching your ear on the first couplet. "He Knows Too Much" is one of those songs that pulls a smile, with an added witty disclaimer that is a full on delight (my notes say it was "fucking genius" but this is a family publication). Tossing the word "oobleck" into "A Hard Man To Love" wins all the awards, followed closely by "purview" in the same song. That's one of the brilliant things about Brennan's songs: her ability to write lyrics that stand up to repeated listenings to just pick out the genius nuggets. Take this perfect chorus from "Benedict Cumberbatch"—"You don't deserve this song / I'm giving it to Benedict Cumberbatch"—which makes perfect sense within any context.
Third is a nicely paced album, as well. A trio of songs near the end of Side Two are straight-up perfection. The giddy delight of "The Angels Lie" ("Insert the bridge here / I think the bridge goes here") name checks Bowie and Prince and those greater angels are calling her to the stage ("where cocaine and formaldehyde's all the rage") and is smart and deprecating (is it depreCAITing?).
Following that burner, things ease down with a the stellar chill out of "Collapse" that aches. Brennan soars and soothes. The low-end fuzz of "LA/Amsterdam" is operatic, but space operatic, with layers of heartbeats and crashes. It's incredible and moving and layered with a killer chorus that grabs your heart and ears and maybe a bit of your soul. It's otherworldly good.
Cait Brennan is a rare talent. There's something so compelling about the work that she's doing right now. It's urgent and exciting and wholly familiar but wholly alien. Third  is brilliant. You won't hear anything else like it.
Third will be released by Omnivore Recordings on April 21.