Published on April 12th, 2017 in: Canadian Content, Reviews, True Crime |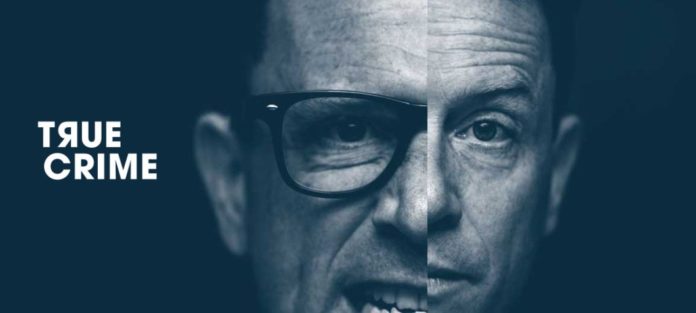 "I am not my art, and he is not me," says Torquil Campbell. It ends up being the least truthful line in True Crime, a new one-man show by the Stars frontman. In the piece the musician tells of his uneasy obsession and growing relationship with the "he" in that statement, the very real con man and alleged murderer, Christian Gerhartsreiter. The work is fiercely honest, but perhaps it's only honest about being a lie.
But if you want to see it, you'll have to hurry: True Crime only runs until Saturday at the Streetcar Crowsnest Theatre in Toronto's east end.

The ostensible subject of True Crime is the infamous Christian Gerhartsreiter, also known as Clark Rockefeller, Christopher Chichester, and other aliases. Gerhartsreiter is a con man (think Frank Abagnale of Catch Me If You Can fame, or Matt Damon in The Talented Mr Ripley) who has been connected to at least one, and possibly two, murders and was incarcerated at the Ironwood Prison in Blythe, California. Campbell overlaps his own life and artistic pursuit with Gerhardsreiter's story until there's no separating them, and not just because they're being portrayed by the same person. There are superficial parallels between the two men: a hairline, similar glasses, and a rather loose connection to the affluent Rockefeller family. But deeper than that, there's a connection between Gerhartsreiter and Campbell, really the heart of the entire piece, that practically aches to be explored, even to Campbell's own detriment.
In True Crime, Campbell assumes many perspectives and characters, but the work is rooted and entwined in Campbell's own identity. He skillfully mimics whole exchanges between Gerhartsreiter and himself, and brings the audience into the conversation as well. It's unnerving, uncomfortable, and at times hilarious. The whole production—just Campbell, a simple but brilliant lighting array, and musician Julian Brown providing a barely-there acoustic guitar soundtrack–is, like it's only character, stripped bare and deceptively transparent. But it's when Campbell inserts his own songs, raw and somehow sweetly baleful like the best of the Stars catalogue, into the mix, that True Crime becomes something more transformative. The theatre is filled with a smoky haze, lending a dreamlike quality to the work.
Maybe the most compelling thing about True Crime, for me, is the exploration of the concerns that both Campbell and his wife Moya have about delving into Gerhartsreiter's life and his story. Moya is naturally horrified at her husband's involvement with this criminal and serial liar, and possible (probable?) murderer. This is even more pronounced as Campbell begins to develop a complicated and unorthodox project, with Gerhartsreiter as a muse. The audience is made to feel part of the whole process of producing the work, viscerally feeling the tension Campbell is experiencing as he desperately tries to rationalize or even explain why he keeps making pilgrimages to Ironwood to meet with someone who is far beyond trustworthy. It's even more impressive when you remember that there's only one person on stage, having these conversations.
While the idea of an unreliable narrator in Campbell is a big tentpole of the production, I felt that some more subtlety, especially in later scenes, would have been welcome. We get it; some or all of this story may have happened, or not, but ultimately it doesn't matter. I don't think I'd be moved more, less, or differently if I found out the story is 100% true or false.
My assumption in walking into this, or any, production is that the truth, wherever it may lie, has been manipulated in some large or small way to create a more compelling or resonant experience. Campbell's back-and-forth of "this happened… No it didn't… " seems like it wants to be the most important takeaway from the piece, when in fact it's the least interesting part of the work for me. It causes the third act to be a little weaker than it could be, but doesn't take away the impact of the prior scenes at all.
True Crime is a complicated work that peels back layers of Torquil Campbell and Christian Gerhartsreiter, only to find something that's too chillingly similar to ignore.
True Crime runs until Saturday, April 15 at the Streetcar Crowsnest in the Guloein Theatre, 345 Carlaw Avenue, Toronto.