Published on April 7th, 2017 in: Americana, Current Faves, Music, Music Reviews, Reviews |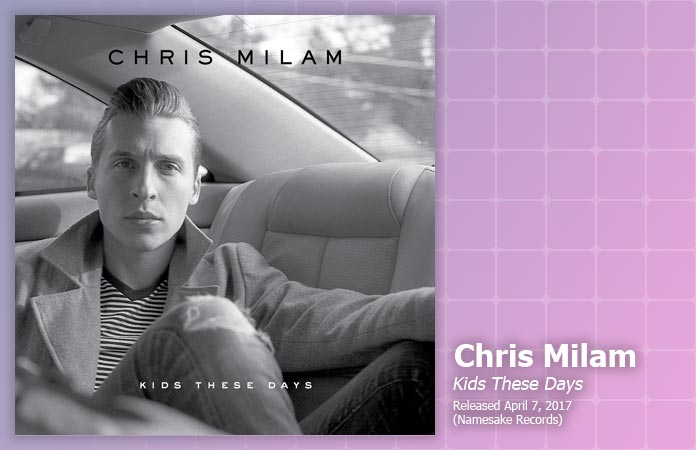 While the centerpiece of Chris Milam's Kids These Days is a trio of breakup songs, focusing on before, during, and after a breakup, there's so much more going on here. Milam has questions that he would like answered, memories he'd like to share. He also has the heart of a philosopher. Kids These Days could easily fall under the catch=all of Americana, but it's more than just that. It's gritty guitars and incredibly tasteful strings, and Milam's versatile voice that easily sweeps to an elegant falsetto from ragged emotion.

Kids These Days has a darkly epic quality. The title track, the pre-breakup song, has a filmic build that swells with strings. There's a quiet ache around the edges and Milam's voice is impressively emotive. On "Autumn," Milam wrings emotion from each line. The song hurts. It's dark, full of gravitas, ache, and solemn strings. The post-breakup song, "Tell Me Something I Don't Know" has a vibrant muscularity that fairly struts (but with dignity). The track has a bright chunkiness, raging guitars and a driving beat. It's an excellent way to round out the trilogy with fire.
Milam's lyrics are wonderful. Bits of moments and impressions color the songs, like "Half Life." The slice of life moments are embedded in a lovely, almost pastoral melody, that bursts forth with fuzzed-out guitar. It feels like a Jason Isbell song, which is always a good thing. "When I Was Young" leans on moments in time. The opening verse is pure poetry and incredibly rich. The last verse of gritty rocker "New Drug," too is amazing. It's driving and packed with wordplay and completely unexpected.
"Coldweather Girls" has atmosphere for days. There's a delicacy to the guitar and deepness to the strings, but it's all buried under a bit too much reverb. It would be astonishing done acoustically, because Milam could really cut to the underlying emotion. Nonetheless, it's gorgeous.
The last two tracks wrap Kids These Days up, not exactly neatly, but in a satisfying way. "The Sun Isn't Up" is upbeat, more major key than minor, with an appealing brightness to it. It's hopeful, and Milam's vocals are impassioned and honest. The closer, "At The End Of The Day" is an aching end to a thoughtful album that asks more questions than it arrives at answers.
Kids These Days is a thoughtful, introspective album that really brings focus to Chris Milam's gifts. He's an excellent lyricist and has a gift for memorable melodies, with an authentic voice. It's rich and heartbreaking and heralds fine things from a musician who should be heard.
Kids These Days was released on April 7 from Namesake Records.