Published on April 4th, 2017 in: Comic Reviews, Comics, Current Faves, Horror, Reviews |
By Tim Murr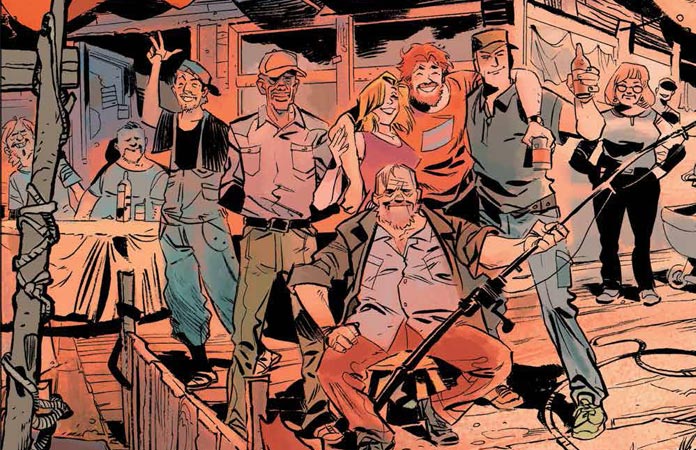 Set in the swampy Florida Gulf Coast, Cannibal is about a virus that causes the infected to crave flesh. Wait! It's not another zombie story! Stay with me.
We've all got zombie fatigue, but Cannibal is different. Writers Brian Buccellatto and Jennifer Young and artist Matias Bergara craft a fantastic tale where character comes first. There's also a solid mystery story built on the bedrock of great horror. Volume one collects the first four issues of this Southern Gothic noir and for me it's a home run.

From the Image Comics site:
A category five hurricane sweeps through the Southeast, uprooting ancient mosquitoes carrying a virus that causes the infected to crave human flesh. One year later, with no cure in sight, the region has become split over what to do with the victims. For the Hansen family, the answer is simple: kill them. However, all of that changes when the virus infects people they love. CANNIBAL is about a small Everglades town that is just trying to hold onto their everyday lives at the dawn of a cannibal pandemic. Told through the eyes of the Hansen family, it's an anti-apocalypse story about a community that is too damn stubborn to give in.
This hits a lot of buttons for me. Buccaletto and Young are able to take a classic B-movie trope and make it fresh and engrossing. Bergara's art is fantastic and a major complement to the story. The facial expressions Bergara creates show so much about the characters and there's a fantastic mix of a more cartoony, but highly detailed and sometimes realistic style that combine to perfectly tell the story.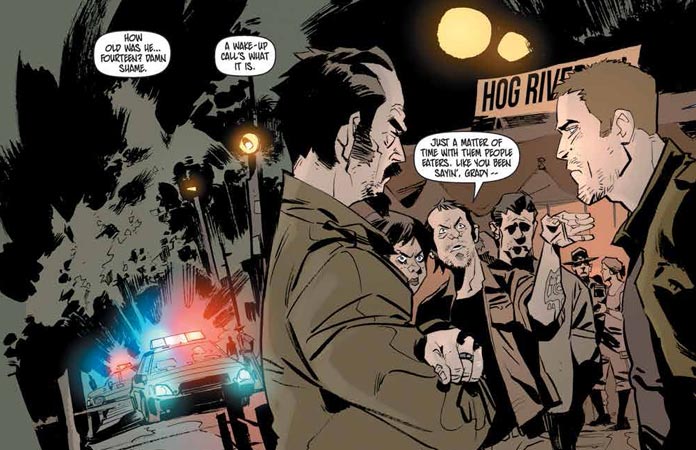 There's also something so very "Florida" about Cannibal as well, and I don't mean that disparagingly. the news out of that state is often quite crazy and not the sort of thing you hear about in say, South Dakota. You've got invasive and deadly foreign snakes; aggressive and poisonous lizards; bodies being dumped in the Everglades; hurricanes; Disney World… I mean, look here.
Whether or not Florida gets a bad rap and this kind of thing is overblown, there is still a sense in the rest the country that Florida is a crazy place. Still, Cannibal never stoops to mean stereotypes of Southern people. Yes, there are some dumb-ass rednecks, but there are also fully fleshed-out, realistic, and sympathetic people. People going through some shit, people who have seen some shit, and people who are causing some shit. It all feels very real and is a really entertaining read. I was somewhat reminded of James Lee Burke: Although Cannibal doesn't quite fit his brand of mystery tale, something about it reminds me of his novel Jolie Blon's Bounce, so if you like Burke that might be more incentive to check it out.
In case you couldn't already tell, Cannibal got me and now I'm hooked. Volume one is available for a mere ten bucks (it costs even less for the digital download). I highly recommend this book for fans of smart horror, crime noir, and comics that think outside the cape.

Cannibal Vol. 1 was published by Image Comics on March 8.