Published on March 17th, 2017 in: Current Faves, Music, Music Reviews, Reissues, Retrovirus, Reviews |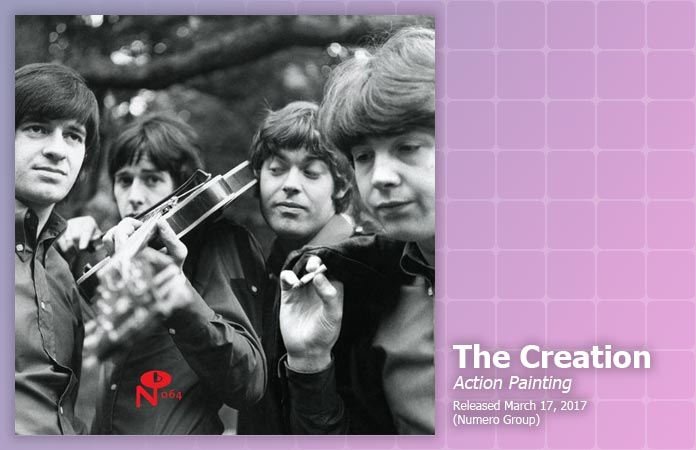 How is it that we don't speak of The Creation in the same reverent tones as The Kinks, The Stones, and The Who? They made seemingly commercial, well-written songs with appealing melodies, and  they were produced by Shel Talmy, who produced and arranged tracks by The Kinks and The Who. Guitarist Eddie Phillips ostensibly created guitar bowing (playing guitar with a violin bow), but Jimmy Page isn't sending him royalty checks. They had a stage show that would incite fervor; they had the right look; they had the crunchy, chunky sounds that epitomized a very specific era of British rock. And yet, and yet, they're maybe a footnote in rock history.

Numero Group wants to fix this. They're releasing Action Painting, a two-disc collection of all of The Creation's studio recordings on March 17. In true Numero Group style, the packaging is glorious: the CDs come in a slipcovered, hardcover book that is loaded with photos, essays, and extensive notes on the tracks. There is also a two-disc vinyl release, as well as a limited edition, break-away spindle 45 featuring "Making Time" backed with a previously unreleased instrumental. Action Painting boasts stereo mixes to accompany the mono mixes, as well as covers, backing tracks, and four tracks from The Mark Four, The Creation before they were The Creation.
The songs themselves are gems. "Making Time" kicks things off with a muscular, Who-like feel, but with Phillips's distinctive, bowed guitar. That guitar sound sets The Creation apart and gives their songs an unexpected, psychedelic feel without the overt trappings of psychedelia. "Biff Bang Pow" is driving and arresting, excitedly swinging. It's a mission statement. Or maybe it's the song that plays over the opening credits to a TV show with dancing girls. Either way, it's thrilling. The swaggering "How Does It Feel," with its big guitar and loose sounding production, makes one wonder, why didn't they make it (spoiler: personnel problems led to their breakup). The song is represented here in five different forms and they're all quite fantastic.
Action Painting derives its name from lead singer Kenny Pickett's stage antics of spray painting a canvas onstage before lighting it on fire. That is, indeed, action, and at least once, the fire brigade had to come to a show. The Creation's "Painter Man" was covered by Boney M, and the original is a delight; clever lyrics, snotty delivery, perfectly grungy guitar.
There's just so much to unpack with Action Painting. The songs are memorable, like the tweaky, trippy weirdness of "Nightmares" and the psychedelia of "Ostrich Man." A song like "Uncle Bert" could easily slip into novelty song territory, but the melody is so outstanding, and the energy of the recording makes it much more. The gigantic, empty drum sound of "Try And Stop Me" is fine, and the chorus is a delicious ear worm that sounds like a children's song. "Can I Join Your Band" with it's charming, laid back groove is a treasure.
Coupled with lots of information on the tracks, Action Painting is a delightful, immersive experience.
Action Painting was released by Numero Group on March 17.